White House announces 100,000 more jobs for veterans, military spouses
by
Leo Shane III
November 10, 2011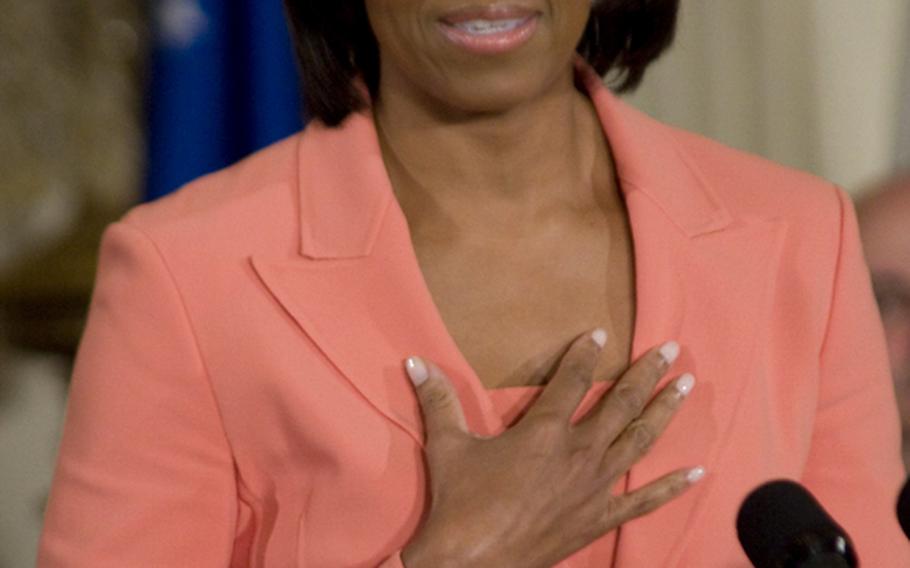 WASHINGTON — Corporate leaders committed to hire 100,000 veterans and military spouses in the next two years through employment efforts backed by the White House, capping off a week of jobs announcements by the administration leading up to Veterans Day.
Since August, the White House has secured promises from major private sector companies to hire more than 140,000 veterans and military family members in coming years.
However, few specifics on those positions have been released. Fewer than 10,000 of the jobs have been tied to specific companies.
Brad Cooper, executive director of White House's Joining Forces Campaign, said he is confident about the commitment totals. Details, he said, will be available in coming weeks as companies sort out their partnerships and hiring processes.
At least on paper, the latest job commitments represent a fulfillment of President Barack Obama's stated goal last August to find 100,000 jobs for veterans to combat lingering unemployment problems, especially among younger veterans.
Three weeks ago, leaders from the American Logistics Association promised to hire at least 25,000 veterans as part of the administration's jobs push. But details of the types of jobs and a full list of companies involved have yet to be made public, and it will take weeks before officials can confirm whether any veterans have been hired into the positions.
Cooper said his staff is tracking the hiring totals, and he said nearly 17,000 veterans and military spouses have found work through the broader effort.
According to the Bureau of Labor Statistics, nearly 860,000 veterans filed for unemployment benefits last month. While the national unemployment rate dipped slightly in October, the rate among recently separated veterans – which has tracked higher than the civilian number for months – increased to 12.1 percent.
Thursday's announcement, made by First Lady Michelle Obama at a U.S. Chamber of Commerce event focused on veterans issues, includes 80,000 jobs through the International Franchise Association, which boasts more than 1,100 members. At least 5,000 of those jobs will be set aside for wounded veterans.
In addition, officials from the White House's Military Spouse Employment Partnership announced 20,000 new commitments to hire military spouses from companies such as Microsoft and Home Depot.
"That's 100,000 veterans and spouses who will have the security of a paycheck and a good career," the first lady said. "That's thousands of families that can rest just a little easier every night."
Thursday's announcement was the latest in a series of veterans employment news leading up to the national holiday. On Monday, the president announced new initiatives designed to simplify veterans' job searches and connect them to career counseling programs.
On Wednesday, Department of Labor officials unveiled a new partnership with Microsoft Corp. to provide 10,000 vouchers for IT training and certification courses to veterans in five communities with large retired military populations: Seattle, San Diego, Houston, northern Virginia and Jacksonville, Fla.
And Congress this week reached agreement on sweeping new veterans employment legislation that includes tax credits for hiring former military, a revamp of the military's transition assistance programs, a new job training program for unemployed older veterans and a nationwide licensing and credentialing standard for those seeking trade jobs.
That legislation is expected to reach Obama's desk before the end of the month.
Twitter: @LeoShane
---
---
---