US soldiers need coronavirus test but not quarantine before travel to South Korea amid new outbreak
by
Kim Gamel
August 23, 2020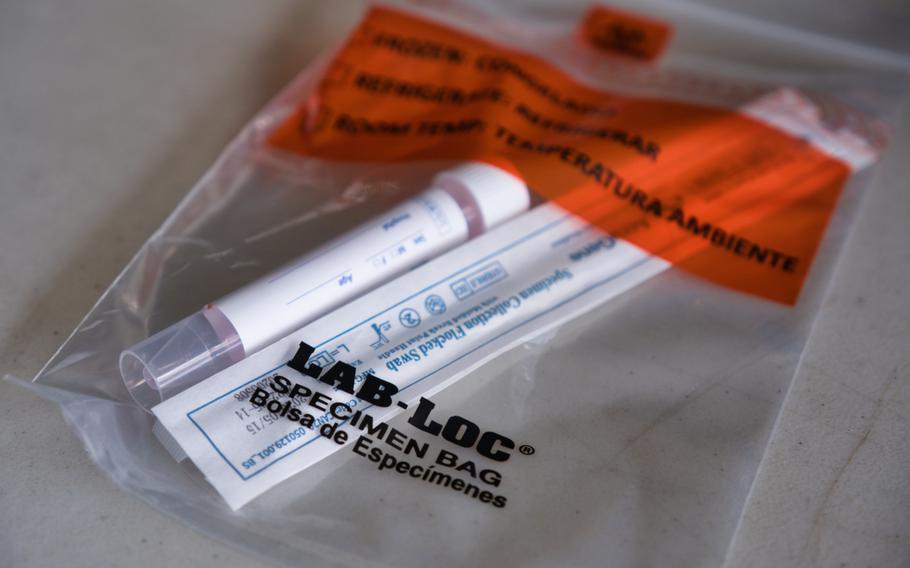 Stars and Stripes is making stories on the coronavirus pandemic available free of charge. See other free reports here. Sign up for our daily coronavirus newsletter here. Please support our journalism with a subscription.
SEOUL, South Korea — U.S. soldiers will need a negative coronavirus test but face no restriction of movement before traveling to South Korea starting next week since the military already requires a two-week quarantine upon arrival, the Army said Sunday.
The announcement came as South Korea battled a new outbreak, with 397 new confirmed cases reported on Sunday, the largest number in 10 days of triple digit daily increases.
City officials in Seoul, meanwhile, said everybody will be required to wear masks in public except when eating or drinking starting Monday, tightening rules that already mandated face coverings on public transportation in the densely packed urban area. Local governments in the surrounding Gyeonggi province and the southern city of Daegu have done the same.
U.S. Forces Korea, which includes some 28,500 troops on the divided peninsula, already required that all members of the military community wear masks in local communities off-base and on-base when social distancing isn't possible.
Health authorities warned the country was facing a second wave of infections, urging people to stay indoors as much as possible and to maintain a safe distance from others to slow the spread of the respiratory virus that causes COVID-19.
"We don't see the current state as the peak," Korean Centers for Disease Control director Jeong Eun-kyeong said during a daily briefing. "We believe that infections could further increase."
She noted the nation of 51 million people had beaten back earlier outbreaks and called on the public to help do it again.
"It has become difficult for anti-virus measures alone to contain the outbreak," she said. "The reduction of human-to-human contact is crucial."
The U.S. military also has imposed new restrictions but modified an earlier order so that soldiers will only need to have a negative coronavirus test and not a two-week restriction of movement before traveling to the divided peninsula beginning Aug. 30.
The Army-wide mandate, which had been announced earlier this month, was modified for troops headed to South Korea because they already are required to undergo a two-week quarantine upon arrival.
"Eighth Army worked with (the Department of the Army headquarters) to ensure that soldiers and family members only have to do one 14-day quarantine," spokesman Lt. Col. Mike Nicholson said Sunday.
The new order said all soldiers, family members and Army civilians will need "a negative COVID-19 test or medical clearance before departing their home station" starting next week.
It said the test must be completed "as close as possible to departure from the home station," but didn't give a specific timeframe or more details about what a medical clearance would entail, according to Nicholson.
USFK has reported 160 coronavirus cases since late February – all but 24 in troops and other personnel who traveled to the country from abroad.
The command insists the patients pose no risk to the general population because of a strict entry process that includes a two-week quarantine with mandatory tests on both ends without exception.
More than two months after travel restrictions were lifted, South Korea also has been placed back on the list of "red locations" that require special permission such as an exception to policy letter for any moves.
USFK also has tightened restrictions on off-base activities after raising its health alert level on Aug. 17 to "Charlie," which indicates an area is experiencing sustained community transmission.
The resurgence in South Korea was being closely watched since the Asian economic powerhouse had been an early epicenter of the pandemic but successfully contained the spread with aggressive testing and tracing methods.
Authorities have avoided strict lockdowns because of economic concerns but warned they may need to rethink that decision.
The South already has closed churches except for online services, beaches, nightclubs, karaoke rooms, buffet restaurants and computer-gaming cafes. It also banned fans from attending sporting events in person, just weeks after stadiums had reopened.
The latest outbreak has been largely tied to the right-wing Sarang Jeil church, which is led by a pastor who opposes the current administration and led a massive rally in Seoul last week that officials said also spawned dozens of infections.
The church has had at least 841 cases, according to the KCDC, which pleaded with members to get tested regardless of symptoms.
On Sunday, Sarang Jeil lawyers said the government is trying to make the church a scapegoat and promised to seek charges for abuse of authority and illegally gathering private information, the Yonhap News Agency reported.
In all, South Korea has confirmed 2,629 new cases over the past 10 days for 17,399 since Jan. 20. The death toll remained steady at 309, but the number of severe and critical cases rose to 30.
Officials also warned that many of the new patients were elderly and considered high-risk. 14,200 people have been discharged after fully recovering, they said.
gamel.kim@stripes.com Twitter: @kimgamel