U.S. soldier confesses during trial to rape of South Korean girl
---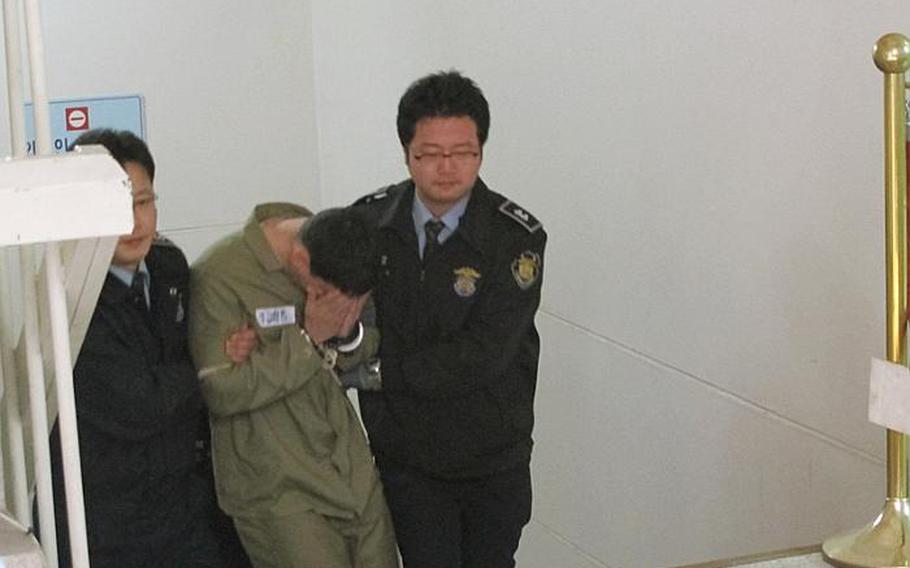 UIJEONGBU, South Korea – A 2nd Infantry Division soldier confessed to brutally raping and burning a 17-year-old South Korean girl last month, during the opening day of his trial Friday in Uijeongbu District Court.
Pvt. Kevin Lee Flippin, 21, of the 6th Battalion, 37th Field Artillery Regiment, admitted to a charge of robbery and rape, and another charge of aggravated rape for his actions at a dormitory-style apartment and hotel building near Camp Casey on Sept. 24.
Prosecutors recommended that Flippin receive 15 years in prison when the verdict and sentence are delivered, which is scheduled for Nov. 1.
Flippin's case, along with the case of a Yongsan Garrison soldier accused of rape last month, have resulted in protests and led government officials to investigate whether to negotiate with the United States for greater powers in detaining and investigating servicemembers suspected of crimes.
Flippin took a deep breath, bowed his head and struggled to utter his first words to chief judge Pak In-sik during testimony.
"I was wrong, I know. It's not an excuse," Flippin said before handing the microphone to a Korean translator.
Flippin finished his statement by whispering to the court translator. According to the translator, Flippin took full responsibility and said he had a hard time imagining he was capable of the acts he committed. He then said he understood that he deserved to be punished.
Flippin had been drinking vodka and whiskey with friends before getting separated and wandering the halls of the Jihaeng goshitel in Dongducheon, according to testimony.
At 4 a.m., closed-circuit camera images which were shown in court captured Flippin as he tried to open several doors before entering the victim's unlocked room.
Flippin then slapped the victim and raped her multiple times, while threatening her with a knife and pair of scissors he found in the victim's residence, according to court testimony.
The victim fought back, sustaining injuries to her hand, before being dragged throughout the apartment and raped repeatedly. At one point, Flippin punched the victim and then burned her breast with a lighter, he told the judge.
Flippin remained in the apartment for four hours and upon sobering up, begged for forgiveness. At some point during the night, Flippin also stole the victim's wallet, which contained 5,000 won, or about $4, according to testimony
The victim remains in St. Mary's Hospital in Dongducheon, and is being treated by doctors and mental health workers.
Previous reports listed the girl as 18 years old because of differences in how Koreans determine ages. The birthdate entered into court records indicated she was 17, according to U.S. convention.
Prosecutor Pak Sang-su asked if Flippin had tried to offer the victim a restitution payment and apology, which is customary following crimes in South Korea.
Flippin said he had tried but was unable to reach her.
"I'd like to give everything to her, as much as she wants," Flippin said.
Before the trial, about 20 protesters gathered outside the courthouse and called for an immediate revision of the status of forces agreement, as well as an apology from President Barack Obama for Flippin's actions.
The protesters compared Flippin's situation to an infamous rape on Okinawa in 1995, when three servicemembers kidnapped and raped a 12-year-old girl.
The U.S.-South Korea status of forces agreement allows servicemembers to be turned over to South Korean custody if servicemembers are suspected of heinous crimes and law enforcement officials request it, which is what happened in Flippin's case.
In lesser cases, suspects remain in U.S. custody but must be made available to investigators.
Yoo Kyong Chang contributed to this report.
---
---
---
---