All-Europe girls soccer
Title-game standouts fill All-Europe girls soccer teams
---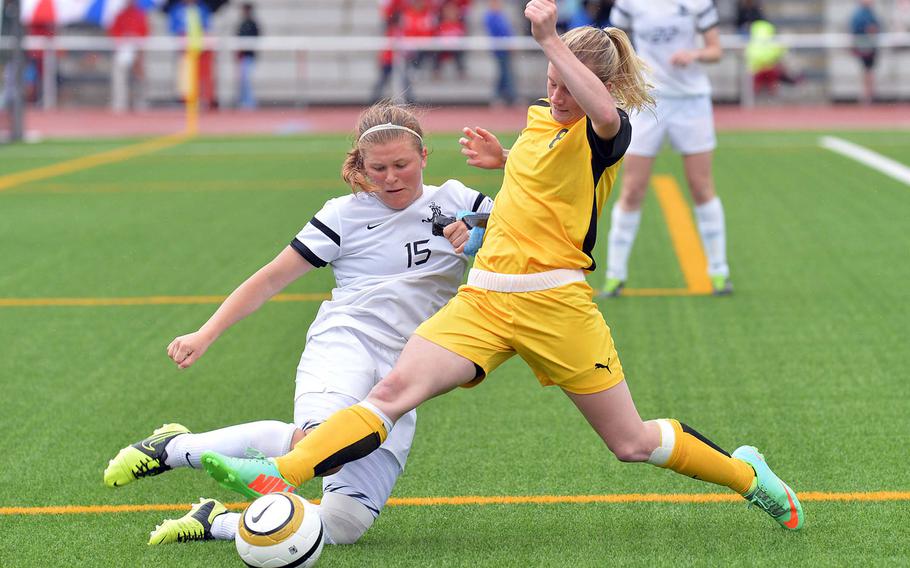 The stars who fueled memorable European girls soccer championship games also headline the 2014 All-Europe girls soccer team, released this week by DODDS-Europe athletic director Karen Seadore.
Division I champion Ramstein accounts for four of the first team's 15 roster spots, placing offensive dynamos Hunter Pace and Ebony Madrid and defensive stalwarts Erin Barnett and Matty Spohr on the squad.
Sophomore goalkeeper Goldie Bougher and senior midfielders Amber Garcia and Lauren Rittenhouse provide a healthy presence for Division I runner-up Patch.
Naples, which extended its Division II dynasty to five years last month, is well-represented by senior wing Isabella Lucy, sophomore forward Tyler Treat and junior defender Kylie Beltz. AFNORTH, the gritty team the Wildcats bested for the title, land forward Caitlyn Helwig and midfielder Jena Solorzano on the team.
Ramstein produced a DODDS-Europe-best six of the 30 total honorees. Naples followed with five.
Vicenza senior Alex Frank, Brussels senior Ali DeFazio and Alconbury junior Samaris Batley rounded out the first team.
First team
MF Hunter Pace, Ramstein (Sr.)
FWD Ebony Madrid, Ramstein (Soph.)
DEF Erin Barnett, Ramstein (Soph.)
DEF Matty Spohr, Ramstein (Jr.)
MF Amber Garcia, Patch (Sr.)
GK Goldie Bougher, Patch (Soph.)
MF Lauren Rittenhouse, Patch (Sr.)
FWD Caitlyn Helwig, AFNORTH (Soph.)
MF Jena Solorzano, AFNORTH (Sr.)
FWD Samaris Batley, Alconbury (Jr.)
MF Isabella Lucy, Naples (Sr.)
FWD Tyler Treat, Naples (Soph.)
DEF Kylie Beltz, Naples (Jr.)
FWD Alex Frank, Vicenza (Sr.)
FWD Ali DeFazio, Brussels (Sr.)
Second team
FWD Katie Claunch, Vicenza (Sr.)
MF Amilia Espiet, Naples (Sr.)
GK Hannah Hood, Naples (Sr.)
FWD Katie Cauble, Sigonella (Fr.)
FWD Hannah Watkins, Hohenfels (Sr.)
FWD Dollie Harrison, Hohenfels (Sr.)
FWD Camelia Brind'Amour-RIffou, AFNORTH (Fr.)
MF Alina Salgado, SHAPE (Soph.)
MF Begona Rodriguez-Bravo, SHAPE (Soph.)
FWD Ally Dinges, Aviano (Sr.)
FWD McKenna Roden, Kaiserslautern (Jr.)
MF Arianna Osmar, Kaiserslautern (Jr.)
DEF Dominique Dubois, Ramstein (Jr.)
DEF Kristen Press, Ramstein (Soph.)
MF Taylor Currie, Alconbury (Sr.)
---
---
---
---