Takano takes helm of VA committee, inspired by 'positive force' of incoming House members
by
Nikki Wentling
January 10, 2019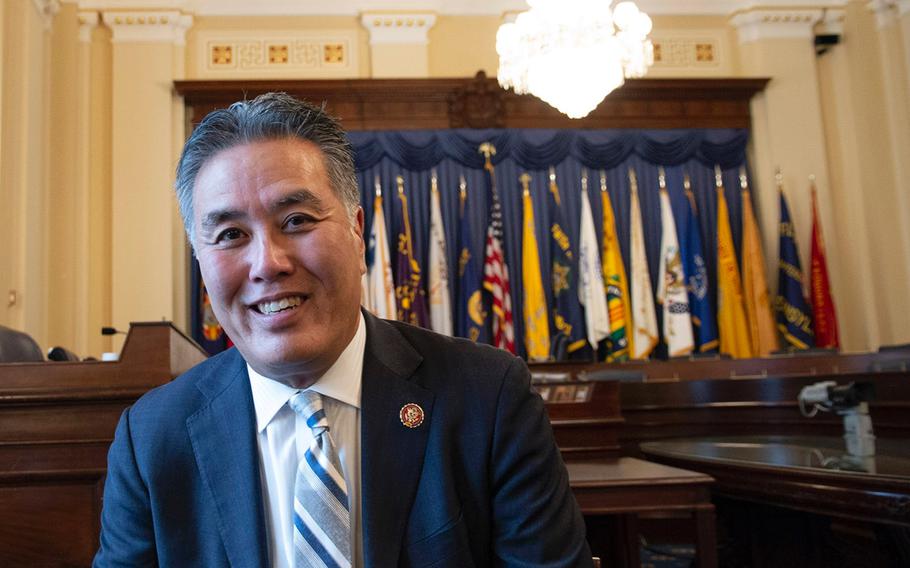 WASHINGTON — When Congressman Mark Takano took the stage over the weekend at a student veterans convention in Orlando, Fla., it marked his first public address as chairman of the House Committee on Veterans' Affairs — a position that will enable him to set priorities in Congress for veterans for the next two years.
Takano, 58, stood in front of some 2,000 people, many of them in their 20s and 30s and using their GI Bill benefits to earn degrees. They convened for the Student Veterans of America National Convention, an annual event designed to educate and inspire a generation of veterans preparing to enter the workforce.
In a speech that went far off script, Takano, D-Calif., spoke to the group about the increasing diversity among veterans and his plan to ensure everyone was recognized for their service — a recognition that he feels has been lacking during the past two years.
He listed overlooked minority groups, starting with women veterans — an acknowledgement that received some applause from the crowd. When Takano noted the importance of appreciating LGBTQ veterans, the applause grew even louder.
"Then I said, 'Oh, I guess it's safe to say in here that I'm the first openly gay person of color elected to Congress,' and the whole convention erupted," Takano said, reflecting on the moment Tuesday on Capitol Hill. "That's when I said, 'You guys don't fit stereotypes of what we think about veterans, as socially conservative…' I've heard this generation of veterans is different, but I experienced it for the first time. That was what was amazing about Orlando."
Takano represented a historic first when he was elected to Congress six years ago. The 116th Congress, sworn into office last week, included even more firsts — the first Muslim women and Native American women in Congress, the youngest woman and some states' first black and Latina congresswomen.
The new class of House members is a "very positive force," Takano said — one he wants to harness.
A few new members have requested to join the House VA committee. Takano attributes the interest to the fact that some incoming members pledged to refuse money from political action committees. The VA committee doesn't draw corporate interests the way others do, he explained.
It was uncertain as of Thursday when the committee roster would be decided.
"I'm delighted, some are even worried there's not going to be space for them," Takano said. "I'm heartened that people are coming to the committee really wanting to dig in and do things for veterans."
Takano has been part of the committee throughout his time as a congressman. He joined, in part, because it made sense for his district in Riverside County, Calif., the site of March Air Reserve Base and a Department of Veterans Affairs hospital. Norton Air Base and Twentynine Palms are also close by.
It also meant something to him on a personal level. His great uncles, Japanese-Americans, fought during World War II while their families were forced into internment camps in the United States. Another uncle fought in the Vietnam War and died by suicide when Takano was a kid, he said.
As chairman, Takano has vowed to maintain a tradition of bipartisanship on the committee — something he said can be achieved by keeping focus on the issues.
"I think this committee is a place where we can still have differences of opinion, but no one questions the motives of the other side. And that's what has happened to [Congress] as a whole," he said. "Here, people on both sides are aware the American people expect more of them. We have a moral obligation to reach some sort of agreement and move forward."
Along with Democrats' majority in the House comes the power to investigate President Donald Trump's administration and issue subpoenas to compel members of the administration to comply.
So far, Takano is considering an investigation into three members of Trump's Mar-a-Lago club in Palm Beach, Fla., who were reported to have major influence over veterans policies. A ProPublica investigation from August 2018 revealed the trio of wealthy Mar-a-Lago members, none of whom have U.S. military experience, were effectively running the VA in secret.
Now-Minnesota Gov. Tim Walz, the former ranking Democrat on the House Committee on Veterans' Affairs, requested documentation last year from VA Secretary Robert Wilkie to better understand the extent of influence wielded by three men — Marvel Entertainment Chairman Ike Perlmutter, lawyer Marc Sherman and Bruce Moskowitz, a Palm Beach doctor.
Wilkie has refused to hand over the information, citing ongoing litigation. The Government Accountability Office opened its own investigation into the issue in November.
"This I view as a legitimate area because it involves a key policy point, which is the privatization of the VA, and the potential profiteering motives of people who are not appointed nor confirmed by the Senate wielding influence over what happens at the VA, who gets hired at the VA," Takano said.
Wilkie has denied to Congress publicly that he was taking cues from the Mar-a-Lago members and insisted he had no connection with them following an initial meeting when he served as acting secretary in spring 2018.
Though Wilkie has been on the job for about six months, Takano isn't yet convinced he's acting independently.
"A lot of my potential trust in Secretary Wilkie is the extent to which he demonstrates through his actions — not just words — that he's independent of any group of people," Takano said. "It's too early to tell."
One "disturbing sign," Takano said, came in December.
Wilkie testified Dec. 19 before a joint hearing of the House and Senate VA committees about the VA Mission Act, a law to create new standards for when veterans can go outside of the VA and into the private sector for their health care. As secretary, Wilkie is leading the effort to implement the law by June.
Some lawmakers and veterans organizations criticized him for his lack of transparency about the rules that he was considering in regards to private-sector care and for not taking their opinions into account.
Takano acknowledges the necessity of allowing some private-sector care for veterans while maintaining a robust VA medical system. But like other lawmakers and veterans organizations, he's weary of the Mission Act being used to outsource veterans' health care too much into the private sector.
"It's the not knowing and lack of consultations which is concerning," Takano said. "The Mission Act, the Democrats voted for it in good faith. We at least hope the administration will implement it in good faith."
While the fight over the Mission Act is likely to hit an apex in coming weeks, Takano must also deal with other recent crises at the VA, including GI Bill payment issues and the revelations about the lack of effort on suicide prevention outreach.
And he has other priorities in mind. Takano wants to stop the deportation of veterans and establish more effective citizenship procedures for immigrant servicemembers, as well as fill the tens of thousands of vacancies across the VA and prevent for-profit colleges from targeting and cheating veterans.
As he told veterans in Orlando, he also wants to ensure the VA has the resources necessary to serve an increasingly diverse veteran population.
"Our veteran population is changing and becoming more diverse as an increasing number of women serve and more LGBTQ members are departing after being able to serve openly," Takano said. "I think it's important for Democrats, for all of us, to ask the question, 'What do we need to do to position the VA to best serve them?'"
wentling.nikki@stripes.com Twitter: @nikkiwentling