South Koreans fight for East Sea designation
by
Yoo Kyong Chang Jon Rabiroff chang.yookyong@pstripes.osd.mil rabiroffj@pstripes.osd.mil
March 9, 2012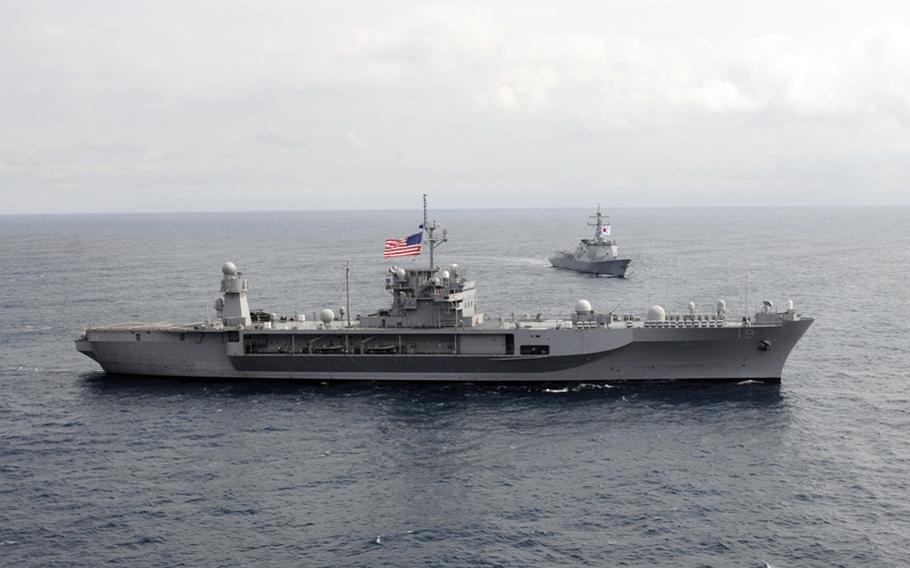 SEOUL - For South Koreans, the body of water off the peninsula's eastern shore is the East Sea.
The first line of the South's national anthem even asks that, "God protect and preserve our country … until that day when Mount Baekdu's worn away and the East Sea's waters run dry."
However, to the rest of the world, the 300,000-plus-square-mile body of water is known as the Sea of Japan, something Koreans bristle at as an outdated designation left over from a dark period in their history when their homeland was a Japanese colony.
Kim Hyun-soo, a marine law expert and professor at Inha University in Incheon, said, "Koreans are repulsed by the name Sea of Japan" because it serves as a symbolic "extension of Japan's colonial rule."
South Korean officials have their sights set this year on righting what they say has been an almost century-old wrong - something so bothersome it is even the subject of a rare public disagreement with their long-time ally, the U.S. military.
So, what is the U.S. military to do when referencing that body of water in maps, plans and correspondence it shares with its South Korean counterparts?
"The U.S. Board on Geographic Names' standard name for that body of water is the Sea of Japan," U.S. Forces Korea spokesman Col. Jonathan Withington said. "Per U.S. policy, we use only one name to refer to all high seas features.
"This is a long-standing U.S. policy that we apply all around the globe," he said. "We understand that the Republic of Korea uses a different term."
A spokesman for South Korea's Ministry of Foreign Affairs and Trade, who asked that her name not be used, said: "We wish that the U.S. used only 'the East Sea.' But, if that's too hard to do, we want the U.S. to at least use both names.
"We've asked … them about it frequently, and whenever the subject comes up, the problem is still not fixed," she said.
Withington said, "We encourage Japan and Korea to work together to reach a mutually agreeable way forward with the International Hydrographic Organization on this issue."
That is where South Korea has taken its case, if not for a renaming of the Sea of Japan than for officially recognizing the East Sea as an alternative.
The IHO, which has 68-member nations, publishes the "Limits of Oceans and Seas," considered the world authority on the names of all seas and oceans.
The organization is scheduled to meet in late April in Monaco to, among other things, review its sea and ocean designations. South Korean officials say they are lobbying hard for the East Sea to be officially recognized as an alternative to the Sea of Japan.
"We've called it the East Sea for thousands of years," the South Korean ministry source said. "We've asked the IHO to reflect our position. What we're saying is, 'Let's compromise and call it both names together.'"
Japanese officials contend the body of water dividing the two countries has been called the Japan Sea, or Sea of Japan, for centuries, and it makes sense to name it after their country because it laps up against a far greater amount of Japanese coastline than Korean coastline.
South Korean officials counter that in the years leading up to the IHO's issuance of its initial "Limits of Oceans and Seas" in 1929, their country was under Japan's rule and could not oppose its request to call the body of water the Sea of Japan.
Since then, they have been unable to get the IHO to change the name, or have East Sea added, the few times the publication has been updated.
The ministry source said the sea name controversy is important to South Koreans because "We feel this is one of the remnants of Japanese colonialism."
Citing the East Sea reference in the South Korean national anthem, the ministry source said, "The East Sea has an extremely important symbolic meaning for our national identity. It's inappropriate to call it after only another country's name.
"Why are they admitting only Japan's claim?" she said. "They must admit ours, too."
Saying the IHO is known as a "very conservative organization," Kim Hyun-soo said he believes even the compromise proposal of recognizing both the East Sea and Sea of Japan will be a long shot.
Kim Han-taek, a professor at Kangwon National University in Gangwondo, South Korea, and expert in marine and international law, agreed, saying Japan is fighting hard behind the scenes to maintain the status quo.
Still, he said, getting the East Sea designation officially recognized is a battle worth fighting.
"We can't give even an inch of ground to Japan," he said.
rabiroffj@pstripes.osd.milchang.yookyong@pstripes.osd.mil
---
---
---