Nicholson: 'Strategy is working' in Afghanistan
by
Dianna Cahn
August 22, 2018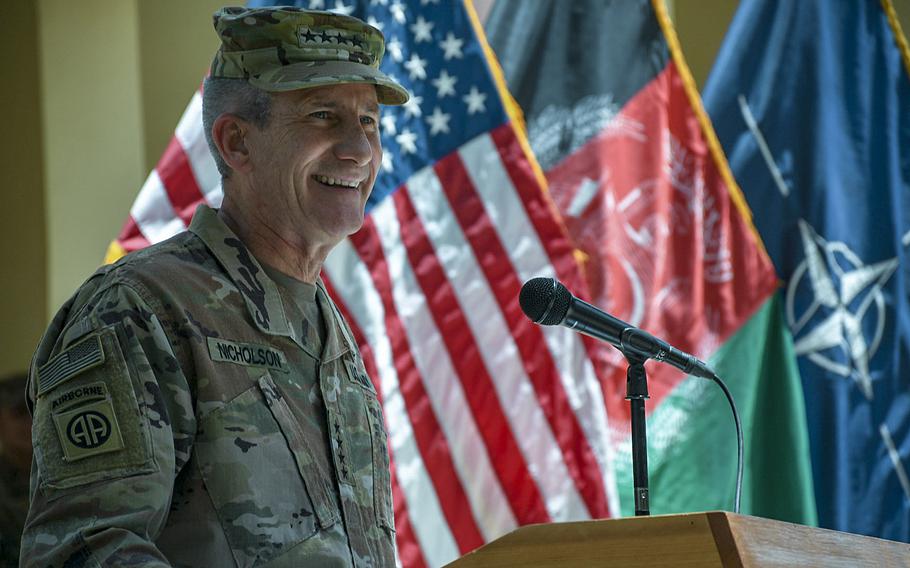 WASHINGTON — The outgoing commander of U.S. forces in Afghanistan on Wednesday said that despite the Taliban's continued ability to launch large-scale attacks on major cities, a recent cease-fire and new moves toward reconciliation indicated unprecedented progress in the nearly 17-year fight.
Army Gen. John Nicholson attributed the progress to the South Asia Strategy launched last year by coalition forces in Afghanistan in which dozens of nations led by the United States committed more troops to train and advise Afghan forces until 2024.
"The strategy is working," Nicholson told reporters in what is likely his last address to the press as commander of NATO's Resolute Support mission. Lt. Gen. Austin "Scott" Miller is slated to take command in the fall. "Reconciliation progress is significant, and ultimately, wars end with a political settlement," Nicholson said. "So the progress toward reconciliation is key."
Nicholson noted that in the past year, the Taliban wrote an open letter to the American people -- outlining its demands for peace, which include having U.S. forces fully leave Afghanistan – while the Afghan government laid out its demands, and then the sides agreed to a cease-fire.
The response was "overwhelming," unleashing what Nicholson described as an unprecedented desire for peace among Afghan political and civil society. He said the social pressures among ordinary Afghan civil society groups – women, youth, peace movement and religious groups -- were key toward bringing the Taliban to the table.
A second cease-fire offered by Afghan President Ashraf Ghani has yet to be accepted by the Taliban, but Nicholson said it was helping to "enable political dialogue to begin."
The general acknowledged the concerns raised in the latest Department of Defense Inspector General report on Afghanistan, which noted that the Afghan government has made "no significant progress" in increasing the percentage of the population living under government control or influence, with 35 percent of the population living under Taliban control or in contested areas.
He also acknowledged the Taliban's continued capability to launch large-scale, deadly attacks, citing one on a hospital in January by an ambulance laden with explosives and the recent four-day battle for control in Ghazni that killed hundreds – including civilians.
Nicholson said he was encouraged that Afghan commandos were able to chase out the Taliban and inflict more casualties than they took. "The point is, can they conduct attacks? Yes. Can they hold what they take? No."
He quoted Gen. Joseph Votel, commander of U.S. Central Command. "As Gen. Votel said a few weeks ago … yes, it is a bit of an impasse, but despite that, we are seeing progress toward reconciliation.
"There will be ups and downs," Nicholson said. "There will be leaps ahead; there will be frustration; there will be two steps forward, one step back from time to time. But the process has started and it wouldn't have happened without the South Asia Strategy."
Citing some of the successes, Nicholson noted the buildup of the Afghan commando units from 30 companies to 45 in the two years since he took command. He said he expects that to double next year. In addition, the Afghan air force is growing in its capabilities, which can go a long way toward turning the fight around.
Looking back, Nicholson said that when he took command, President Barack Obama's focus was on reducing the number of forces and closing down the mission, leading the enemy to believe that the U.S. had "lost our will to win." But under President Donald Trump, the focus shifted to this new strategy, forcing the Taliban to recognize they could not just "wait us out."
Still, he acknowledged that Pakistan continues to provide safe havens to Afghan militants, particularly the Haqqani network. But the Afghan and the Pakistan governments have opened dialogue and he hoped they would find consensus.
With 21 terrorist groups in Afghanistan, Nicholson stressed that U.S. and NATO forces were in Afghanistan to "keep pressure on an entire system … to prevent the emergence of some new threat to the homeland."
"Our presence here does protect the homeland and prevent another 9/11," he said. "I firmly believe that."
cahn.dianna@stripes.com Twitter: @DiannaCahn