McDonald looks to new committee for fresh ideas on fixing VA care
by
Heath Druzin
April 14, 2015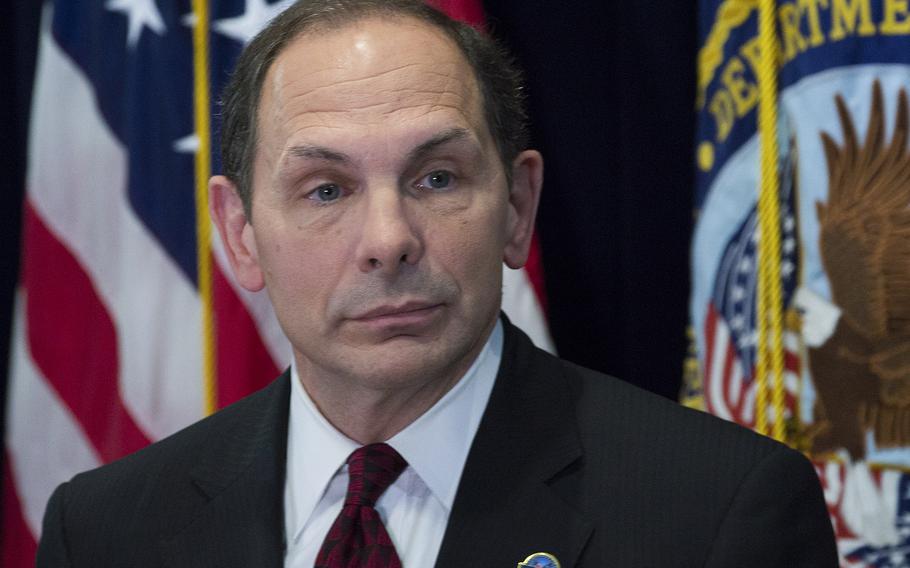 WASHINGTON — From Congress to veterans service organizations, the VA is getting no shortage of advice on how to improve on its dreary record. On Tuesday, a new government advisory committee of businessmen, academics, health care experts and retired military leaders met for the first time to craft suggestions on how to revamp the scandal-plagued agency.
In a public meeting with committee members, VA Secretary Bob McDonald said he hopes getting fresh perspectives will help the department better care for veterans.
"As a typical government bureaucracy, sometimes we lose sight of our customer," he said.
McDonald announced the creation of the committee in March when he and President Barack Obama visited the Phoenix VA hospital at the center of a nationwide scandal involving secret wait lists. Former VA Secretary Eric Shinseki resigned due to the scandal.
The committee is supposed to help McDonald craft MyVA, the largest reorganization in the history of the department, which is the second largest in the federal government.
Since taking over in July, McDonald has faced a steady stream of damning revelations about VA medical facilities across the country, from over-prescription of opiates to an email from an official who made fun of a suicidal patients. He and his colleagues have faced harsh questioning from lawmakers at congressional hearings, and some politicians say they are losing patience with the pace of reforms.
At first, McDonald had a sympathetic audience with the advisory committee. Referring to a front-page Washington Post story about one of the VA's latest black eyes -- a Colorado hospital that has run more than $1 billion over budget -- committee member Herman Bulls, an executive at real estate company Jones Lang LaSalle, took a dig at VA critics.
"It's politically expedient to criticize," he said.
Lawmakers have grumbled that the VA needs to focus on action rather than discussion. Exactly what the 14-member committee will be responsible for and even how often they will meet remains ill-defined. But committee member Chris Howard, president of Hampden-Sydney College in Virginia and an Air Force veteran, said outsiders like himself can help break bad habits.
"Anytime you're in an organization with a distinct culture that has done things for a long time, they're going to default to what they've done in the past," he said.
In a brief interview on the sidelines of the meeting, McDonald, the former CEO of Procter & Gamble, said he's used to having a board of directors provide guidance and he's seeking something similar for MyVA.
"I felt as I talked about things I wanted to do, I was lacking that," he said.
druzin.heath@stripes.com Twitter: @Druzin_Stripes