CIA director reaffirms US commitment to S. Korea alliance during visit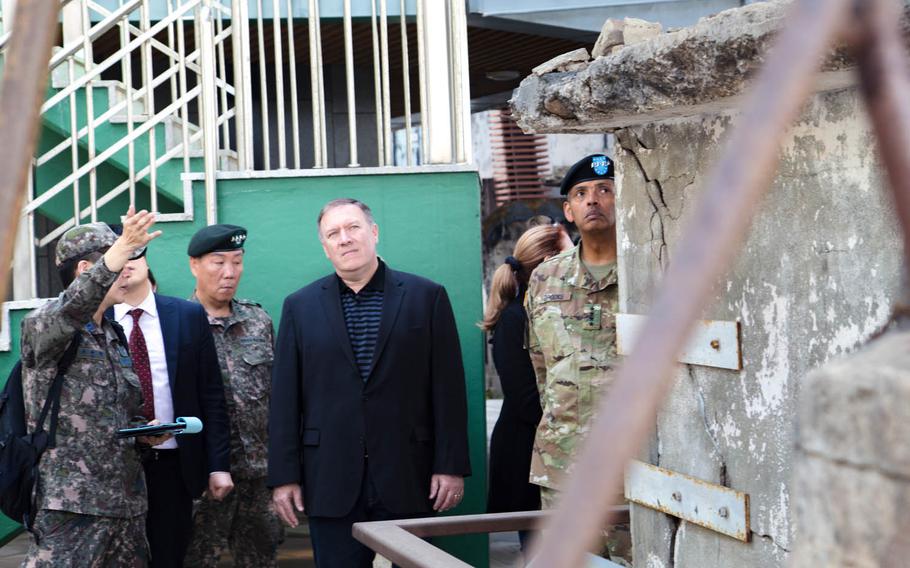 SEOUL, South Korea — The CIA director reaffirmed the U.S. commitment to its alliance with South Korea during a visit this week as the two allies face a growing threat from the North.
Mike Pompeo conducted "detailed security discussions" with his South Korean counterpart Lee Byung-ho during a three-day trip that began Saturday, according to a press release from U.S. Forces Korea.
The visit came as all sides have ratcheted up their rhetoric amid fears that North Korea may conduct another nuclear or missile test.
Recent comments by President Donald Trump also have raised concerns among many in South Korea about their longstanding alliance with the United States.
Pompeo's visit was to discuss the security situation "and reaffirm the ironclad commitment of the United States" to its alliance with South Korea, the release said.
The CIA also director met with USFK commander Gen. Vincent Brooks and the U.S. Embassy charge d'affaires Marc Knapper.
Pompeo also visited Yeonpyeong Island, which was targeted by North Korean artillery during a skirmish in 2010.
He is the fourth senior U.S. administration official to visit South Korea since Trump took office on Jan. 20. Vice President Mike Pence, Secretary of State Rex Tillerson and Defense Secretary Jim Mattis also have traveled to the country.
About 28,500 U.S. servicemembers are based in South Korea, which remains technically at war with the North after the 1950-53 conflict ended in an armistice instead of a peace treaty.