75th V-E Day anniversary going virtual as military and WWII veterans mark milestone
by
John Vandiver
May 7, 2020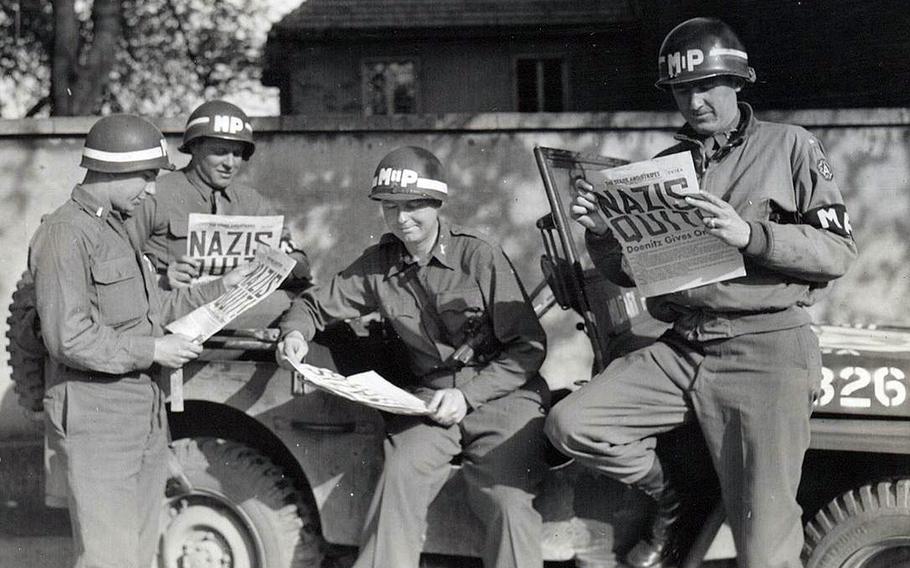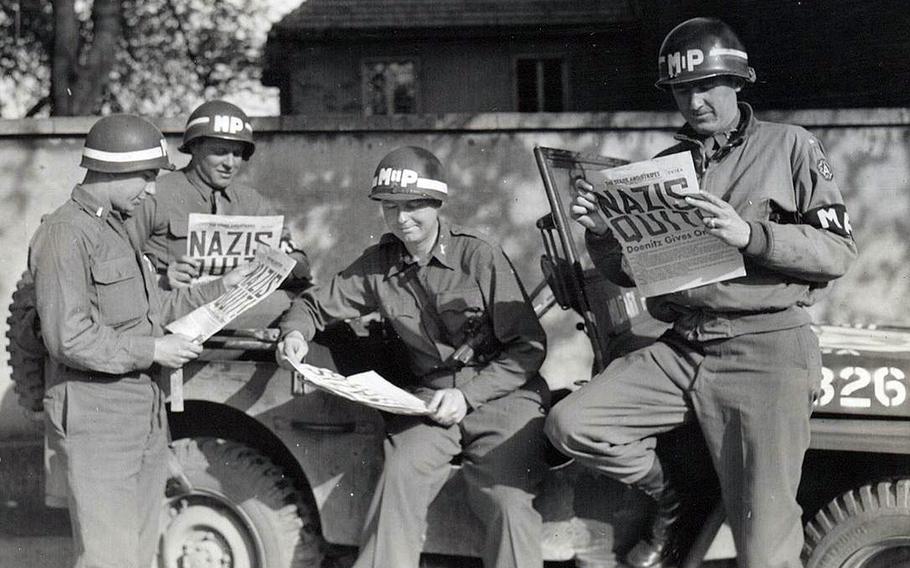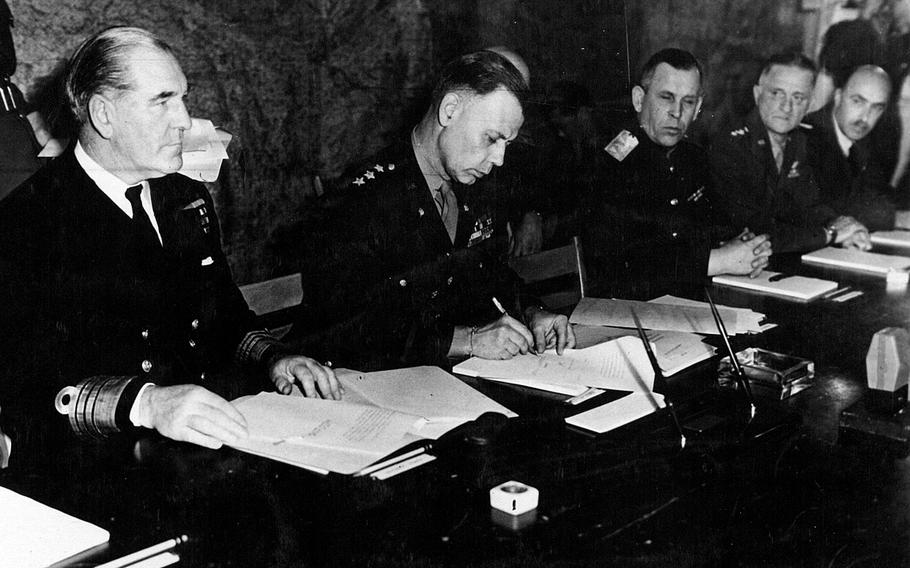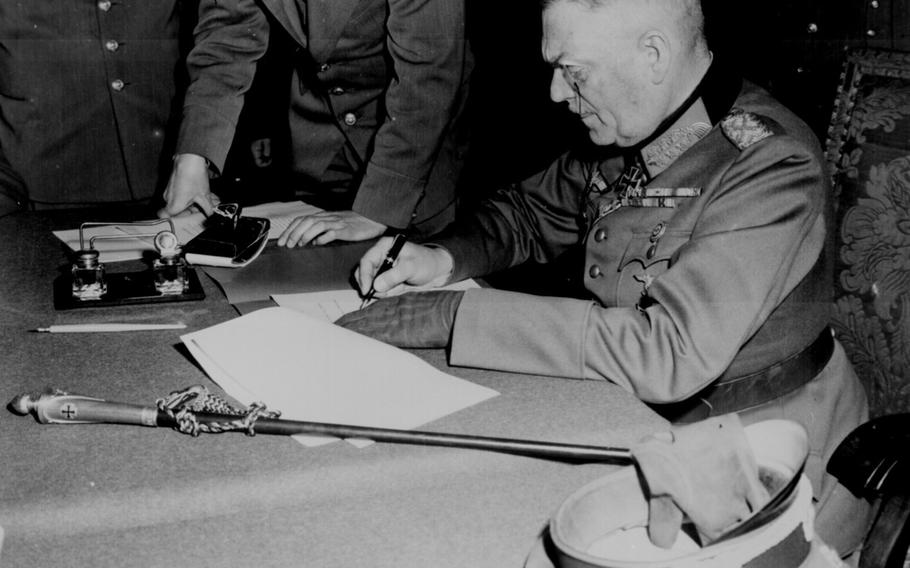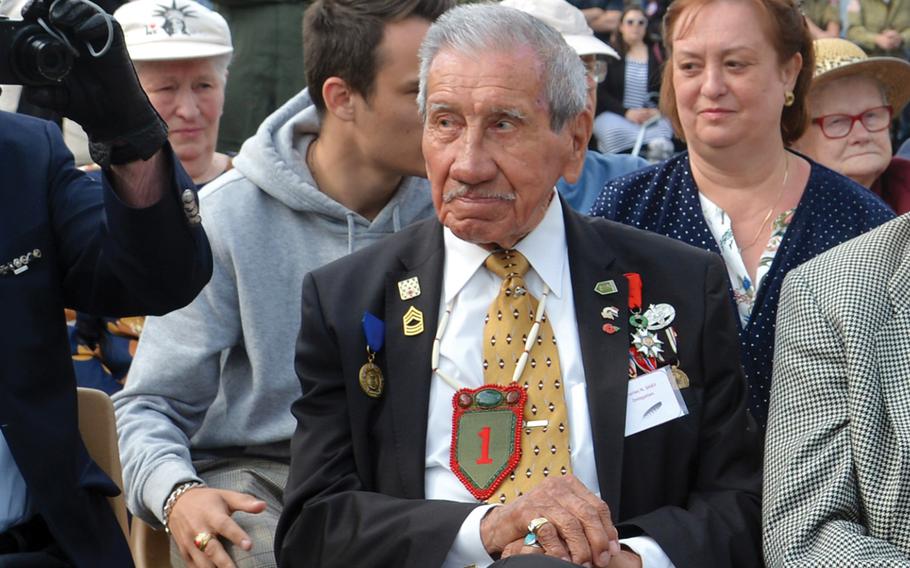 Stars and Stripes is making stories on the coronavirus pandemic available free of charge. See other free reports here. Sign up for our daily coronavirus newsletter here. Please support our journalism with a subscription.
STUTTGART, Germany — Seventy-five years ago, throngs filled the streets of Paris, London, Moscow and New York to celebrate Victory in Europe Day, but on Friday as the world marks the anniversary of Nazi Germany's defeat the ceremonial pomp will be muted.
Not only has the coronavirus upended commemoration plans slated to take place across Europe and the U.S., it also has rattled much of the post-World War II order now trying to contain the pandemic.
With gatherings canceled that would have included the dwindling number of surviving World War II veterans, the Pentagon will go virtual Friday to call attention to the sacrifices on the 75th anniversary of V-E Day.
At U.S. European Command's Patch Barracks headquarters in Stuttgart — a base named after Lt. Gen. Alexander Patch, who led the allied push into southern Germany — public events will also go virtual.
On Friday, Gen. Tod Wolters, EUCOM chief and NATO Supreme Allied Commander Europe, will participate in a virtual wreath laying in Belgium.
"On this milestone anniversary of V-E Day, we remember all who resisted behind enemy lines, those who tirelessly worked on farms and in factories to supply and equip the war effort, who fought on land, sea, and in the air," Wolters said in a statement. "We also reflect on the horrors of World War II, the Holocaust, the tremendous destruction, the millions of lives lost which are all solemn reminders of the importance of preserving peace."
'Just happy to be going home' Among those who fought was Charles Shay, who served as an Army medic, and took part in the D-Day invasion and the Battle of the Bulge. He will mark the day from his home in Normandy, where he moved two years ago to be closer to comrades buried in the nearby American military cemetery.
"On May 8th, 1945, if I recall well, I was in Bremerhaven, Germany waiting for a boat to return home," Shay said in a phone interview. "I was just happy to be going home and happy to be away from all the confusion and fighting that was going on in Europe."
Shay, 95, was taken prisoner by German forces in March 1945 while on a reconnaissance mission about 50 miles west of Frankfurt. He was freed in mid-April when U.S. forces reached the POW camp. That was the end of the war for Shay, who would soon be on a boat bound for Boston where his parents lived.
"My mother opens the door and you can imagine her surprise when she saw me," Shay said. "Of course, I told them about some of my experience but not everything."
For the last month, EUCOM has highlighted historical events with a daily victory countdown on social media that tracked the allied push through Germany.
EUCOM historian William Butler said V-E Day is a time to reflect on the enormous sacrifice that went into victory in Europe, where hundreds of thousands of U.S. troops were killed and millions of Europeans died, which included the shocking atrocities of the Holocaust.
V-E Day was the culmination of years of fighting, but also set the stage for a U.S.-led postwar order that produced institutions like the United Nations and NATO, and brought Germany back into the fold of friendly nations.
A legacy of the WWII campaigns was the proof that nations can join together in war or crisis, Butler said.
"That alliance, that coalition of nations working together towards defeating the enemy so to speak, should be key for us," he said. "We've had this enduring partnership in Europe. We've had NATO and other connections … that have lasted and served us well."
Lessons also can be drawn from V-E day as the world contends with the coronavirus, Butler said
Current generations can draw inspiration from the resiliency of the "Greatest Generation," which endured the Great Depression before fighting in the biggest war in history, Butler said.
"They knew what it was like to see normal life disrupted in a pretty significant way … we haven't experienced that as a country as a whole in quite a while," he said.
Fighting toward Berlin Germany officially surrendered on May 7, 1945, which allies announced a day later. The outcome had become clear in the weeks leading up to victory. One week before the surrender, Adolf Hitler killed himself in a bunker as the Soviet army closed on Berlin.
Among the U.S. military milestones later in the war that paved the way to victory, foremost was Gen. Dwight D. Eisenhower's decision to send thousands of allied troops onto the beaches of Normandy.
After that came the Battle of the Bulge, Germany's last major offensive, fought in the forests of Belgium, Luxembourg and France. The allies were taken by surprise but regrouped over several weeks. The battle left nearly 20,000 U.S. troops dead.
After the Bulge, crossing the Rhine River in March 1945 capped a huge logistical achievement. Western allies were advancing on all fronts, with the Russians in the east closing fast.
It then became a question of how fast victory would come. But even after Germany's surrender, there were concerns, particularly in the south, where U.S. forces were in control.
Patch's advance into southern Germany positioned allies to quash the remaining Nazi elements, who Eisenhower feared could hole up in the Alps.
"We had met our Soviet allies up north, but there was still major concern by Gen. Eisenhower with respect to any lingering resistance that could possibly fester for months and years," Butler said.
U.S. bases in southern Germany, like EUCOM's headquarters, are partly a legacy of that focus on defeating a guerrilla campaign that failed to materialize.
Over time, U.S. forces based in places like Stuttgart evolved into a Cold War force focused on countering the Soviet Union, followed by other global threats.
"And here we still are," Butler said.
vandiver.john@stripes.com Twitter: @ john_vandiver