Omaha Beach sculpture planned for D-Day veteran who now calls Normandy home
by
John Vandiver
January 14, 2020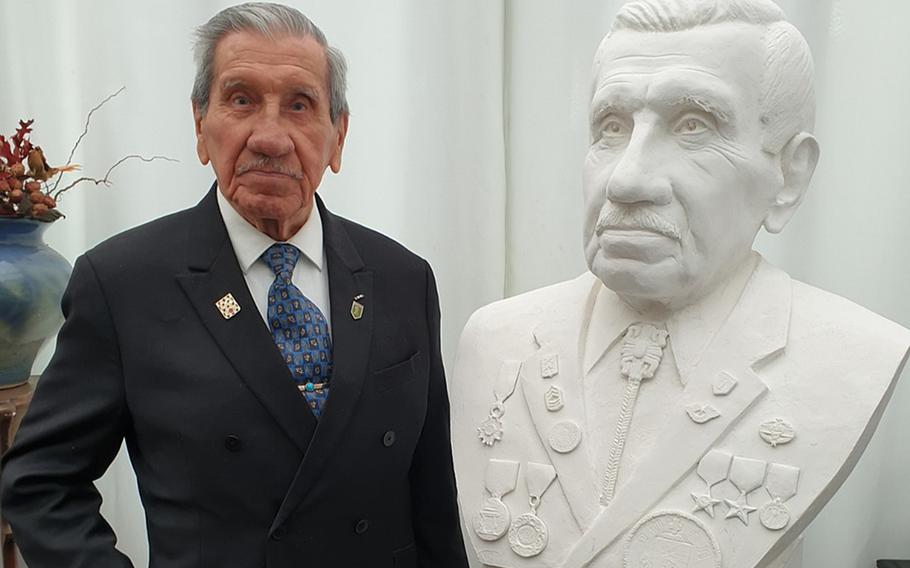 Overlooking Omaha Beach is a small memorial to honor Native American troops who took part in the Normandy invasion more than 75 years ago, and now a group of French locals want to add to it.
An effort is underway to erect a large bust of D-Day vet Charles Shay, who stormed the beach as a medic and today calls Normandy home.
"It is better to do it while Charles is still alive," said Marie-Pascale Legrand, Shay's caretaker in Normandy, who is part of the effort.
A group of Normandy residents came up with the idea of creating a bust of Shay, which when finished will weigh 165 pounds and sit in the center of the Charles Shay Indian Memorial in Saint-Laurent-sur-Mer, France. The memorial opened in 2017 and since then, U.S. Army generals have made a point of visiting during D-Day ceremonies.
The community plans to unveil the statue in time for the 76th anniversary of D-Day on June 6, said Legrand, who has spent 3,000 euros to launch the project. A GoFundMe campaign also has been started to help with the estimated total cost of $13,000.
Local officials have already granted permission for the project, Legrand said. Now, plans are being made to dig at the site and place a cement foundation to keep the bust secure on the windy bluffs at Omaha Beach.
Shay, a Penobscot Native American, was just 19 when he was among the first wave of troops to land at Omaha Beach.
Since 2007, he's made annual D-Day pilgrimages to the Normandy American Cemetery, where 9,388 war dead are buried.
"The heroes, the real heroes, are laying here in the cemeteries," Shay said in an interview with Stars and Stripes last year. "These are our heroes. We should never forget them."
Shay, lonely in his native Maine, moved to Normandy in 2018 to live with his friend Legrand. She said there is every expectation that Shay will be on hand for the bust unveiling, slated for June 5.
While he has the ailments that come with age, he remains active and likes to keep up with current events like the wildfires in Australia, which have him particularly concerned, she said.
He's also has taken a strong liking to French wine.
"He's 95 years old and this is one of his pleasures. And there is nothing wrong with that," Legrand said.
vandiver.john@stripes.com Twitter: @john_vandiver