Allies commemorate the 75th anniversary of the Battle of the Bulge in DC ceremony
---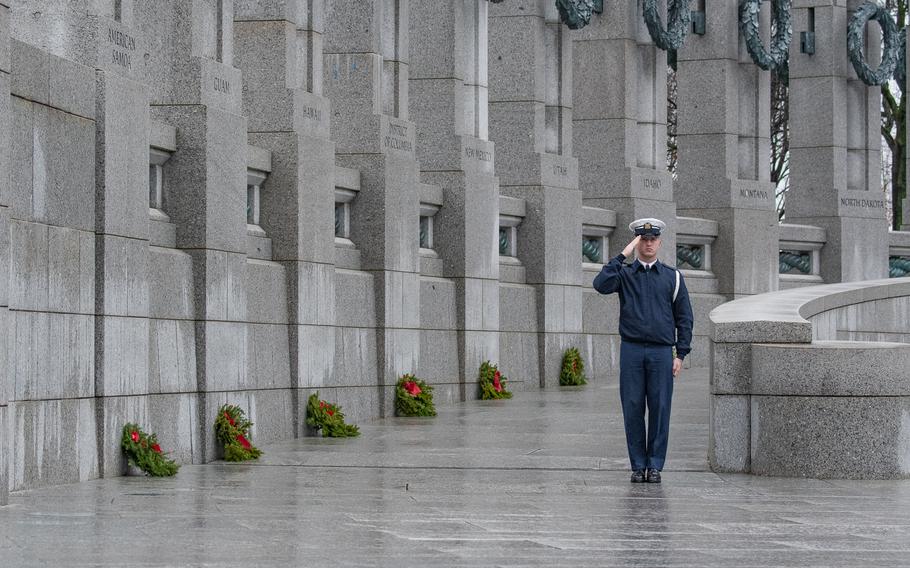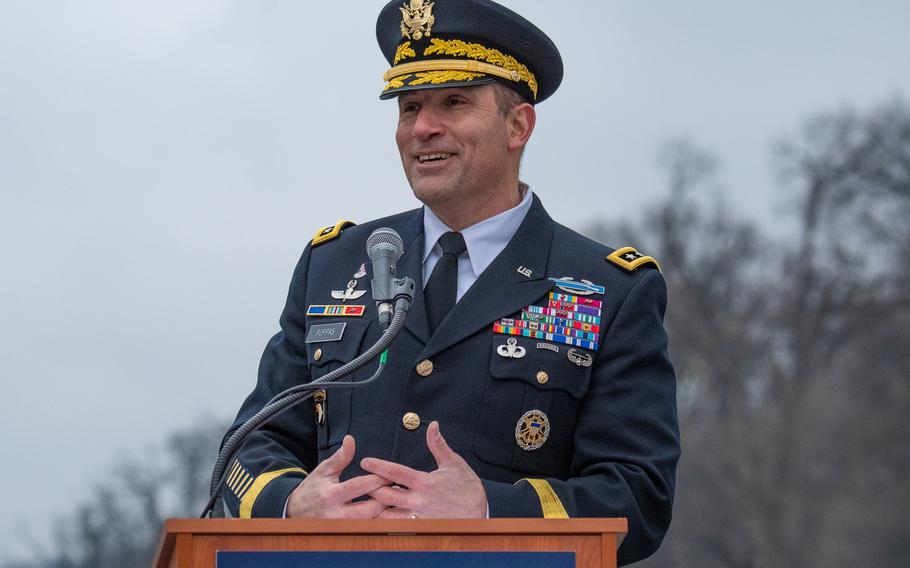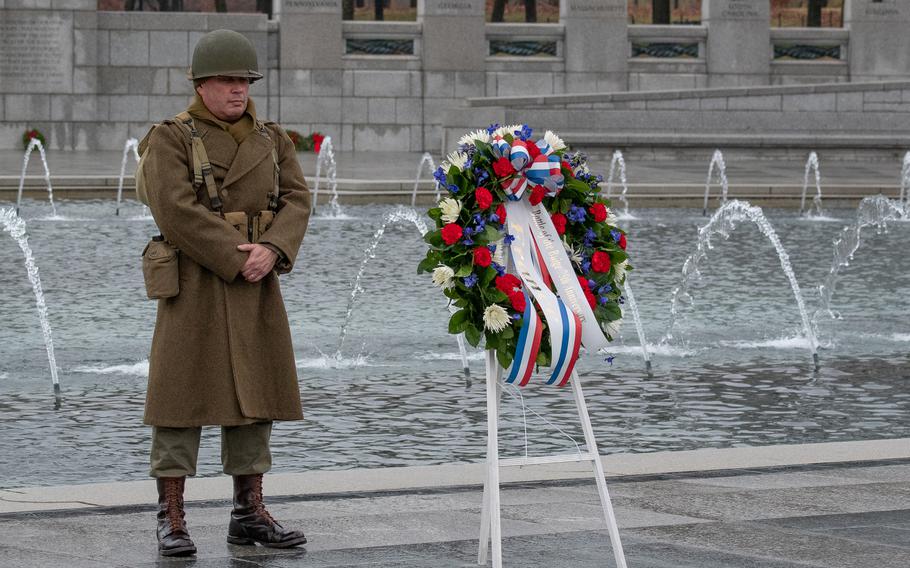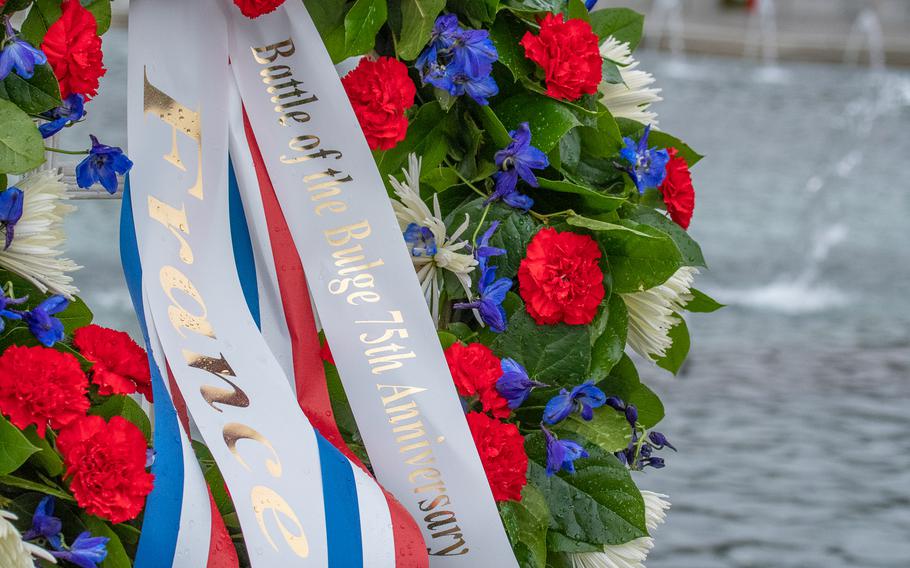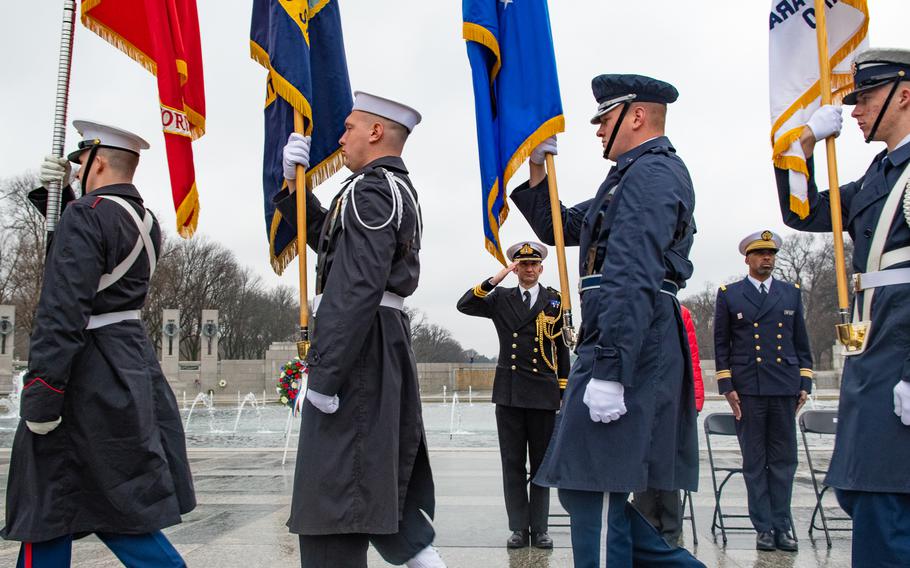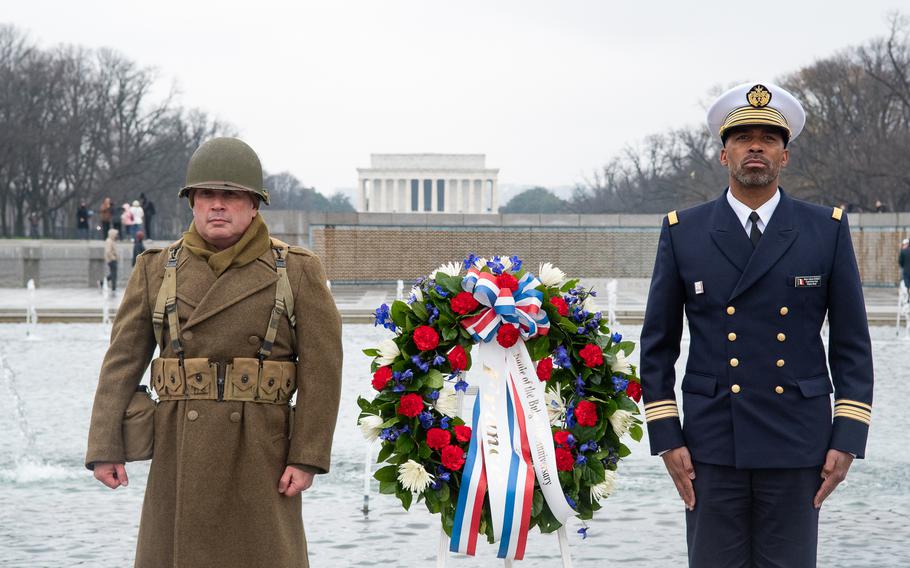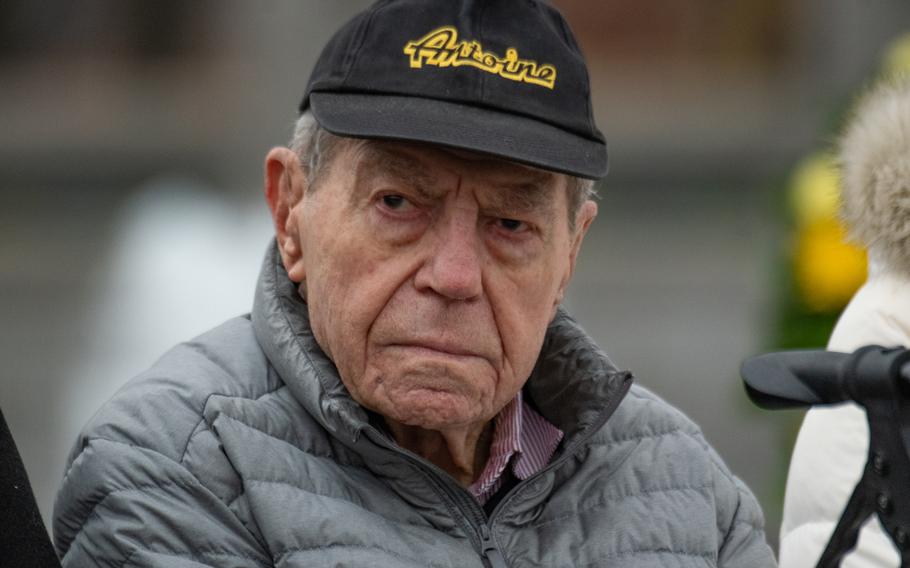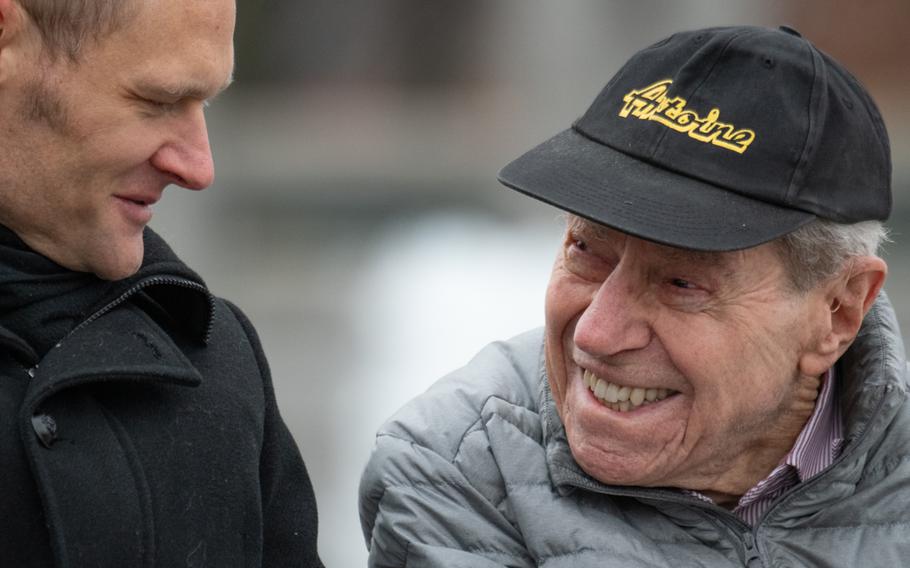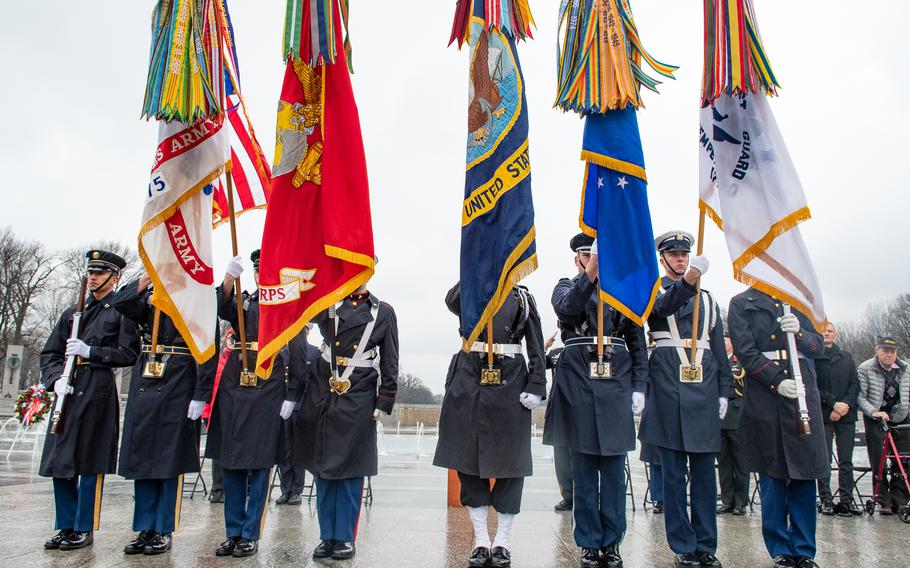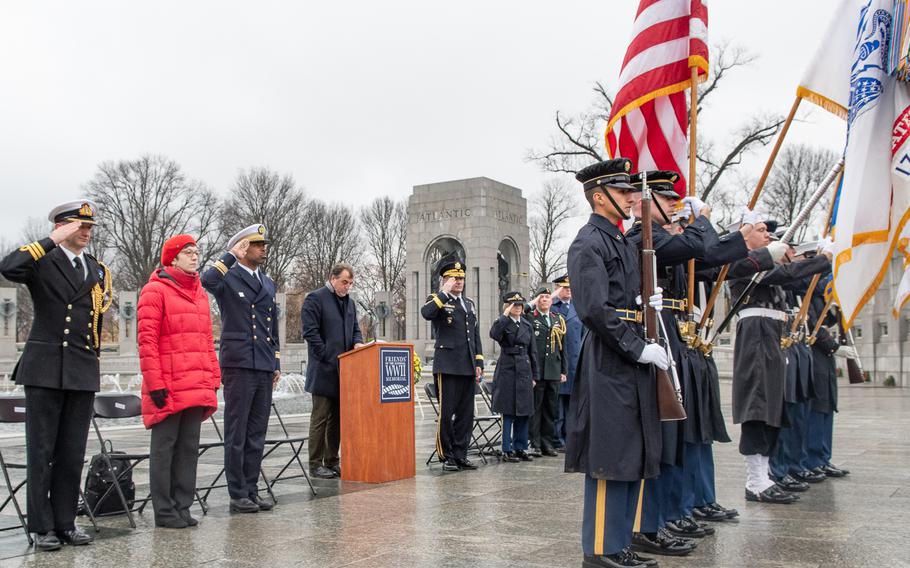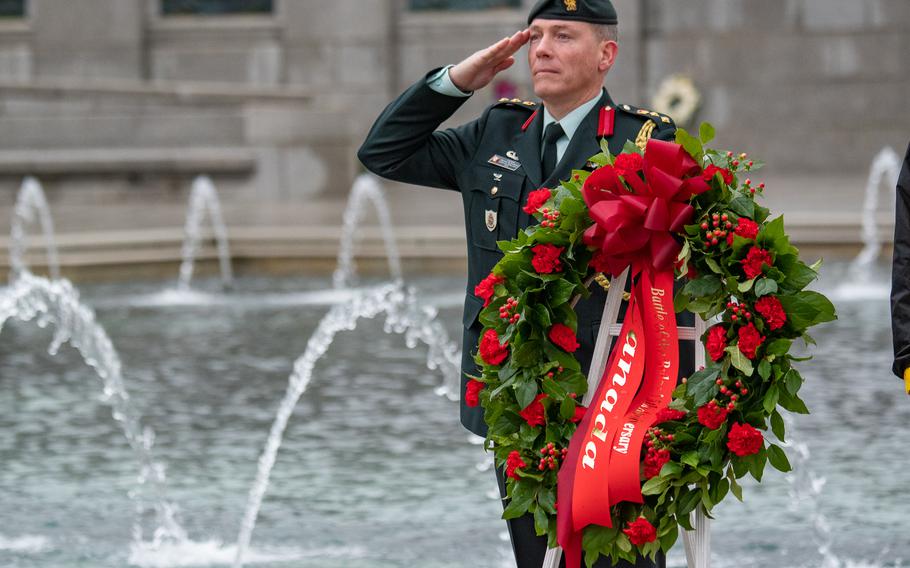 WASHINGTON — The only World War II veteran who ended up participating in Monday's Battle of the Bulge 75th Anniversary commemoration, 95-year-old George Arnstein, took a taxi to the National World War II Memorial, then braved the rain and cold wind.
The weather, along with their advancing age, kept other invited World War II veterans from participating in the ceremony, and the crowd was thin. But Arnstein provided first-hand memories of the pivotal battle and its aftermath.
"My outfit was part of the counterattack," he recalled. "We kept going. We crossed from Luxembourg into Germany and then went all the way across Germany eastward until we met the Red Army, which was coming westward. It was a meeting, as I like to put it, deep in the heart of Saxony. Then it was over."
Arnstein was a technician fifth grade (T/5), then the equivalent of a corporal; he was the gunner/radio operator in an armored vehicle. He served three years in the Army.
"Armored cars are made of cold metal, which means that we were very conscious of the cold," he said. "We didn't have heaters or anything like that. Mechanized cavalry recognizance means hit and run, and most of the time, just explore and report what we found. We didn't have that much mobility, but we crossed from Luxembourg across a river called Sure in French."
He remembers the weather during the Battle of the Bulge.
"Above all, it was bitter cold. It was the coldest winter in I don't know how many decades."
A while ago, Arnstein started a listserve to try and keep connected with his fellow World War II veterans, but that was discontinued about a year ago because no one was participating any more.
"It is sobering, because I don't know if there are any of my fellow troopers left. We used to have reunions of the troops, and that became smaller and smaller. And then we had a reunion where we joined the whole division and that got discontinued," Arnstein said.
Alex Kershaw, author of "The Longest Winter: The Battle of the Bulge and the Epic Story of World War II's Most Decorated Platoon," was the master of ceremonies at Monday's event. Lt. General Andrew Poppas offered remarks, and dignitaries from Belgium, Canada, France and the United Kingdom helped to lay wreaths. The event was hosted and produced by the Friends of the National World War II Memorial.
---
---
---
---