Young plane captains have final word on upkeep, readiness of Navy jets
by
Juliana Gittler
October 26, 2003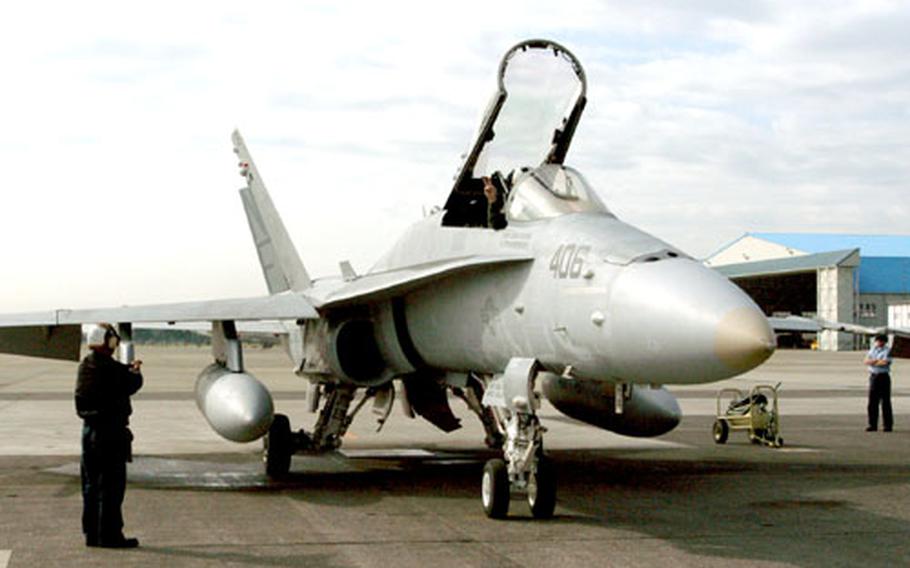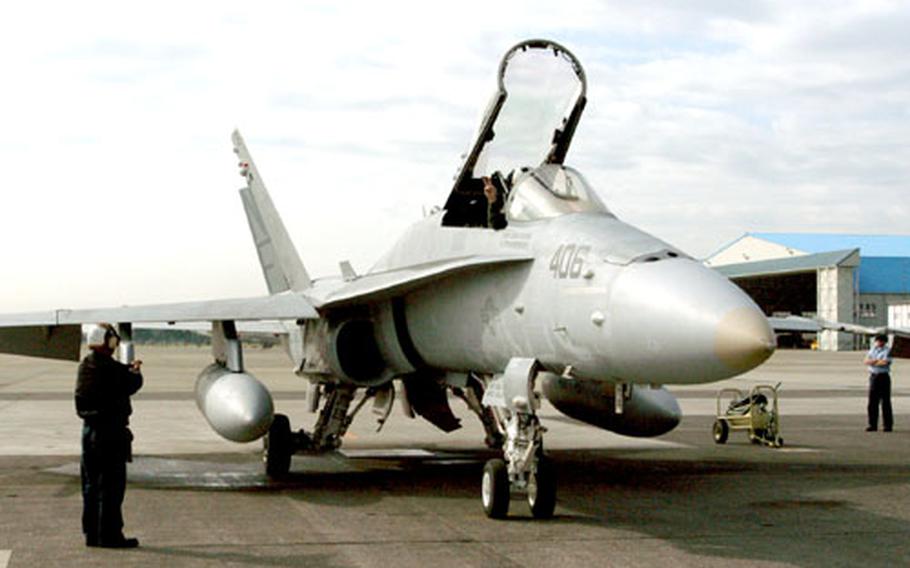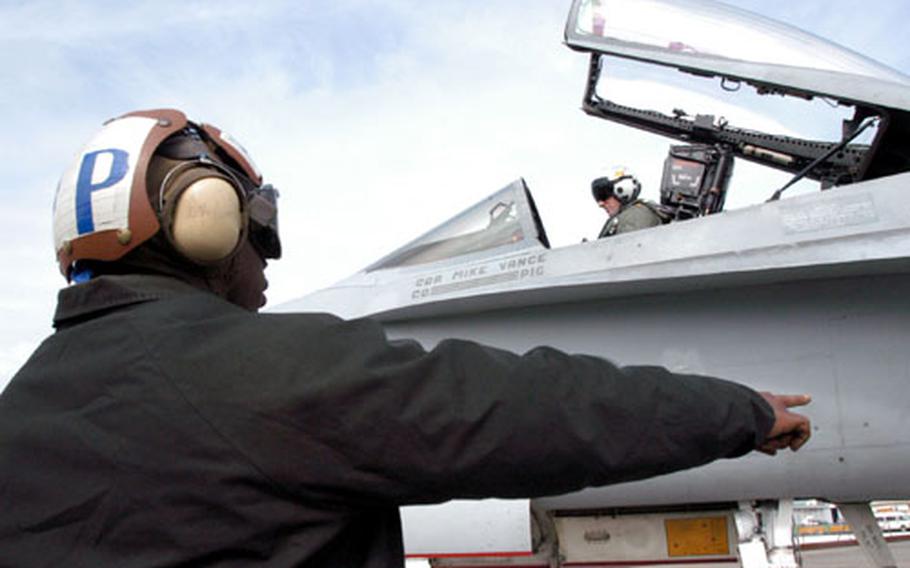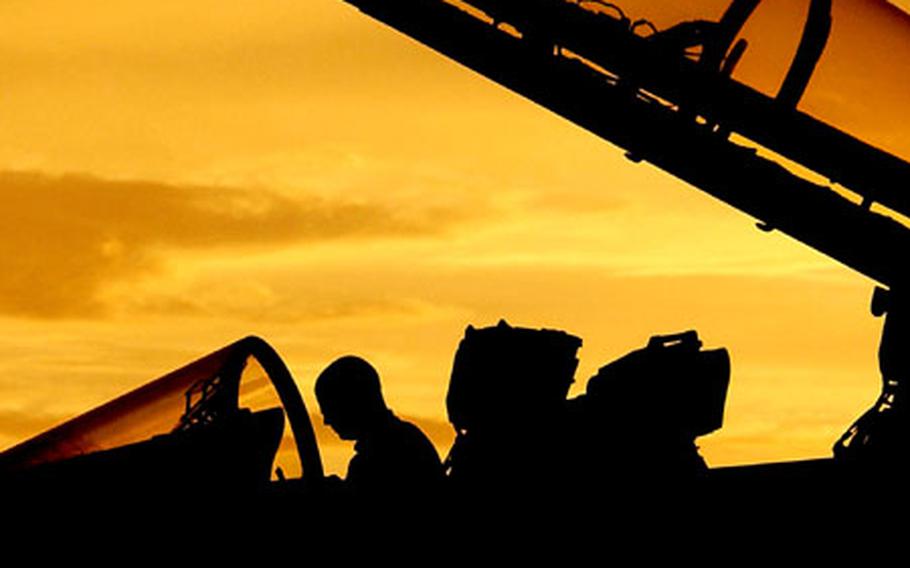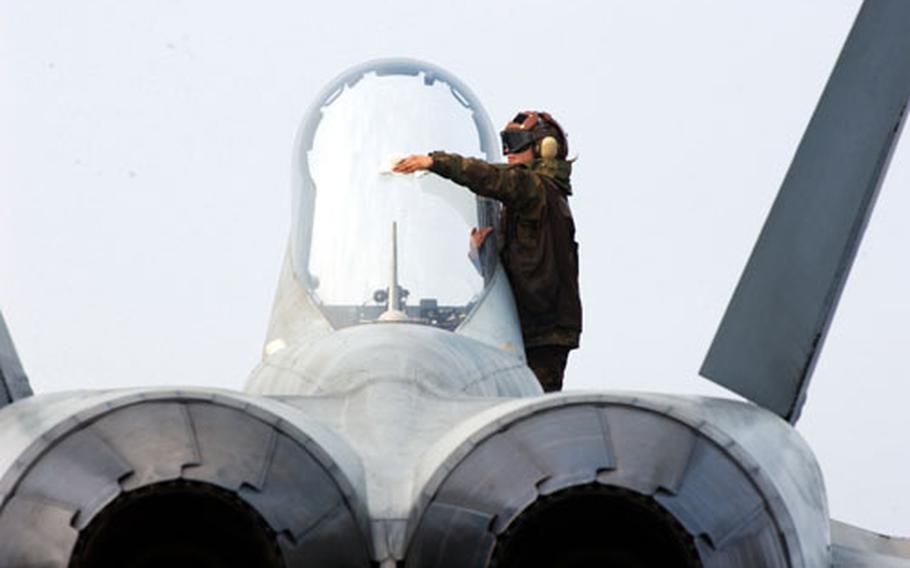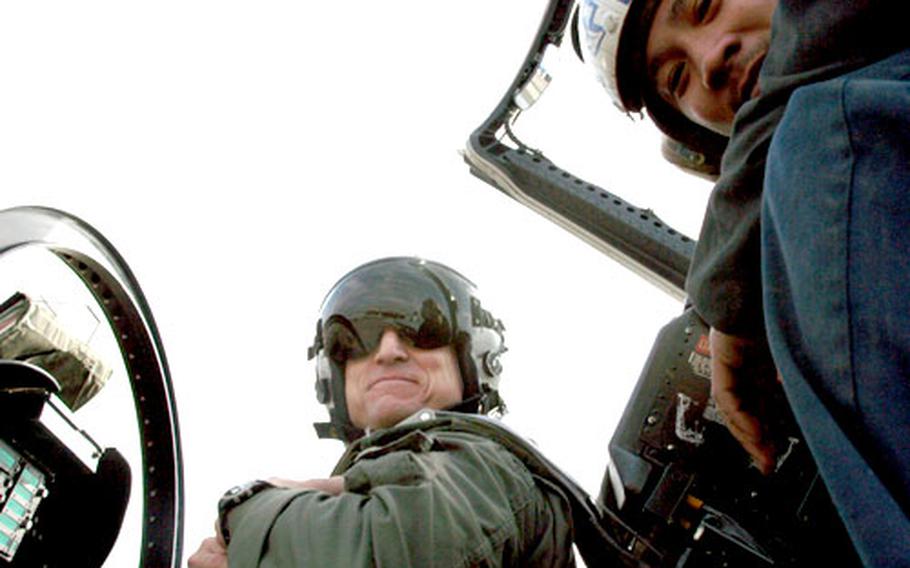 ATSUGI NAVAL AIR FACILITY, Japan — Navy Airman Rossana Ojeda never thought she would use tools as part of her job, or be responsible for a multimillion-dollar piece of equipment.
Yet as a plane captain — the caretaker for jets, planes and other Navy aircraft — she is the first and last person to see and handle her plane every workday. It's her familiarity with the plane — a Prowler with Carrier Airwing 5's Squadron AQ-136 — that can mean mission success, and possibly life or death for pilots.
At 20, she has a supercharged life that has her on the flight deck of an aircraft carrier or tooling around a multimillion-dollar plane.
"It makes you grow up faster than your friends" back home, she said. "And they notice."
It's one of the hardest jobs given to the squadron's youngest personnel.
"Some of these guys aren't old enough to drink, but they're in charge," said Cmdr. Mike Wettlaufer, executive officer of VFA-195, a Hornet squadron with Carrier Airwing 5 at Atsugi Naval Air Facility. "The plane doesn't taxi until plane captains say it's ready."
"They're the youngest people in the squadron," added Petty Officer 1st Class Andrew Larkin, an aviation ordnanceman and leading petty officer for the Line Shack, the department in which plane captains work.
Plane captains usually are undesignated Navy airmen, meaning they haven't picked a rate or occupation specialty. They're young and inexperienced, but they quickly learn most aviation jobs, such as machinist, electrician and ordnance handler.
"Basically we do everything," said Airman Wesley Jacobs, also with AQ-136.
They fix missing screws, replace panels.
"We clean it, service it, fuel it. Your jet is like your car," Ojeda said.
Petty Officer 3rd Class Tiana Dalli had a similar sentiment but added, "Except we don't get to drive it."
Fresh from boot camp, plane captains arrive on station, and within a few months are handed a plane.
"I didn't know what a Prowler was," Ojeda said. Now she jokes that the pilots are borrowing her plane when they fly. The captains are so essential to the craft that their names are painted on the bottom.
After serving in the line shack, plane captains are better able to decide their future. Some leave aviation altogether, like Ojeda, who decided to seek a personnel job.
Others, such as Dalli, select an aviation job they learned about while being a plane captain. She's now an aviation electrician's mate and soon will start in the shop for electricians.
Each job falls into a shop; the plane captain is the only one in the crew who works with them all.
Plane captains learn a range of skills including signals for communicating with pilots amid the roar of engines, to run through the preflight checklist and start-up sequence.
Captains do cursory inspections after flights and exhaustive inspections at the end of each day. Any problems are reported to maintenance and repair personnel, who coordinate through the plane captains before touching the plane.
"Everyone is depending on you to find anything wrong with the jet," Dalli said.
The job can be exhausting, but having your very own plane is fun, the captains admit.
It's also dangerous. Jacobs recalls standing on the flight deck of the USS Kitty Hawk as an F-14 turned. The heat from the engine exhaust burned off the hair on his arms.
"It's fun, but when you're actually working, it's a lot of stress," Ojeda said. "It's not easy being a PC."