You won't find more authentic Bavarian cuisine than at Restaurant Boehm
by
Martin Egnash
April 4, 2017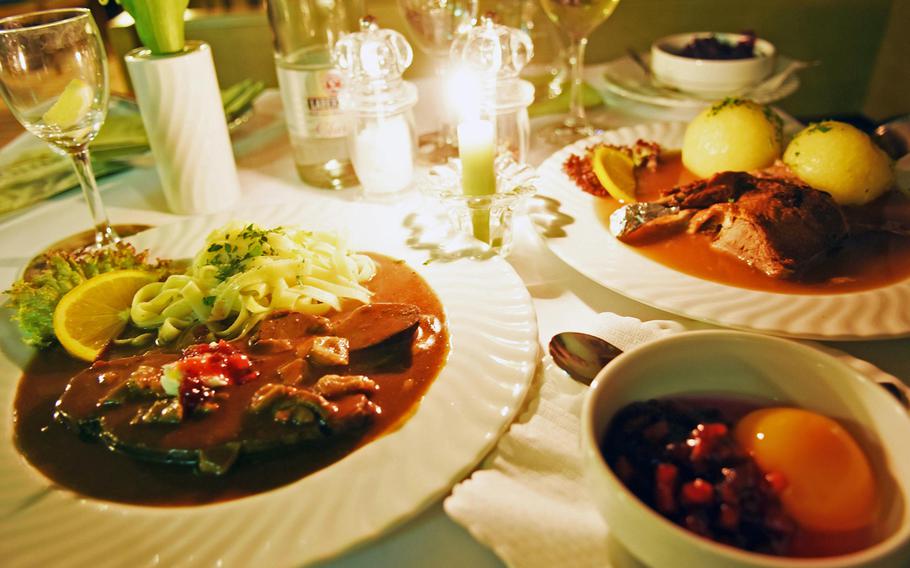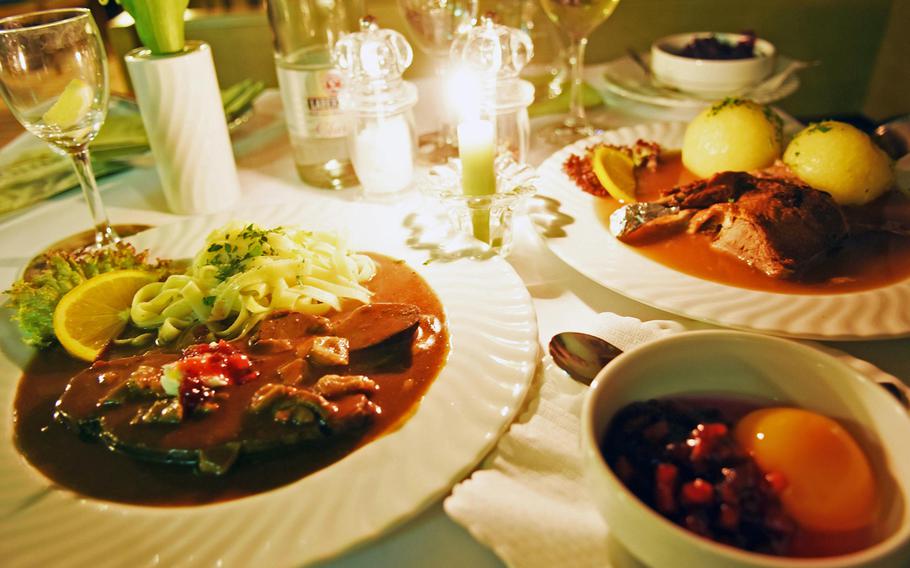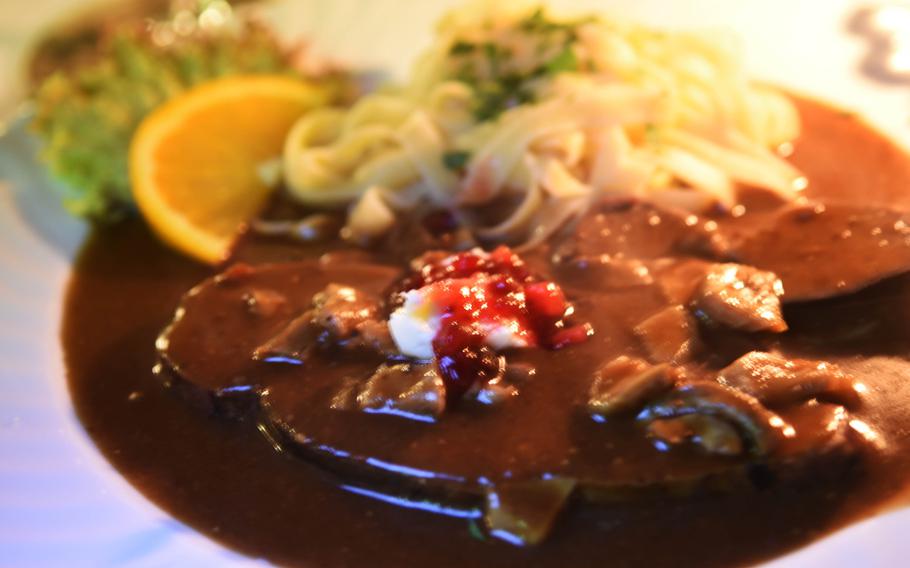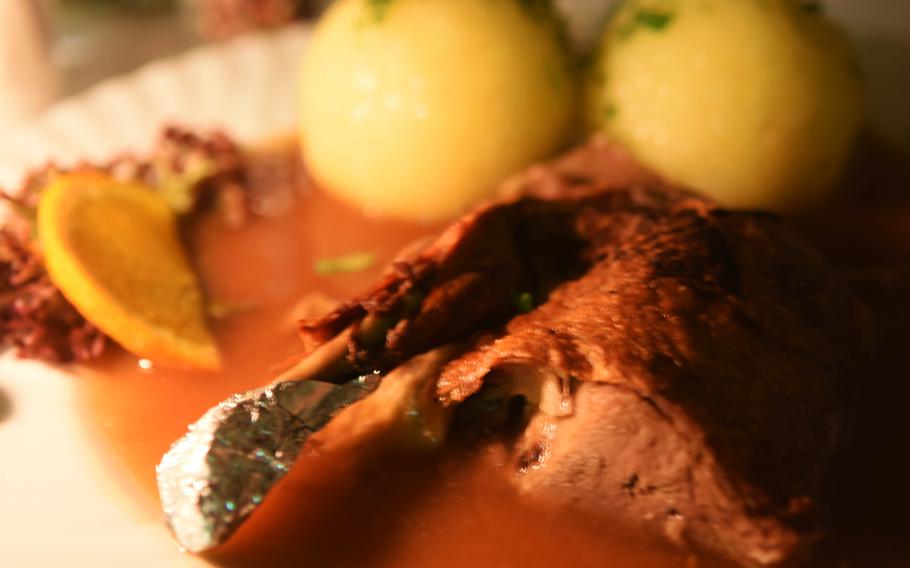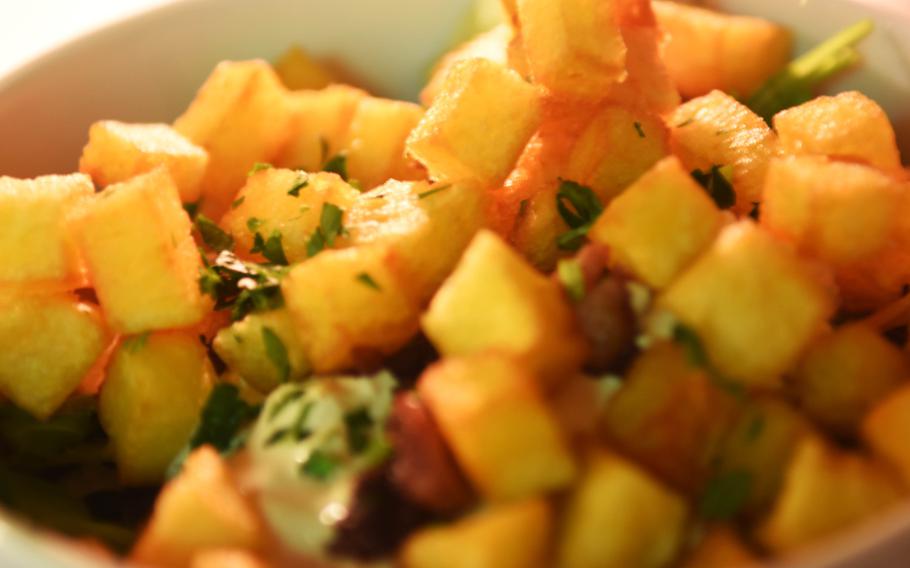 If you live near the U.S. Army Grafenwoehr Training Area, you've no doubt noticed the wide variety of non-German restaurants surrounding the base. There are Chinese, Thai, Greek and even Mexican restaurants right outside the gate. But if you'd like to try some classic German recipes, you would be hard pressed to find more authentic Bavarian cuisine than at Restaurant Boehm.
Located on Neu Amberger Strasse, it specializes in locally sourced traditional Bavarian meat-and-potatoes dishes, as well as huge, meal-portion salads.
The salads, listed on a separate menu, come in a small and large sizes, though the small would be called large anywhere else. There is a crunchy salad filled with seeds; a farmer's salad with fried potatoes and bacon; and the "Big Red One," a shout-out to the U.S. Army's 1st Infantry Division, with marinara and mozzarella.
If you plan to sample them all, Restaurant Boehm offers a salad card, which gives you one free after you've tried all nine.
The main courses include roast duck served over gravy with a side of giant, fist-size dumplings, and venison served in a gravy with homemade noodles. A note under the venison explains that the meat is from local forests, not a farm. At 15 euros ($16.18), it is the most expensive item on the menu.
One of Restaurant Boehm's specialties is schnitzel, prepared in several unique ways. The restaurant serves a very popular "horseradish schnitzel," which packs a spicy bite, and a bratwurst-stuffed schnitzel.
"The bratwurst schnitzel is my favorite thing on the menu," said third-generation head chef Heinrich Boehm. "It is a unique creation that you won't find in any recipe book."
Boehm dates back to 1907, when Heinrich's grandparents, August and Maria Boehm, opened a restaurant and butchery in this building. After World War II, the building was one of the few in Grafenwoehr that wasn't destroyed. The restaurant passed to Heinrich's parents, Justine and Paul Boehm, when his father returned from the war.
Today, the restaurant continues its long tradition of husband-and-wife cooking, with Heinrich and his wife, Hannelore, running things.
"I am very proud to continue my family's tradition," said Heinrich. "We use as many local, seasonal ingredients as we can and make everything ourselves. I love our food. I eat everything on our menu."
Upstairs from the main dining area is a hotel that also bears the family name.
Restaurant Boehm Address: Neue Amberger Strasse 39, 92655 Grafenwoehr, just north of the main gate of the Grafenwoehr Training Area
Hours: 6:30-10 a.m., 11 a.m. to 2 p.m. and 5-10 p.m. Mondays-Thursdays; 6:30-10 a.m. Fridays 5-10 p.m. Saturdays
Food: German specialties
Drinks: German beer and wine
Prices: 6-10 euros ($6.40-$10.70) salad or meal; 15 euros venison
Dress: Casual
Information: Phone: (+49) (0) 9641-9369-0, web: www.hotelboehm.de/en
you won't find more authentic Bavarian cuisine than at Restaurant Boehm