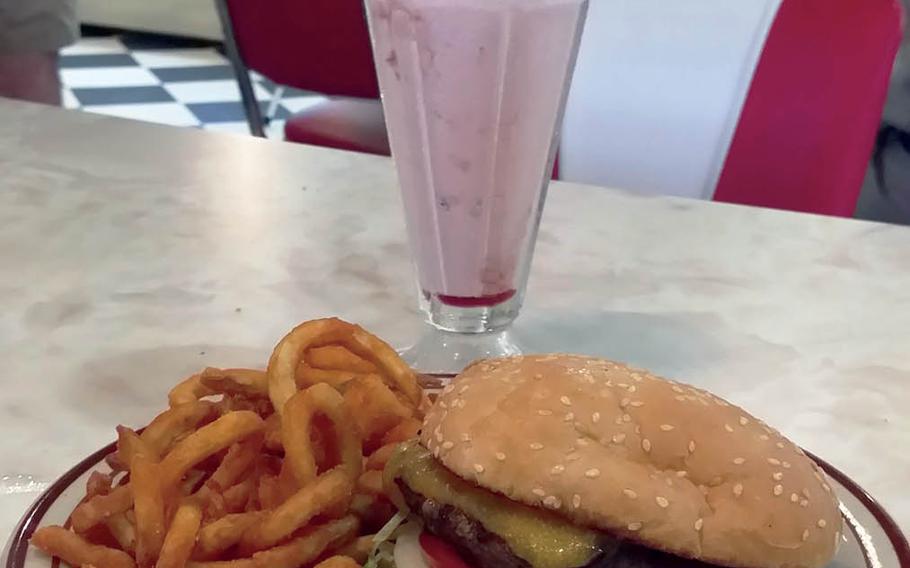 There's really nothing quite like going to a 24-hour diner in the middle of the night and ordering a very late dinner or an extremely early breakfast.
Several chain restaurants, as well as numerous mom-and-pop operations, thrive on it. But it's a pleasure long denied to junior servicemembers at Yokota Air Base in western Tokyo.
That is, until two weeks ago when Yokota's Route 16 diner began testing 24-hour operations on weekends. Now those unable to leave the base because of a 1 a.m. curfew have an option to satisfy their late-night cravings.
Route 16 is a 1950s-style diner that serves burgers, chili-cheese dogs and a variety of other American and breakfast fare, including pancakes and biscuits with gravy on weekends. The new overnight menu blends daytime and breakfast items.
The decor is a celebration of 1950s American car culture. The indoor seating area is dominated by replicas of vintage gas pumps, and my 4-year-old son loves the tiled "road" on the floor. Richie Cunningham and the Fonz would look right at home sitting in the red vinyl booths.
The food offered overnight ranges from great to average. The RT 16 Burger (about $8.50) and curly fries I ordered just after midnight were as good as I'd hoped, and my son's grilled cheese (about $4) was the tastiest sandwich of its kind available on base. My wife's grilled chicken sandwich (about $8), on the other hand, was nothing special.
Route 16's milkshakes — about $3 for small and $4 for large — are perfect for sharing with someone special in your life. They aren't officially on the overnight menu, but I was impressed — and jealous — when the staff whipped them up for some late-night guests anyway.
There's also a kids night every Thursday between 4 and 7 p.m., where all kids menu items are only $1 "when accompanied by a paying adult."
I made two late-night visits to Route 16. At midnight, the establishment was quite busy, with most tables full inside and several occupied in the outdoor-seating area. A 3 a.m. outing saw the place much less crowded, with 12 guests total.
Although the diner's 24-hour weekends are just a trial right now, the schedule could be made permanent if it proves to be popular. In fact, if enough workers can be hired, the base could even operate it around-the-clock every day.
Nostalgia seems to be a key ingredient in diners like this one, and while I can't be nostalgic for an era that ended two and a half decades before my birth, it still made me remember good times with a good friend.
Going to a hole-in-the-wall diner with my friend was one of the few redeeming features when I worked a factory swing shift years ago, and visiting Route 16 in the wee hours made me remember those days. A lot has changed since then, but as I carried my fast-asleep son to the car, I walked out with a smile.
Route 16 Location: At Building 35, Yokota Air Base, Japan. Route 16 is on Spaatz Street, west of the Kanto Lodge and next to the Officer's Club.
Hours: 11 a.m. to 8 p.m. Monday through Thursday; 11 a.m. Friday to 2 p.m. Sunday.
Prices: An entree and a drink costs about $10.
Dress: Casual
Directions: Information: 315-225-8685 (DSN); https://yokotafss.com/route16
---
---
---
---