Yokota residents reach new heights in trip up Takatori
by
Vince Little
October 9, 2005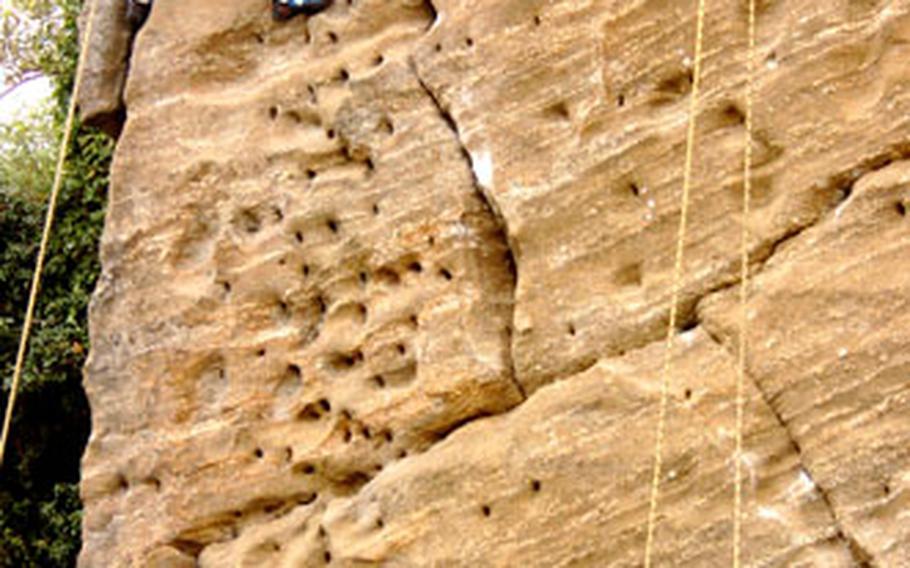 Fear is the first thing that strikes a rock-climbing novice.
Just ask Terran McCabe, who recently spent her 21st birthday scaling 75- to 100-foot walls on Mount Takatori a 1,915-foot peak near the U.S. Navy's Ikego Housing Area in Japan. McCabe went vertical with a small group of thrill-seekers as part of an Outdoor Recreation-sponsored expedition from Yokota Air Base.
"Awesome, scary," she said moments after negotiating a nearby peak's stairlike section. "I hated it going up, but now I love it. It's scary 'cause you're up extremely high, and you have to depend on someone else with a rope to catch you. You've gotta learn to trust that rope."
Her husband, Airman 1st Class Jesse McCabe of the 374th Comptroller Squadron, had no trouble on his first attempt up the "open-book," a more challenging climb on the rock's middle section.
"It wasn't as difficult as I thought it'd be," he said. "There were a couple of spots where I got stuck, but it was fun."
A short time later, Terran bid to equal the feat but had to descend after failing to reach the halfway point. "I'm gonna have to try it again. I can't leave here being afraid," she said.
Yokosuka Naval Base's Outdoor Recreation Department picked the venue and provided three instructors, including Tetsuya Ishida, an event programmer for the organization who's been climbing rocks for 25 years. This summer alone, he made 12 trips up Mount Fuji, Japan's signature landmark.
For newcomers, finding balance is the toughest aspect of rock-climbing, he said.
"It's not power actually," Ishida said. "You have to use your feet more. Beginners tend to do too much clinging, with too much upper body and hands. The key is using the feet.
"Beginners can't trust the feet friction. Once they know the climbing shoes will hold, they do a much better job."
Another part of the attire proved problematic for Staff Sgt. Luis Oquendo of Yokota's 730th Air Mobility Squadron.
"It's quite the workout," he said. "Getting a grip was hard, but mainly I couldn't stretch my legs enough because of my jeans. It's my first time doing this and I didn't really know what to expect."
On the mountain, the guides suggested spandex or some other loose-fitting pants that allow for easy movement on the rocks.
According to an instructor who went only by "D.J.," there are varying degrees of difficulty, ranging from 1.1 — flat ground — to 5.15, a straight flat surface known as "the max" with little to grasp and virtually nothing to set a foot on. Ropes and harnesses must be used for anything over level 5.
"There's only one mountain we know of in Japan that's a 5.15," D.J. said. "Few people in the world can do it."
Oquendo's 10-year-old daughter, Laryssa, a fifth-grader at Yokota East Elementary School, didn't seem to have trouble with any of Takatori's rock walls. Ditto for Ethan Poulton, 7, a second- grader at Yokota West Elementary School.
His mother, Judy Nunez, a native of New Zealand, said the family has a membership at the "Stone Magic" indoor rock-climbing facility in Sagamihara.
"He's better than me, and this is his first time outside," she said. "It's preparing him for New Zealand. There are some really good rock-climbing places there. We're taking a trip home next April."
Prior to the departure from Takatori, Terran McCabe made it a birthday she'd never forget, conquering an even trickier wall than the one that bested her earlier.
"That felt awesome," she said. "I'm still on a high."
She might be hooked on the sport, along with husband Jesse.
"We'll definitely do it again," Terran said. "I'm already wanting to buy the equipment."
Wanna climb?
Yokota Outdoor Recreation offers a course for introductory outdoor rock-climbing for ages 5 and older.
Next trip: Nov. 9 in Tanzawa area; departs Yokota at 6 a.m.
Cost: $22 per person, which covers transportation, climbing guide and equipment such as harness, carabineers, rope, helmets and shoes.
Recommended items to bring: Change of clothes; shorts, spandex or sweatpants; hiking boots; snacks; drinks; water; and packed lunch.