Workshop visitors can see Okinawan glass blowers at work
by
Jessica Bidwell
June 15, 2017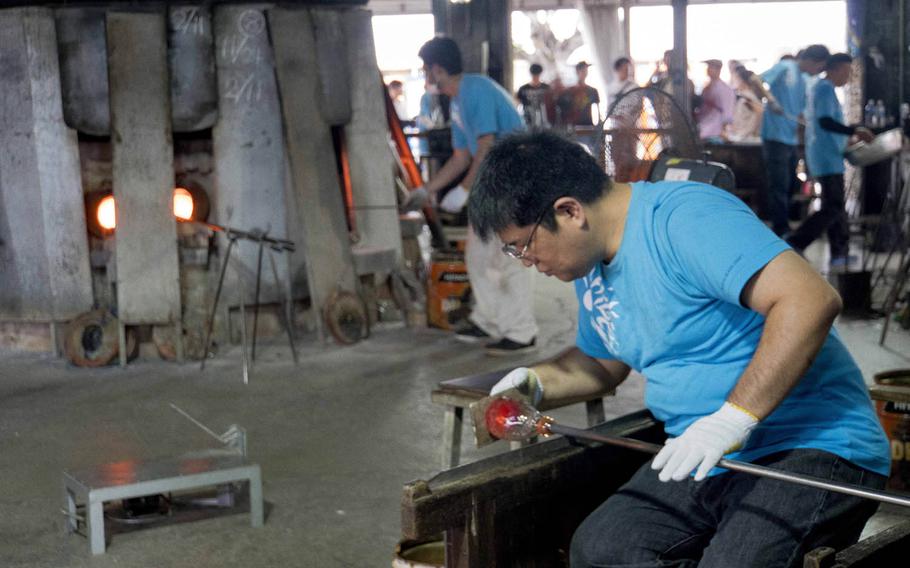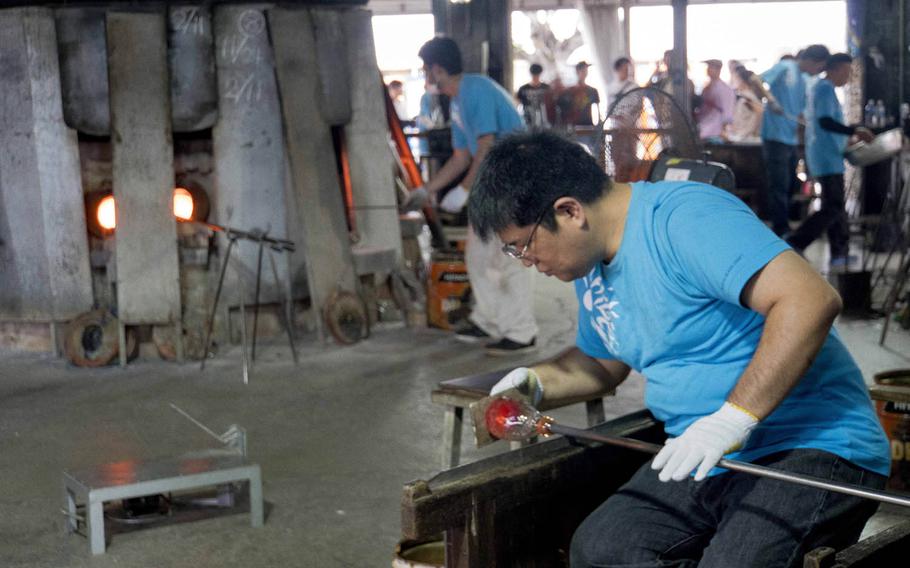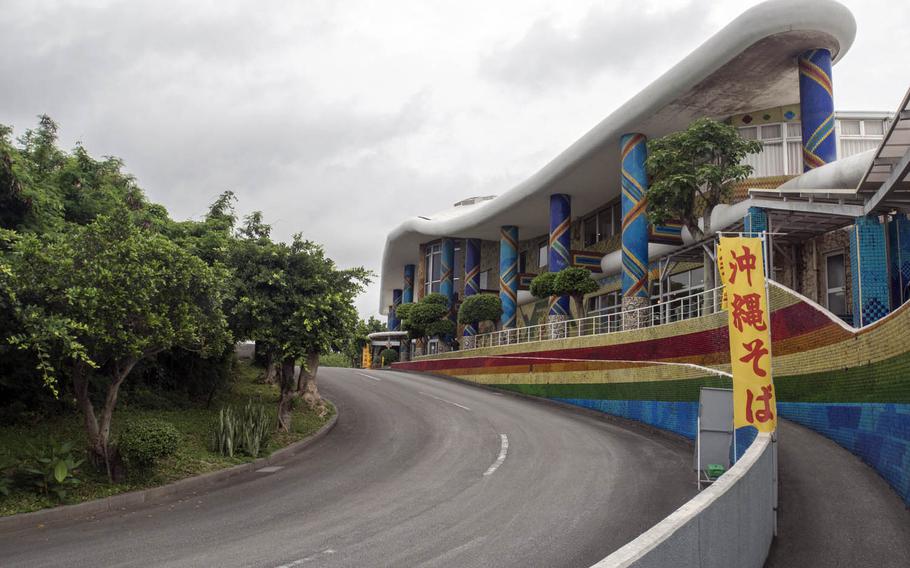 Beer and soda bottles brought to Okinawa by American soldiers inspired a glass-blowing industry that thrives to this day.
Glass-blowing is a young art form on the island as opposed to dyeing and ceramics. Craftsmen experimented with glass-blowing during the first half of the 20th century, but it wasn't until after World War II that it became a profession.
Artisans found inspiration in the colored glass bottles brought by GIs, and their creations soon gained popularity with Americans on the island.
Ryukyu Glass Village is the largest glass workshop on Okinawa. Craftsmen are required to have three years of experience and be certified by Okinawa Prefecture before they can work there.
Five hundred pieces of blown glass — from punch bowl sets to decanters, colorful floral designs, dish sets and lamps — are created at the village each day.
Visitors can browse shops and a museum and check out an outdoor, hands-on workshop where workers create unique pieces.
A main building, decorated with multicolored glass, contains a shopping center and a top-floor restaurant. There's a stained-glass window in the ceiling and a variety of glass items for sale. There's also an outlet that sells items with small defects.
The museum, down a ramp at the rear of the building, is full of brilliant glass art. Some items are massive, others dainty. Some are stylized, others utilitarian. Many pieces by contemporary artists are for sale.
The outdoor workshop, next to the main building, is where all the action takes place. It's mesmerizing to watch the artisans melt glass and form it into the visions in their heads.
You can try it yourself for as little as 1,600 yen (about $14.50).
Visitors, whether children or adults, aren't allowed as much freedom as the craftsmen, but it's fun to try your hand making a glass or a plate as a souvenir.
Ryukyu Glass Village LOCATION
169 Fukuji, Itoman City, Okinawa 901-0345 Japan
TIMES
Open 9 a.m. to 6 p.m. daily.
COSTS
Entrance is free, but glass-blowing sessions cost between 1,600 yen and 3,500 yen (about $14.50 to $32). If you do not plan to return in three days to pick up your cooled glassware, you may have it sent to you for a fee.
FOOD
An Okinawan restaurant, open between 11 a.m. and 4 p.m., serves what it calls traditional and original dishes starting at 500 yen.
INFORMATION
Phone: 098-997-4784; website: www.ryukyu-glass.co.jp/en