'Wolfenstein' blends adventure, science fiction, Nazis
---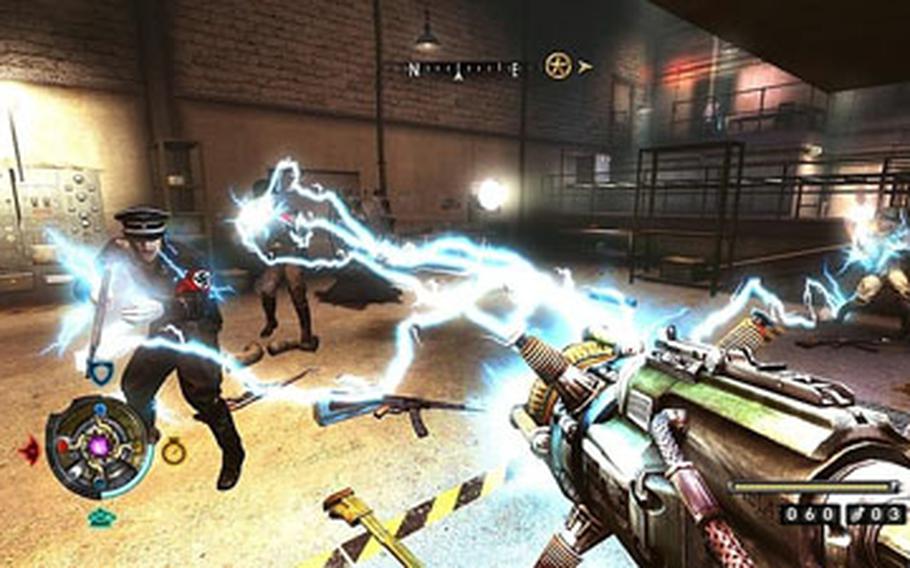 Nazis make ideal bad guys — and when you mix in some occult powers, they become the ultimate evildoers.
That's why we have evil relic-collectors in "Raiders of the Lost Ark," Nazi zombies in "Call of Duty: World at War" and, now, an entire occult research project dabbling in weird science in "Wolfenstein."
In the M-rated first-person shooter developed by id Software for Activision, you play as B.J. Blazkowicz, the American agent who's tangled with Adolf Hitler's supernatural minions in previous editions of the long-running series.
This time, you travel to the town of Isenstadt, where the Nazis have been digging for artifacts from the Thule culture, which was able to cross the boundary into another dimension. The ability to cross into the Veil has allowed the Nazis to tap into tremendous new powers, which you can also harness thanks to a medallion you pick up early in the game.
While you spend much of your time gunning down standard-issue German soldiers with standard-issue World War II weaponry, Veil Powers and energy weapons play a large role in the game.
After you acquire the medallion, you can activate powers that allow you to see hidden items and identify threats, throw up an energy shield, slow down your foes or empower bullets to pass through metal and stone. These come in handy when confronting Nazis who've morphed into powerful cross-dimensional monstrosities.
During your adventures, you also find various energy weapons that have some pretty spectacular effects. The particle cannon fires a beam that disintegrates enemies. The Tesla gun stuns or electrocutes foes. And the Leichenfaust 44 blasts away flesh and leaves the bones behind.
Of course that's the sort of thing that lands the game in M-rated territory. Other gruesome effects include dismemberment by "empowered" bullets, grenades or axes. Fighting supernatural Zombies isn't for the squeamish.
The game is set up like an open-world adventure, where you wander the streets of Isenstadt gunning down Nazis and searching for gold bags and other collectibles. You'll need the help of local resistance fighters and a group of paranormal researchers, who will offer direction and a few side missions. Completing missions and finding gold provides the funds needed to upgrade weapons and powers through the local black market.
While the story line isn't particularly deep, the action keeps things lively and interesting.
The settings vary widely — city streets, a hospital, a castle, underground lairs, a Zeppelin, the Veil. Each new location offers different challenges and often introduces a new type of foe.
The enemies' artificial intelligence isn't the greatest. While they'll tend to duck at the right times, they don't usually get particularly aggressive when trying to track you down. That, plus some slightly overpowered weapons, makes the game seem a bit easy, even at higher difficulty settings.
The settings and character renderings are basically good, but often seem to be a bit lacking in texture.
The game also offers online multiplayer competition in which Axis troops battle resistance fighters. Players choose between soldier, engineer and medic classes, each of which has a low-level Veil Power to wield. The more impressive powers and the spectacular energy weapons are off limits during online play.
Overall, "Wolfenstein" offers enough Nazi-bashing action to keep most gamers — and probably even "Inglourious Basterds" director Quentin Tarantino — happy.
Platforms: Xbox 360 (tested), PlayStation 3, PC
On the Web:wolfenstein.com
---
---
---
---