With a youngster's life on the line, an Okinawa medical team comes through
by
Fred Zimmerman
February 22, 2004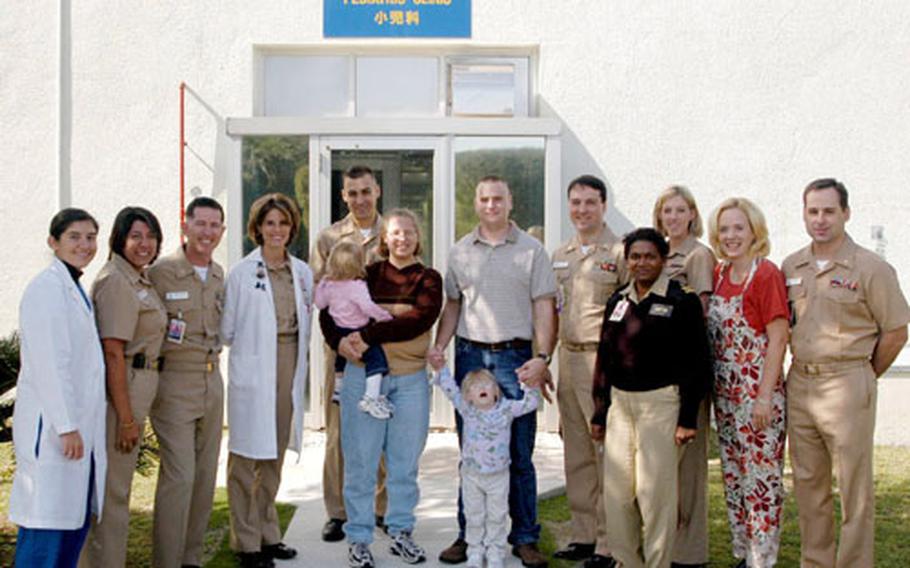 CAMP LESTER, Japan — Shelby Shayler's health had been like a rollercoaster for a week. And when the 4-year-old girl with Down syndrome didn't seem to be getting better, she and her parents, Marine Sgt. Geoffrey Shayler and his wife, Rebecca, visited U.S. Naval Hospital Okinawa's emergency room.
What they neither knew nor expected was that the girl's condition would kick the hospital staff into high gear, providing an evacuation stateside — and that pediatrician Lt. Cmdr. Suzanne Bilyeu would have to attempt something no hospital general pediatrician has done in recent memory.
The Nov. 19 emergency room visit determined the girl had swallowed packing tape; surgery was needed to remove the tape and an inch of the girl's intestines.
A serious infection had developed, but a week of spiking fevers and a fluctuating blood pressure convinced doctors she should be flown to San Diego as soon as possible.
"We decided that if she needed a pediatric surgeon," said Bilyeu, "she would already be there."
An adult patient already was scheduled for a medical evacuation flight to California, so Shelby was added to the flight roster, and the hospital staff prepared her for the trip.
But that the flight was to be anything but routine quickly became apparent. Bilyeu said Shelby's trip back to the States was "much more challenging than anticipated."
Shelby responded poorly to being moved, Bilyeu said. She had problems handling the additional stress placed on her just by the trip from the base hospital to the flight line.
Bilyeu considered not putting Shelby on the flight, but after consulting with a fellow pediatrician, decided it was "now or never."
Then, when they boarded the girl on the KC-135 from the 909th Air Refueling Squadron at Kadena Air Base, Bilyeu noticed insufficient electrical support to run the five pumps needed to feed Shelby her medications. More pumps were gathered quickly to act as backups during the flight.
Soon after takeoff, Shelby's condition again deteriorated, Bilyeu said, requiring additional medications to bring her blood pressure up.
What Bilyeu thought was a bad situation, however, was about to get worse.
Several hours into the flight, some pumps began to fail. The pumps, which should have lasted 12 hours each, lasted only three, Bilyeu said. She quickly realized there would be barely enough reserves to reach San Diego.
"We had to start minimizing the medications we pumped in," Bilyeu said. "That's where the nursing skills really kicked in." Bilyeu said the nurses are trained to push medications manually, while doctors aren't. That's important, she said, because if you don't push the correct amount, the patient can become quite unstable, and Shelby was already unstable enough.
Shelby's condition and the malfunctioning equipment forced Bilyeu to consider aborting the stateside trip and ordering that the plane be turned around.
"We were a couple of hours past Yokota when the doctor told us that the girl wasn't doing well," said Air Force 1st Lt. Patrick Smith, co-pilot on the flight. "That's when we all asked, 'Do we go back to Yokota, or continue on?'" They decided to continue.
Then, halfway into the flight, roughly five hours after takeoff, Bilyeu realized the plane was bound for March Air Reserve Base in Riverside, Calif., instead of San Diego, a three-hour ambulance ride away.
Bilyeu — unsure the girl could take the ride — convinced the pilots to request a landing closer to the Naval Medical Center in San Diego. Approval came hours before landing.
That helped, but the ambulance dispatched to the airport didn't. Shelby needed an Advanced Life Support rig, which would have contained the pumps needed to continue providing medication to Shelby. The hospital sent a Basic Life Support ambulance instead — and Bilyeu was down to her last two pumps.
The doctor ordered the driver to make it "lights and sirens" all the way to the hospital. They made the trip in five minutes.
Within an hour, Shelby was given chest tubes and was in the Pediatric Intensive Care Unit. By Nov. 30, she was well enough that doctors removed her breathing tube.
Ten days later, she was able to return to Okinawa.
Shelby's parents said they knew the flight was rough, but never were afraid of losing their daughter.
"I don't think that during the course of the flight I was scared for Shelby's life," Geoffrey Shayler said. "I got a little concerned when Dr. Bilyeu said they were trying to figure out the closest place to land."
Rebecca Shayler said she never really saw how hard they had to work on Shelby.
"She was the first one off the plane, and when I saw how pale and swollen she was, that's when I broke down because I thought we were going to lose her," Rebecca said. She added that Bilyeu was quick to tell her not to give up hope because Shelby is a fighter, and her parents needed to fight alongside her.
Geoffrey said he was thinking, "God has something better for her, so she's going to make it through this."
Bilyeu credits teamwork with Shelby's survival.
"As a team of pediatricians, we all worked hard for her. And the ICU nurses," she said, "they come through for us all the time."
Bilyeu has been approved to receive the Navy/Marine Corps Achievement Medal for her performance during the medevac. Lt. Cmdr. Tony Delgado, the Pediatrics department head, nominated her for the award because she is the first general pediatrician to perform an aeromedical evacuation of a critically ill, mechanically ventilated patient from Okinawa to the continental United States.
"Dr. Bilyeu's calm professionalism during Shelby's demanding medevac flight was truly remarkable, and all of the pediatricians in our clinic admire her very much," Delgado said. "Equally remarkable, in my mind, was the dedicated and compassionate team effort by USNH Okinawa's corpsmen, nurses and physicians who cared for Shelby during her hospital course that proceeded the medical evacuation flight. I have never worked with a finer team."
The Shaylers, due to return to the States, said they're going to miss the care the hospital gave their daughter.
"The one-on-one contact was really good," Geoffrey Shayler said. "Everyone in the ICU … the nurses and doctors were great. It hurts to have to leave here in April. I'm ready to extend here for another three years after this experience."
---
---
---
---