'We train and train and train for this'
---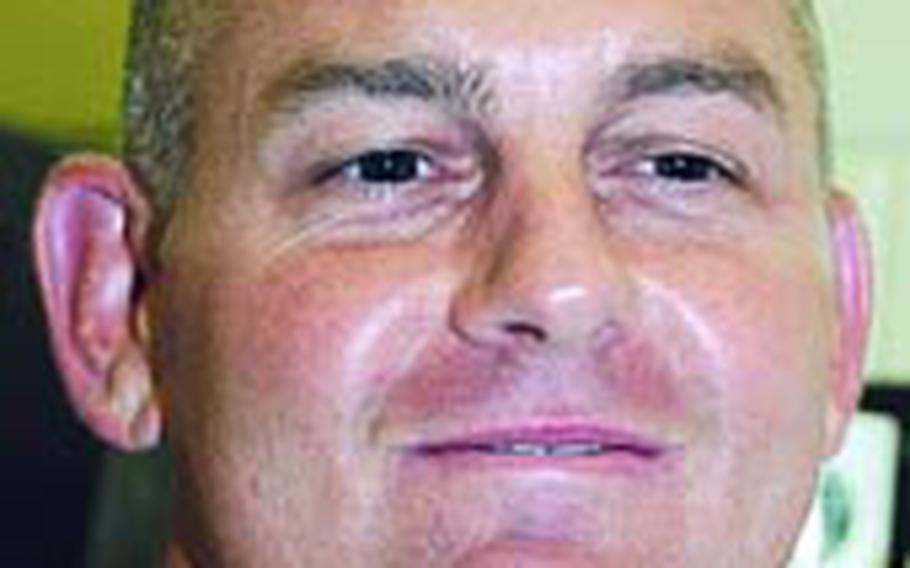 The 80 pounds of protective gear weighing down the Marines — in a vehicle with no air conditioning — made a hot day even hotter in Fallujah, Iraq.
Master Gunnery Sgt. Michael C. Sharp describes the heat on May 30, 2006, as "doggone hot."
To top it off, he hadn't had his morning coffee and by the end of the day, he had "a screaming headache."
Still, Sharp was in a good mood that Tuesday. He was out of his Fallujah office and on a call with his explosive ordnance disposal Marines of 3rd Platoon.
Before the day ended, Sharp's actions — those he took that day, and later during his unit's tour — in disarming enemy ordnance would bring him a Bronze Star with a "V" device.
He dismisses the award, saying he was "kind of unhappy about it" because he was just following his training and being part of a team.
The platoon, part of Okinawa, Japan-based 9th Engineer Support Battalion, deployed to Fallujah in April 2006 for 11 months to augment an EOD unit within the California-based I Marine Expeditionary Force.
Once in country though, Sharp, 43, from Eldorado, Texas, was assigned a desk job while his platoon continued the task of disabling homemade explosives.
Sharp was not happy to be stuck "doing strictly office work. No one volunteers to become EOD to man a desk," the 25-year veteran said.
"I tried to seek sanity from I MEF by going out with my guys," Sharp said. It was something he did whenever he could to support his Marines "and show them I care."
Sharp's EOD team stayed busy, getting 10 to 12 calls a day. "I knew I would get to go on a call with my guys," he said of the May 30 mission.
This time, they were responding to a call about a possible improvised explosive device on a street curb in the outskirts of Fallujah, near a hospital.
"It was just a regular IED call," Sharp said.
There were fields to the left and residences to the right at the location, he remembers.
Their disabling protocols require that the suspected explosive be viewed and disabled by remote technology, Sharp said, but "eventually, someone has to go out and be hands-on."
As the senior man in the vehicle, he felt responsible to do what was potentially the most hazardous part of the call — collecting the explosive, and hoping it had been disabled.
Walking up to the bomb, he remembers, "there were kids out watching us and that's what I was most concerned about — could these children be a threat to the team."
But he had a job to do.
"We were sure as you can be by looking remotely that it was clear," he said. "By the time you get out of the vehicle, you should be pretty sure that you're just going out to collect evidence."
This time, he said, "it just happened" that it wasn't disabled.
"Oh crap," was the first thought that went through his mind, he said.
Then he performed immediate action, which for an EOD Marine doesn't mean getting out of the potential blast zone. It means moving in close and disabling the bomb.
"We train and train and train for this" and the training just kicked in, he said.
After that episode, Sharp was transferred back down to lead his platoon. During his tenure, his unit disabled more than 1,650 IEDs, captured 105 weapons caches and disposed of more than 14,360 unexploded ordnance and 25,000 small-arms rounds, according to the citation accompanying his medal, awarded Aug. 3, 2007.
Sharp said his actions on May 30 were more about the EOD team he was with. It was a fluke that he was even with them that day, he added.
"The day of the award, I could have picked out at least five guys who rated the award much more than I did," he said. "They did some miraculous stuff every day."
"Putting hands on a live IED doesn't make you a hero," Sharp said. "It's the least preferred thing to do" and maybe even foolhardy, he said.
Master Gunnery Sgt. Michael C. Sharp
Unit: 9th Engineer Support Battalion, 3rd Marine Logistics Group
Medal: Bronze Star with "V"
Earned: April 2006-March 2007 in Fallujah, Iraq
---
---
---
---