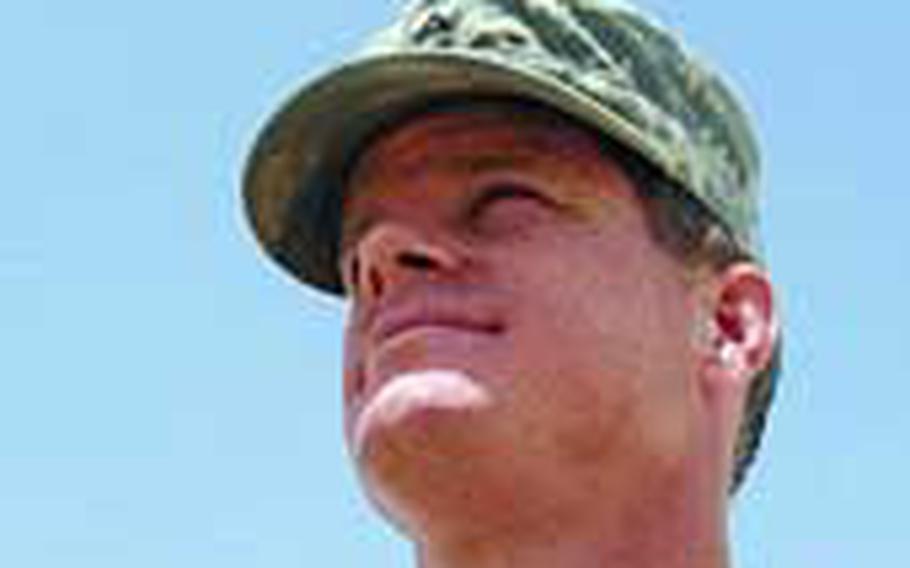 Master Sgt. Thomas Ballard walked through the battlefield near Najaf just after daybreak.
That morning, Jan. 29, 2007, he could barely take three steps through the farmland without bumping up against a body. Around him, 368 people lay dead. Another 407 people were detained, and it seemed like all of them had pieces of shrapnel in them.
Ballard, a paratrooper from the 4th Brigade Combat Team (Airborne), 25th Infantry Division, walked among some of the bodies, over weapons "littered like leaves," and past a downed U.S. Army helicopter. He began to understand the previous 24 hours, including the three hours that he and 11 others on his team held their ground.
He went toward the village. Twenty-four hours earlier, initial reports had said 15 or 20 shooters were firing at the Iraqi army's 1st Brigade, 8th Division. Instead, Ballard and other coalition forces had discovered they were up against hundreds of shooters aiming from well-planned fortifications.
It had started about midday the day before. A group of Iraqi soldiers were taking fire in a field north of Najaf, and 10 had been killed. Ballard and other members of Military Transition Team 0810 were nearing the field to assist when they saw an AH-64 Apache falling from the sky.
The group, led by Lt. Col. Stephen Hughes and Maj. John Reed, went for the crash site.
The group's three trucks started taking machine-gun and rocket-propelled grenade fire. Ballard's truck moved closest to the Apache. The enemy was headed in the same direction, piled in pickup trucks.
"We had to go see if anyone was there," Ballard, 41, of Aberdeen, Miss., said of the crash site. "After circling around, (we saw) there wasn't anything left. There was some things left, but it wasn't nice."
The three trucks stopped to mount a fight and protect the remains of the two pilots and the Apache.
By luck, they had more ammo than they thought they would ever need. They had loaded the trucks with thousands of rounds for a planned training with Iraqi forces that day. Turns out, they went through it all, more than 14,000 rounds.
For the next three hours, Ballard, Hughes, Reed and nine other soldiers blasted the enemy. When a shooter popped up, the U.S. soldiers would pick him off.
"We out-shot them and we out-gunned them," Ballard said. And they kept anyone from getting to the pilots in the Apache. "That was our happiest moment, when we kept them from getting our guys."
Help came in ripples throughout the day. The Air Force hit from above. An Iraqi special forces unit pulled up. And by nightfall, the 4th Brigade's Stryker Battalion was in place.
"That got their attention," Ballard said.
By then, the MITT was out of ammo. They went to a nearby base for supplies and a nap. When they returned the next morning, the battlefield had been secured. That's what Ballard was looking at on Jan. 29 — the aftermath. The New York Times reported it was one of the bloodiest battles in the war's first four years.
By noon, the Stryker battalion and most other U.S. units had returned to base. It was up to Ballard, Hughes, Reed and nine other soldiers, along with their Iraqi counterparts, to start cleaning up and processing the detainees.
Among those hundreds of detainees, a young Iraqi girl insisted on speaking with an interpreter.
"She was a beautiful girl, distraught-looking," Ballard remembered. "She was stepping around these bodies and most of them she knew and she was very upset. And very brave."
She led them to a house, half-collapsed, and into a bedroom. At the girl's direction, Ballard and the others moved a bed, a carpet, square-foot floor tiles, another carpet and a grate. Ballard found himself looking into a hole.
The battlefield wasn't cleared.
"Sure enough there was some people in there," Ballard said.
Inside that hole were four leaders of the group called Soldiers of Heaven, a Sunni group hoping to disrupt an annual Shiite pilgrimage to nearby Karbala.
The soldiers re-searched the area and found two more high-ranking leaders outside. The house itself held a safe with millions of dollars, boxes of cell phones, 20 passports, cameras and all sorts of weapons, Ballard said.
"This was a no-kidding unit," he said.
The MITT spent the next week helping the Iraqis process the detainees.
The entire team would be honored with the Army Commendation Medal with Valor. Hughes and Reed each got a Bronze Star. Ballard received a Silver Star.
"It gives you mixed emotions, being singled out," he said. "I'm an infantry guy. Maj. John Reed is an infantry guy. But my team was made up of all different types of people. We're all fighters, but different specialties. The team supported me. It'd been a lot better had we all been standing there."
Master Sgt. Thomas Ballard
Unit: Military Transition Team 0810, 4th Brigade Combat Team (Airborne), 25th Infantry Division
Medal: Silver Star
Earned: Jan. 28 and 29, 2007, near Najaf, Iraq
---
---
---
---