Washi dolls: Cultural treasures, lovingly hand-crafted
by
Jennifer H. Svan
April 2, 2006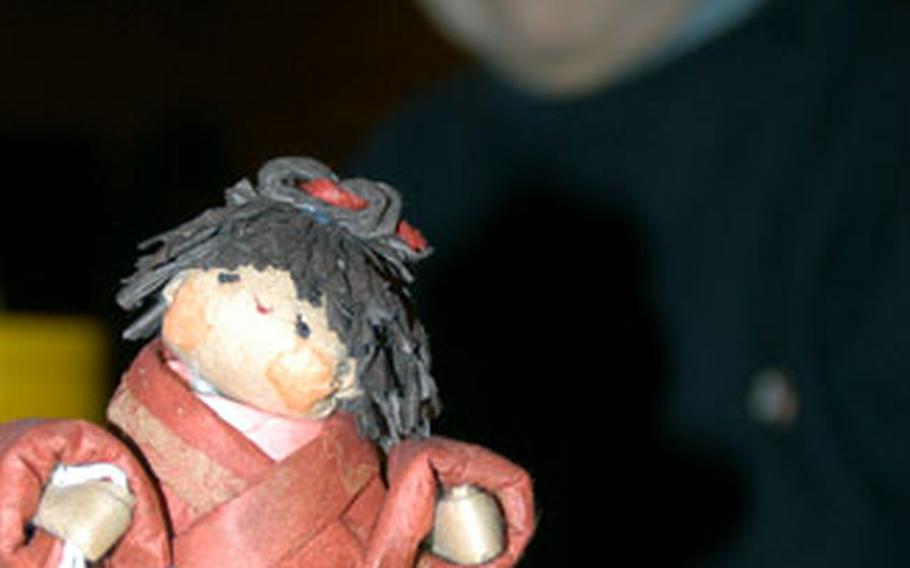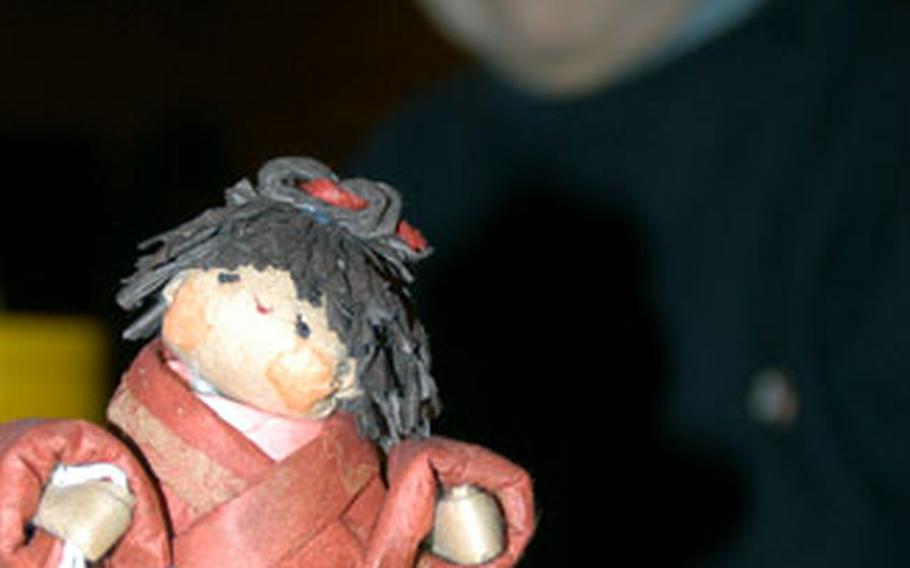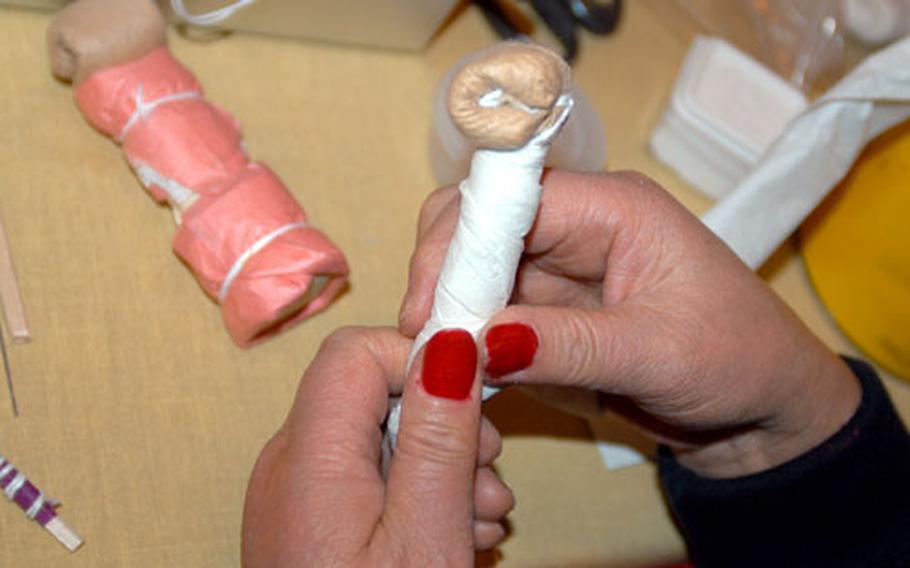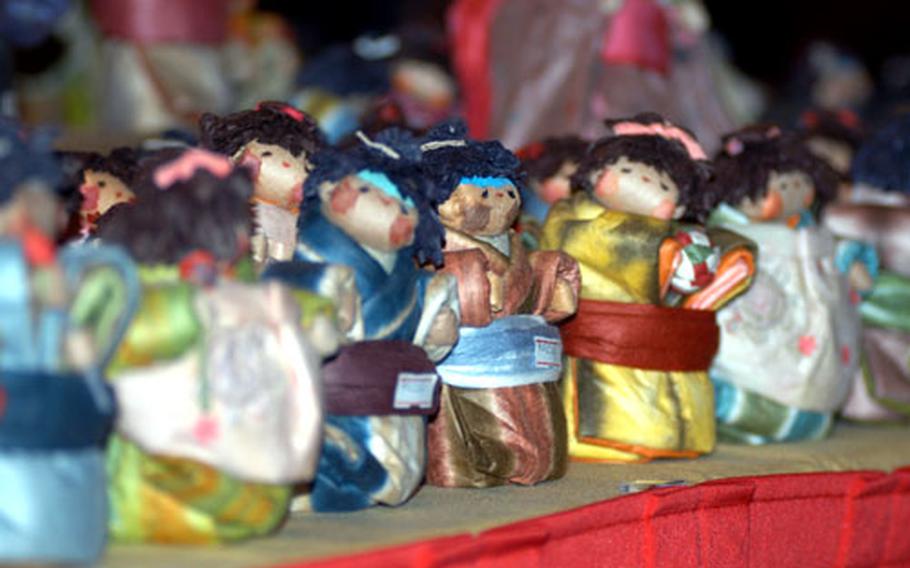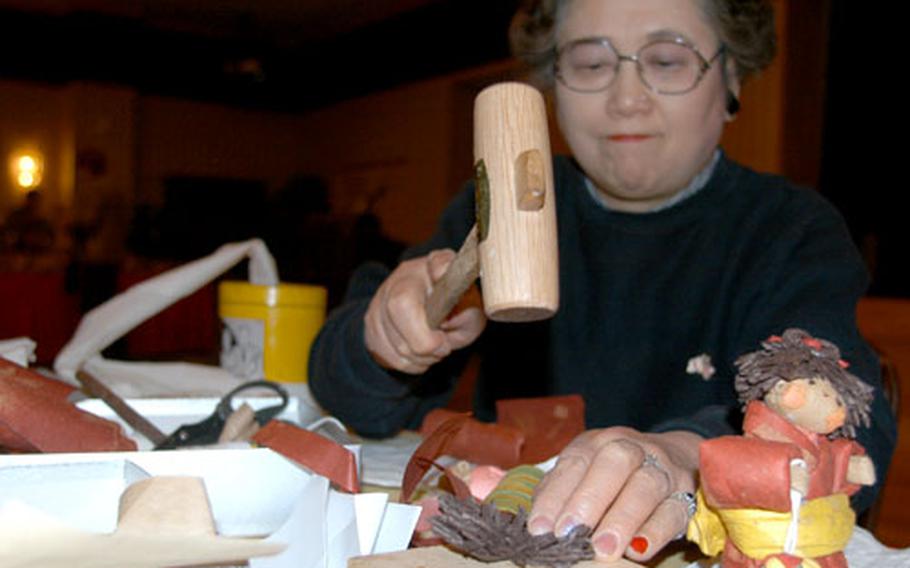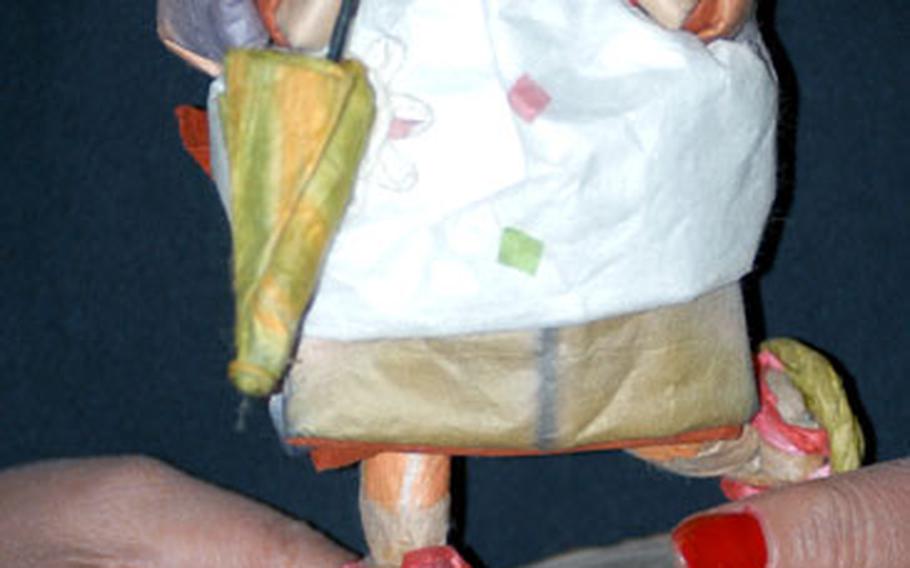 Eiko Ohyama makes dolls. Not of wood, plastic or cloth, but of paper. She twists, wraps, glues and cuts soft swaths of hand-dyed Japanese washi paper into thousands of little figures, many conveying a story or portraying traditional ways in rural northern Japan.
The details are intricate: Farmers carry lanterns and wear straw boots. A few hold nambu, flat rice cookies considered a local delicacy. Tiny babies are fastened in chiko baskets so their mothers can farm. Another doll carries a baby on her back, snug underneath its mother's big coat. Some hold Japanese temari balls, once made with remnants of old kimonos and used in kickball and handball games. Many of Ohyama's figures depict characters from Japanese fairy tales, such as Peach Boy — "Momotaro" — a boy that came to earth in a giant peach and grew up to defeat demons.
Although the details of her dolls are intricate, at the core they are quite basic.
Her dolls begin with a 3-inch chopstick wrapped in toilet paper. Facial expressions and hair are washi, never painted. Ohyama uses only handmade washi, which she purchases from wholesalers in Tokyo and in Shimane prefecture, where washi artisans are considered "cultural treasures."
In 30 years, Ohyama, 73, has crafted too many dolls to count. Tens of thousands, she estimates, from her tiny workshop in Kawauchi, a fishing town on Mutsu Bay about three hours north of Misawa Air Base.
Even Japan's Princess Aiko owns one of Ohyama's washi dolls: Local officials asked Ohyama to make her one as a gift for the 2003 Asian Winter Games in Aomori.
About half of Ohyama's paper creations are children. When she was young, she helped care for six brothers and sisters. The dolls "remind me of old times. That makes me happy," Ohyama said through a translator.
Ohyama is one of only three Washi doll makers still living in Japan certified in the style of the original artist, who has since passed away.
Ohyama's interest in the dolls began three decades ago during a trip to Tokyo to buy washi for a customer of her family's household goods store in Kawauchi. In the paper shop "there was a beautiful doll." said Ohyama. "… I was so impressed. I asked if they would sell the doll, but it was just for display. I asked them to please tell me who the person was who made it."
Ohyama found the doll's creator and set her mind to learning the craft, visiting the Tokyo artist once a month for three years. It wasn't easy, said Ohyama. The artist didn't show her how to make the dolls — "She just told me how to make, only verbal teachings. I had a hard time learning."
Ohyama now has a few students of her own, some coming from afar to apprentice with her. But her dream is to go to the United States to teach.
Prices for her dolls range from about 2,000 yen ($17) to 200,000 yen ($1,700).
Hana Kusumoto contributed to this story.
Having a doll
Ohyama sells her dolls at the Misawa Officers Spouses Club's Far East Bazaar in the spring and fall on base. Dolls also are sold at the pyramid-shaped APSAM building in downtown Aomori. Her shop is open 8 a.m. to 8 p.m. seven days a week, and she takes special orders.
Kawauchi is about 17 miles west of Mutsu; the shop is about 20 yards off Highway 338 across the street from Aomori Bank. Ohyama speaks little English and suggests Americans bring an interpreter if they're able.
---
---
---