Five more Guantánamo detainees cleared for transfer from military prison
By
The Washington Post
January 12, 2022
---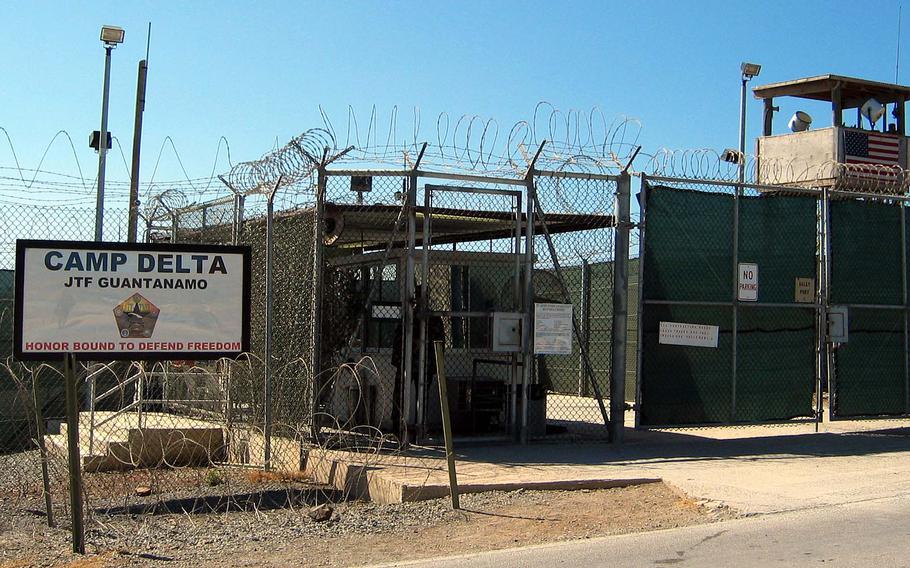 The U.S. government has approved for transfer another five detainees held at the military prison in Guantánamo Bay in Cuba, including a "high-value" prisoner suspected of having been a key figure in al-Qaeda's East Africa franchise.
The transfer clearances came as the detention facility, used to hold hundreds of men captured abroad as part of the U.S. government's war on terrorism, turned 20 years old on Tuesday. Their prospective relocation marked the latest step toward reducing the detainee population at Guantánamo and closing the facility that has posed political, legal and ethical challenges for successive U.S. presidents.
Attorneys identified the five men as Guled Hassan Duran, Moath al-Alwi, Suhail al-Sharabi, Zakaria al-Baidany and Abdulmalik Bajabu.
None has been charged with a crime.
Eighteen of the 39 remaining detainees at Guantánamo have now been cleared for transfer out of the prison by the Periodic Review Board, a decision-making panel made up of representatives from various U.S. national security agencies.
President Joe Biden has said he plans to close the prison, just as President Barack Obama had declared at the outset of his own administration but failed to accomplish. To do so, the administration must negotiate transfer deals with detainees' home governments or third countries.
Pentagon spokesman John Kirby told reporters this week that those remaining in Guantánamo are the hardest cases to deal with and to adjudicate.
It is unclear when any of the 18 men cleared for transfer will leave Guantánamo. Biden has transferred one detainee since he took office, and has not appointed a special envoy - as Obama did - to preside over the negotiations, which some detainee advocates have criticized as showing a lack of commitment by the administration.
Kirby said the administration was in the midst of a review "about the way forward," but declined to offer details.
Proponents of keeping Guantánamo open, including some Republican lawmakers, argue that the men who remain at the prison are inherently dangerous. It would be better, they say, to hold them indefinitely than risk their return to violence.
Two of the five men cleared recently - Duran and Baidany - were tortured years ago at secret CIA "black sites," according to their attorneys, and documented in a Senate Intelligence Committee report released in 2014. Duran's attorney Shane Kadidal said that was significant, and could hint at a policy shift.
"There's always been this presumption that the main thing the CIA wanted to keep secret is what happened to people, and also where the facilities were," said Kadidal, a senior managing attorney at the Center for Constitutional Rights. He said the approval of Duran's transfer - the first of a high-value detainee known to have been tortured by the CIA - could signify the Biden administration's willingness to approve others in that category who have not been charged. The most prominent would be Abu Zubaida, a Palestinian detainee whose torture was documented in the Senate Intelligence Committee report.
The government described Duran, a Somali national, as a "key member" of East Africa al-Qaeda who was "in the final stages of operational planning for terrorist operations in East Africa" shortly before his 2003 capture in Djibouti, according to government documents first published by WikiLeaks.
Duran, who has challenged his detention in federal court, has claimed in court documents that he spent more than two years at CIA black sites, saying he was deprived of sleep, food, water and medical care; beaten; sexually assaulted; and kept in solitary confinement without access to daylight.
"They first offered to bring me to the United States to spy on mosques; they offered me suitcases full of money; and they threatened to send the FBI to make my family in the United States miserable," Duran said in the 2019 court filing.
The CIA did not respond to a request for comment.
The Periodic Review Board's decision, dated Nov. 10, does not detail the rationale for Duran's clearance for transfer.
Beth Jacob, an attorney for Zakaria al-Baidany - a Yemeni whom the government refers to as Omar Mohammed Ali Al-Rammah - noted that the review board's decision, dated Dec. 27, stated, "There is no information indicating that the detainee engaged in activities against the United States prior to detention." It also referenced "his deteriorating mental health."
The U.S. government had previously described Baidany, who spent roughly a year in CIA custody, as having "held a key role in al-Qaida linked plans to conduct explosives operations in Georgia and Chechnya," according to government documents first published by WikiLeaks.
"Think about that," Jacob said. "'No information.' I don't even know what to say about that without using profanity. I mean: what?" She said his deteriorating mental health has been the "result of his detention and treatment by the United States."
Alwi, a Yemeni national, garnered international attention when the John Jay College of Criminal Justice in New York displayed an exhibition of his and other detainees' artwork in 2017. The military subsequently barred all art from leaving Guantánamo. In its clearance decision, the review board referred to Alwi's "lack of a leadership position in al-Qaeda or the Taliban" as well as his "highly compliant behavior" in recent years.
Abdulmalik Bajabu, a Kenyan national accused of belonging to East Africa al-Qaeda, was among the last five detainees to arrive at Guantánamo, following his arrest by Kenyan authorities in 2007. The Periodic Review Board said it considered his "low level of training and lack of leadership role in his pre-detention activities," as well as his family ties, and compliance in detention, in determining that he could be transferred.
Suhail al-Sharabi, a Yemeni accused of belonging to al-Qaeda and serving as a bodyguard to Osama bin Laden, has spent nearly two decades at the prison. The government did not detail its rationale for approving his transfer.
Khaled Qassem, a Yemeni whose attorney described him as among the "least culpable" of the remaining detainees, meanwhile learned this week that he had not been cleared, despite what the review board's decision described as his "low level of training and lack of leadership in al Qaida or the Taliban."
"However, the Board remains concerned in light of the following factors: The detainee's susceptibility to reengage due to his inability to manage his emotions and actions, the detainee's high level of significant non-compliance in the past year, and the detainee's lack of plans for the future if transferred," it continued.
Qassem's attorney Clive Stafford Smith said Qassem has made two suicide attempts. He was captured in his early 20s and has now spent two decades in U.S. custody without charge.
---
---
---
---