Undercover hideaway: Okinawa's Route 22 is the road to adult amusements
---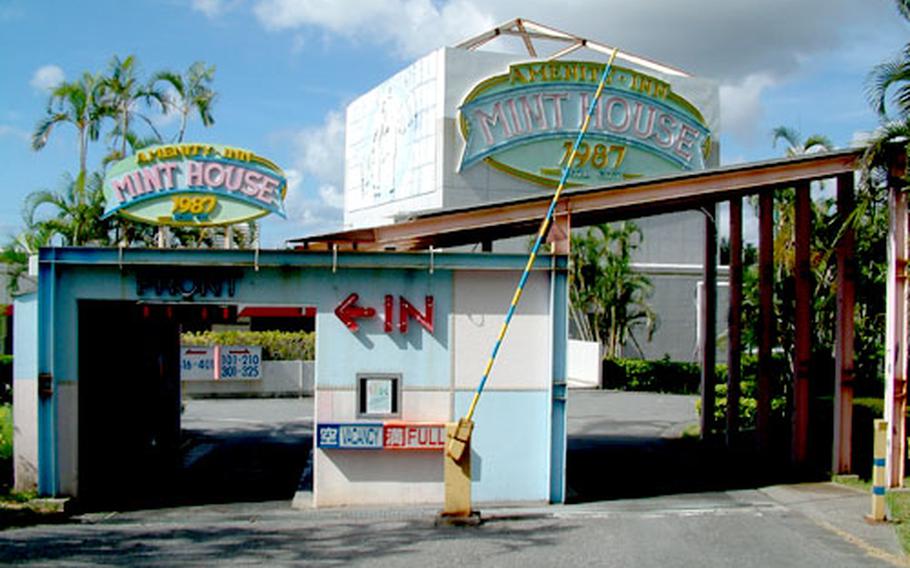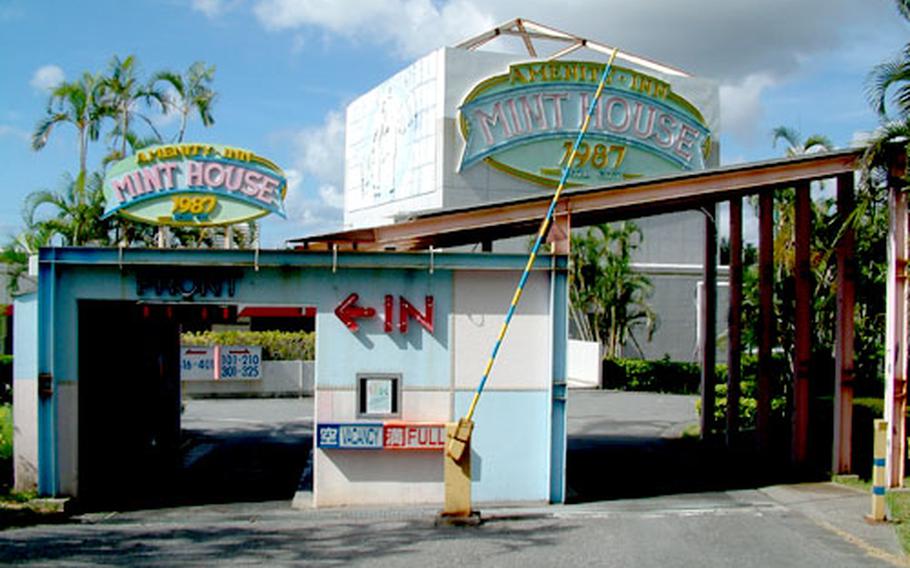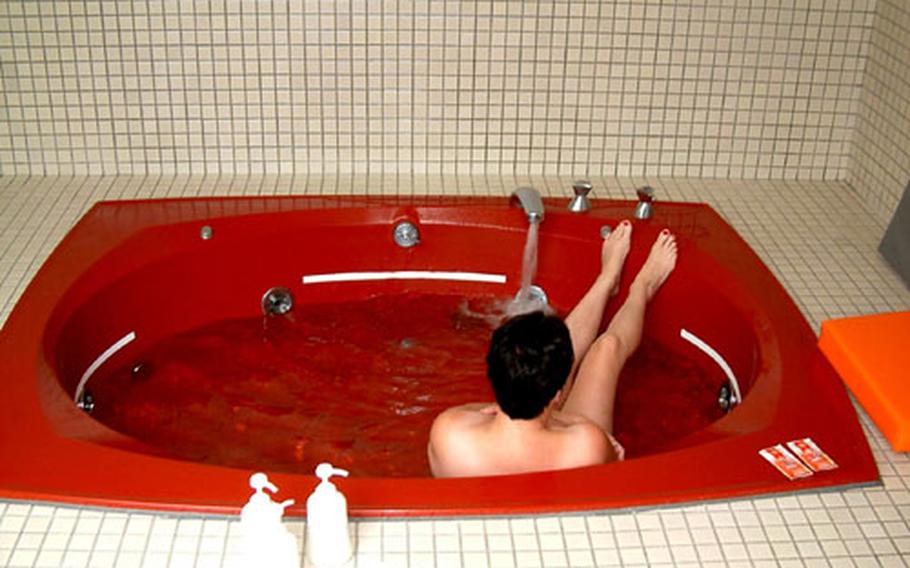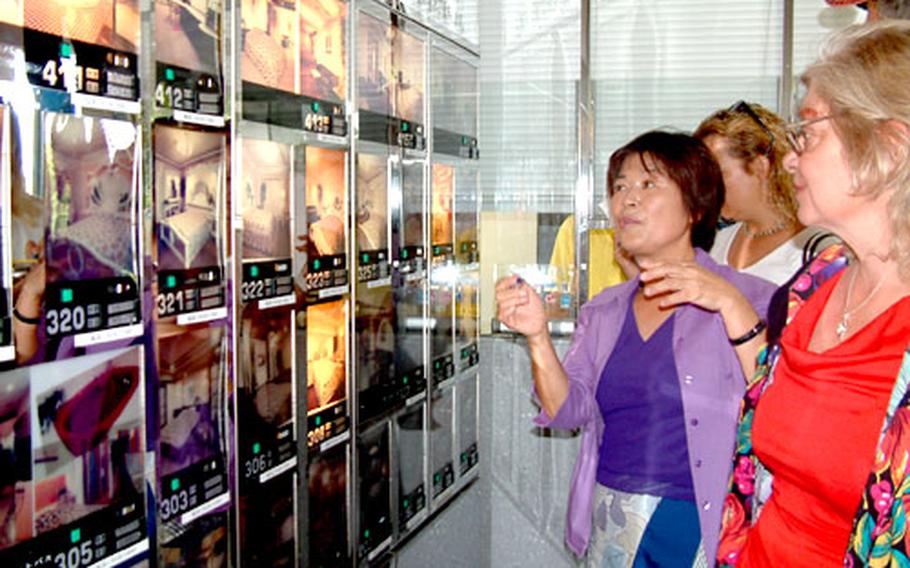 It may look like a neon-lit theme park, but the buildings along Okinawa's Route 22 in the Awase district are not for kids.
It's an adult Disneyland. A canyon of some 20 "no-tell motels." But these are not your stateside fleabag Motel Sexes.
They're "love hotels," Japan's way of making room for love in a country known for its cramped living spaces.
Driving down Route 22 at night is to take a trip through an Oriental Las Vegas. The gaudy, neon lights entice the visitor to explore the Mint House for a few hours of pampered pleasure. Water cascades down an artificial falls as an advertisement for the Avalon, visually balancing the Arch d'Triumphe at the entrance to the Silk Road across the street.
There are 30 love hotels in Awase, and another 120 or so scattered around Okinawa, said Setsuko Inafuku, a tour guide for 18th Services at Kadena Air Base. The Morale, Welfare and Recreation operation schedules about one love hotel tour a month.
On a day in late July, eight people signed up for the tour: a woman from Las Vegas and her friend, a young military couple, a retired serviceman, a defense contractor, two school teachers — and a reporter.
For $25 the tourists get just a small taste of what love hotels are all about.
"We can only visit the Mint House because it's the only place that will allow a bus," Inafuku, says. "It's also the most English (speaking) friendly."
The valley started filling with the upscale love shacks during the construction boom that followed 1972's return of Okinawa to the Japanese.
"Some people say these are places where husbands and wives can go for some private time together," Inafuku says. "But I don't think so any more. Now I think they are for secret lovers."
Love hotels definitely are private. On Okinawa they are almost always drive-ins. A room is chosen, either by stopping at a kiosk at the entrance and choosing a picture of a room (the available rooms are lit up) and driving to the parking spot, or by cruising the parking lot looking for empty car stalls with pictures of the rooms overhead.
Patrons have no face-to-face contact with another person — except, presumably, the one (ones?) they came with. Press a buzzer and a gate or canvas flap drops behind your car. Then the door opens and you enter the room.
The nature of the room depends on the money you spend. For Americans on Okinawa they all offer a cheap, sometimes adventurous, getaway from the bases.
The cheapest rooms, costing 1,500 yen an hour during off-peak hours — about $12.54 — have little more than a bed, television and roomy bath in exotic décor. But for a few thousand yen more, you can rent a room for two or three hours and relax in a hot tub, play the slots, watch some Japanese adult movies or sing some karaoke.
The rates also vary depending on whether you're going for a two- or three-hour "rest" or a longer "stay." Different prices also are charged for peak hours and weekends.
Some of the rooms have large round beds with mirrors on the ceilings; some are decorated in a "Hello Kitty" motif popular with Japanese teens and young women. Some of the more elaborate rooms are two-story apartments with swimming pools, exercise machines (as if you'd need one) and pool tables.
"It all depends on what you are looking for," says an American who frequents the hotels and asked that his name not be used because of his high-profile job on a U.S. base.
"The Mint House is pretty tame," he said. "If you do a little searching you can find the places with theme rooms — cops and robbers, master and servant, tropical jungle."
One of his Japanese friends likes to frequent a room with an indoor putting green.
Some Americans treat themselves to a room at a love hotel just for the creature comforts. One woman said she likes to go with her husband and be pampered with the stocked exotic body lotions and a long, lingering soak in a Jacuzzi.
Again, on check-out there is no human contact. At the Mint House you pick up the phone and tell the clerk you're done. A plastic tube containing your bill then whooshes your way through a vacuum tube.
Once the clerk receives the payment, the receipt is returned and the door to the room unlocked.
At the edge of the pool in the Mint House room, a first-grade DODDS teacher poses for a photograph, dipping her right foot in the water.
"How's that?" she asks. She later phones and asks that her picture and name not be used for this story.
Downstairs, tourists check out the mini-refrigerator stocked with beer, soda and water; and a karaoke machine. Also provided: a coffeemaker with coffee and tea.
Inside the bathroom are body lotions and shampoos. The bed on the second floor is king-sized and has a panel that controls everything in the room.
Each room at the Mint House is different. One tour member who had been there in the past remembers renting a room that had its own slot machine and Poloroid camera.
At the Mint House, the tourists discover one of the guest books left in the bedroom. Entitled "Mysterious Story," the book, in Japanese, encourages visitors to write about their stays.
The pages are laid out like a diary. The first page of each two-page entry shows a drawing of a girl with wrap-around sunglasses, her arms outstretched, sticking out her tongue. Next to her is a boy in shorts, a baseball cap askew on his head, wiping away a tear.
It's difficult to say just what they represent. But the tiny figures below them leave little to the imagination. They are naked couples in 40 various sexual positions — a sort of "Hello Kamasutra."
Guests are encouraged to circle the positions they conquered.
The Love Hotels do have rules, Inafuku said. Not just anything goes.
"If you have more than two people, you have to pay more," she said. At the Mint House guests are encouraged to refrain from smoking in bed. Animals are forbidden.
The rules also ask the guests to "refrain from making loud noises, uproarious actions or any other actions disgustful to others."
"But if you make no trouble," Inafuku said, "there will be no problems."
---
---
---
---