'Uncharted' concludes streak of excellence in fine form with 'A Thief's End'
---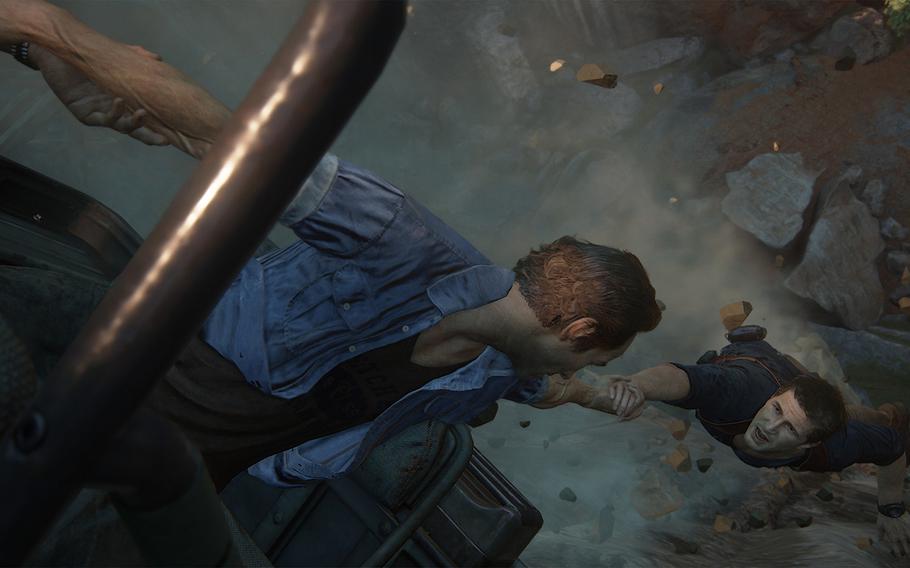 As Naughty Dog planned to end its smash hit series with "Uncharted 4: A Thief's End," the studio's creative minds were faced with a seemingly impossible task.
How, after four games, could they wrap up the story of Nathan Drake and his treasure-hunting exploits without disappointing millions of fans?
Video game finales are much more difficult to get right than debuts. Doubly so when, as is the case with "Uncharted," the series has spanned generations of consoles and shaped the gaming world around it. The landscape in 2016 looks much different than when "Drake's Fortune" burst onto the scene nearly a decade ago. That's due, in no small part, to "Uncharted's" success.
The first game in the "Uncharted" series landed among a sea of similar cover shooters. What immediately distinguished "Uncharted" from its peers was its unmatched voice acting (courtesy of the talents of Nolan North), colorful visuals and platforming and puzzle sections that broke up the gunplay.
As the series progressed, storytelling moved more and more to the forefront, so that, whenever the shooting and exploration elements weren't at their best, the story kept players riveted. As a result, Drake and his companions became some of the most fleshed-out characters in modern gaming. In many ways, "Uncharted's" success on that front is directly responsible for the more story-focused gaming world we see today.
As such, putting an end to Drake's adventures needed to serve a multitude of masters. It needed to appease fans who have been with the series from the beginning. It had to adhere to the series' gameplay roots — even though some of those core elements have gone out of style since 2007. It also had to serve as an entry point for younger gamers for whom "Uncharted 4" would be their first exposure to a series.
For the most part, Naughty Dog succeeded. "A Thief's End" is a fantastic exclamation point on a venerated series, even if some of the legacy gameplay elements keep it from utter perfection.
Some elements of the finale are unqualified successes. Its voice acting and facial animations are, bar none, the best in the business. Part of what makes Drake, Elena and Sullivan so compelling is how Naughty Dog's animators remain so adept at nailing subtle facial expression. When Elena felt disappointment, it showed on her face. That's important for great storytelling.
When a character can accurately convey emotions with facial expression — something video games as a whole still struggle to do well — the writing is allowed to be good. Not just "good for a video game," but good. Naughty Dog did one better here. The writing is sublime and the lines are served up by what has to be the best cast of voice actors to ever grace a video game.
The aforementioned North is found in every third video game these days, but he really is at his best as Nathan Drake. Emily Rose and Richard McGonagle are equally riveting in their roles as Elena and Sullivan, respectively.
I think this is an important part of what makes "A Thief's End" so successful. Veterans of the series get to have one last adventure with a cast of characters they've come to love over the course of four games. Newcomers are given every tool they need to emotionally connect with the core group, even as the series puts a definitive end to Drake's adventures.
Naughty Dog needed to sell old and new players alike on this story, both as a standalone game and as an ending to a long-standing series. They did so, thanks to North, Rose, McGonagle and some expert writing and animation.
It's also helped by the colorful visuals that are easily the best available on a console right now. Every new location Drake visits is a feast for the eyes, with an attention to detail that brings the world to life.
Little touches, like Drake leaving footprints in the dust layered on the floor of deserted mansions, produced some genuine moments of surprise on my playthrough. "Uncharted" has always been a series known for its visuals, and "A Thief's End" continues that streak of excellence.
Storytelling, voice acting and visuals are things Naughty Dog has become known for, with "Uncharted" and its spiritual successor "The Last of Us." It's their gameplay decisions that have always been the only real divisive elements of their modern games. "Uncharted 4" is no exception.
Some fans love the series' simplistic take on platforming, so they'll be happy it returns in spades for the finale. As with games past, Drake will have to climb an inordinate number of crumbling structures and mountainsides.
There remains little to no challenge in the platforming/climbing elements, with players still having to simply push the thumbstick in a direction for Drake to climb to the most dizzying heights. The game introduces a rope mechanic that offers up a nice change of pace, but is ultimately underutilized.
I would have preferred more of a challenge with platforming toward the end of the game. Climbing yet another rock face by tapping X and pushing forward became more boring than exhilarating but, as this is the fifth game in a series, that was perhaps too much to expect on my part. At least the climbing takes Drake to some beautiful vantage points.
It also feeds into the combat scenarios scattered throughout the game. Combat has been greatly reduced this time around, which is a welcome change. The combat situations are much more varied, too. In what I think is a series first, players can skip some combat situations entirely by sneaking around.
Those combat sections that remain are greatly benefited by being held in incredibly interesting areas. One spot in particular has Drake picking off enemies while swimming around an ancient pirate ship graveyard, another has him moving from rooftop to rooftop as bullets tear through crumbling wooden structures.
Enemies are clever enough to engage in flanking maneuvers and cover can be destroyed with enough firepower, so even small engagements can lead to death for an unprepared player. I found the combat to be very enjoyable and the fact that it wasn't happening every five minutes made the relatively few combat-heavy areas more exciting as a result.
Still, the gunplay took a back seat to the story and the exploration. Late in the game, the balance of exploration, combat and cutscenes was perfect. The beginning, not so much. It takes a while for the game to really take the training wheels off, so much so that I felt a bit confused as to when I'd actually be allowed to touch the controller again.
Once it opens up, though, the game really is something special. I'm not a super "Uncharted" fan by any means, but I've been with the series since the beginning. Without spoiling the ending, I really can't imagine how Naughty Dog could have ended the series any better. I do wish they had shaken up the old auto-platforming mechanics, and the opening chapters are slower than napping turtles but, otherwise, the game is as close to perfect as is possible.
While fans of the series are likely sad to see the end of Drake's adventures, they should at least take consolation in the fact that series ended on a high note. As the credits ran, I was not so much saddened as excited by what Naughty Dog, free from the legacy gameplay elements from 2007, are going to do next. If they can capture even a fraction of the "Uncharted" magic, gamers will be very lucky indeed.
Grade: A While not without its flaws, "Uncharted 4: A Thief's End" is a fitting sendoff of one of gaming's most beloved cast of characters. Exciting, often touching and always beautiful to behold, it is definitely worth the price of admission.
Rating: T for Teen Platform: PlayStation 4
---
---
---
---