U.S. Marine peacekeepers talk with residents of Kosovo to learn what is working ... and what is not
by
David Josar
January 12, 2003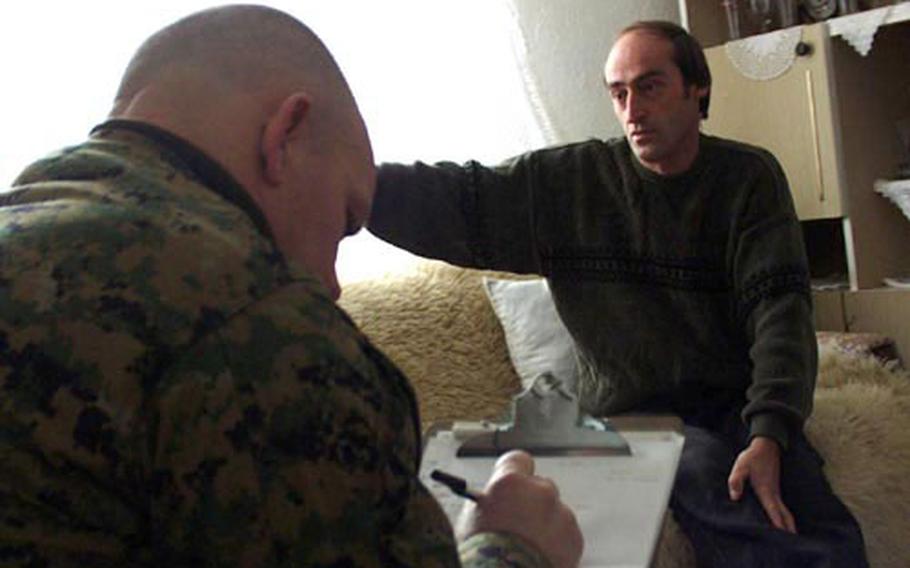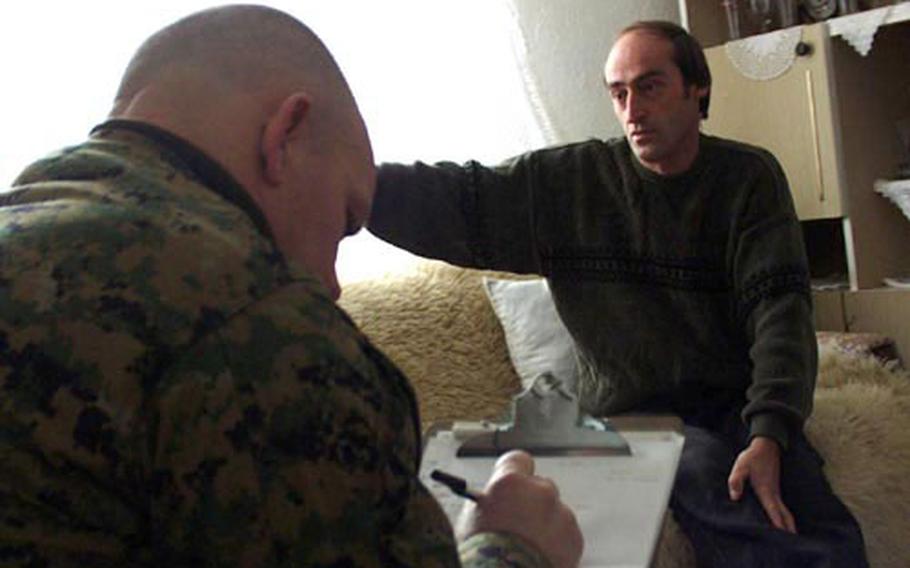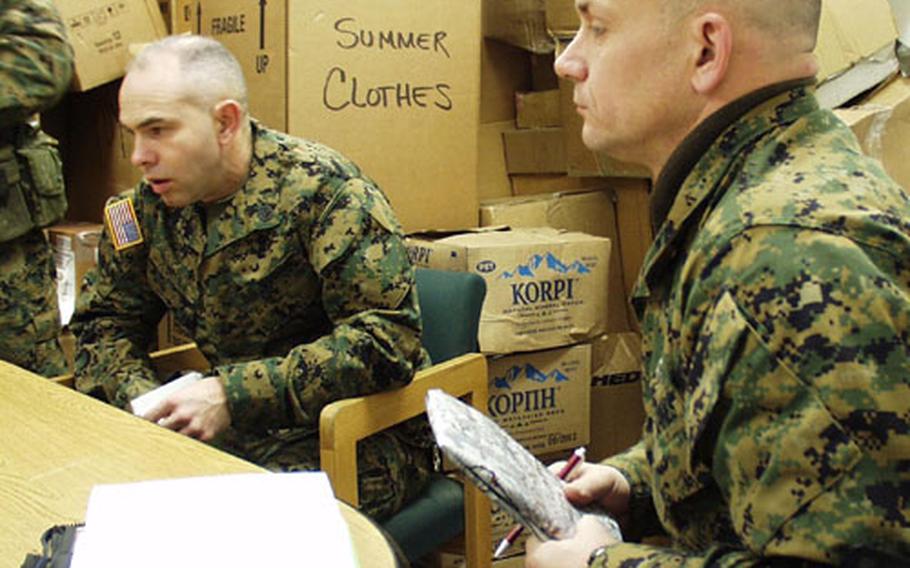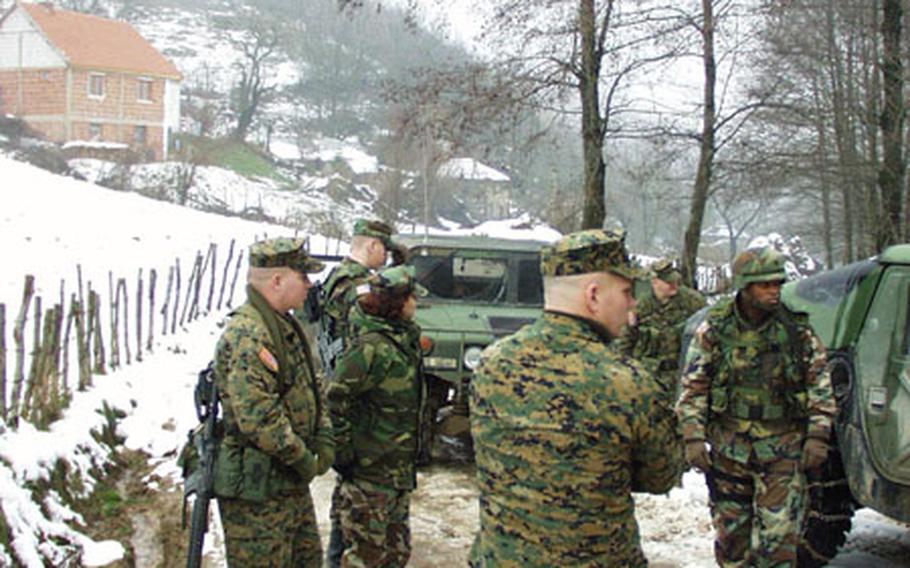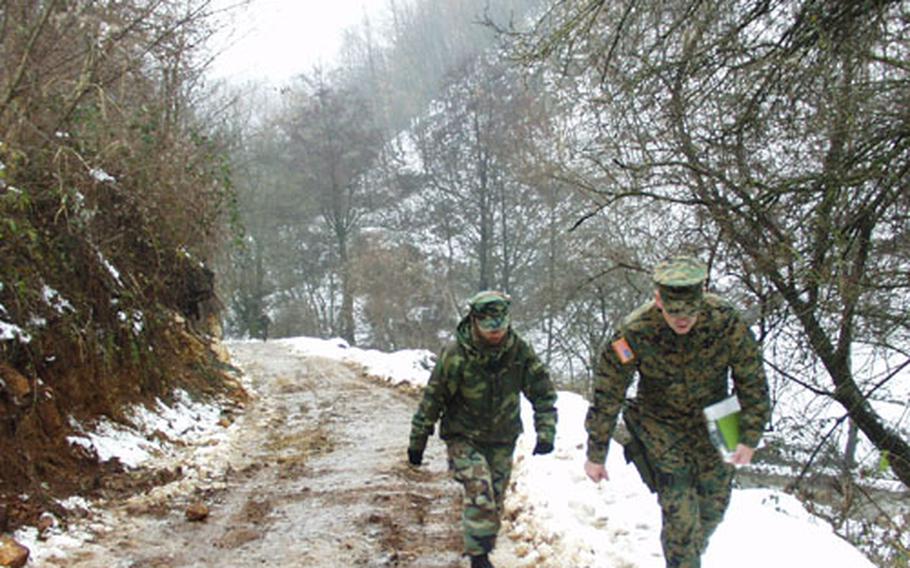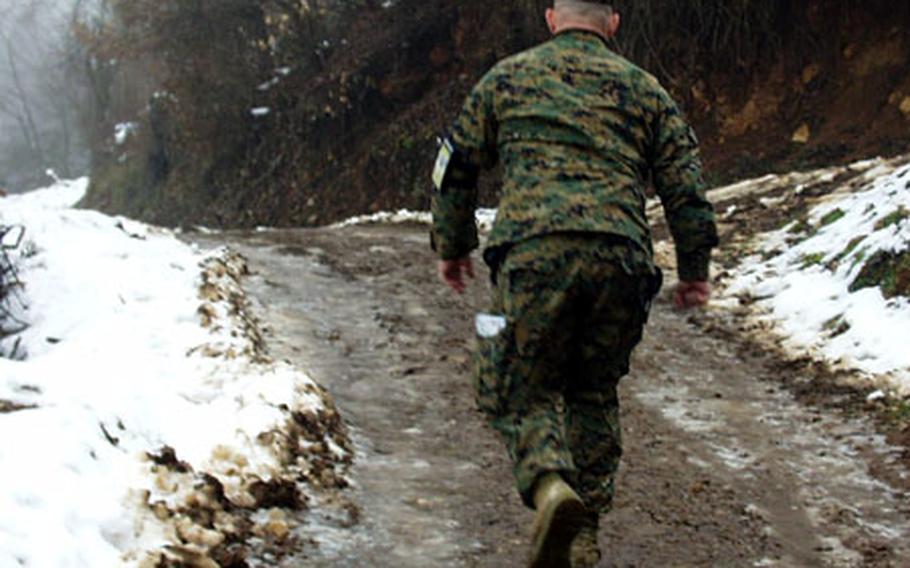 The two Marines and their interpreter crowd into Sabit Shrnu's small house in the poor village of Izance, Kosovo.
Shrnu is the leader of the run-down community of just 13 houses and 133 people, down from 24 houses and 227 people before the outbreak of violence in Kosovo that eventually led to NATO bombing and KFOR's creation.
Shrnu doesn't know what to do, or how to help his village. He has no job, and the only person in the village who does is employed at Camp Bondsteel, the U.S. camp where most of the roughly 3,000 U.S. soldiers deployed to Kosovo live.
The Marines, part of the 415th Civil Affairs Battalion, listen and take notes.
"We're transitioning to help others. We're empowering people to help each other," Marine Maj. John Church Jr. explains to the other Marines traveling to the village on a Tuesday morning.
For Church and his team, the operational tempo is high — they usually work six days a week — and Tuesday is their designated day for "civil affairs assessments." That is when they go with their interpreter to a village or area and talk to residents about what they need to make their lives better.
Church's unit works in and around Strpce, a community of about 3,000 people that is one of the few predominately Serbian areas that still exist in Kosovo.
Around 6:30 a.m. Tuesday, Church and the Marines he works with meet in their office at Camp Bondsteel. The Marines — all reservists except one — review what they hope to accomplish and remind themselves to be careful. Not only do they want to talk to as many residents as possible, but they also want to survey the terrain and note areas that are difficult to travel.
"We want to be a presence. We want people to see us and be comfortable about us. And we want them to let us know what they need," says Marine Cpl. John Pignone.
The unit is ready to leave Camp Bondsteel but is delayed. The group is traveling with a crew from Combat Camera, and although the main roads on their way to Strpce and Izance are snow-free, the side road to Izance, a survey team discovered, is narrow and icy. The Combat Camera team is only now putting chains on its Humvee tires, something the Marines did the previous night.
"If you're late, you're not professional," says Church, who is openly annoyed. He is a university professor in civilian life.
By 7:30, the caravan of three Humvees hits the road. It stops twice for the Combat Camera crew to re-adjust its chains, but finally completes the slow, steep drive to Izance and Shrnu's house. Clothes, despite the near-freezing weather, are drying on the ramshackle fence along a creek.
Most of the houses in the village are in disrepair.
Marine Staff Sgt. James Deel, a prison counselor when he isn't activated, reads a checklist of questions to Shrnu as a follow-up on a previous assessment done by another team last June.
He wants to know how things are going: What is the condition of the nearby school? Can people get water? Do people have jobs?
Have you seen foot patrols by the Polish and Ukrainian troops who are part of KFOR and patrol this area? Have other civil affairs teams made promises to you?
Shrnu explains that no one has jobs, and the soil is too rocky for crops. There is only one tractor in the entire village, he says, and its owner no longer will share it with others after he needed to make expensive repairs. He doesn't know what to do.
As Shrnu talks, his sister offers the visitors thick, sweet coffee, tea and walnuts.
"Things would be better if he could find a job, but he can't even provide for himself," the interpreter says of Shrnu.
The rest of the village needs help, too. The school has large holes in the floor. Previously, some KFOR soldiers volunteered their time to fix the windows. But the floors are still broken.
Church implores the man to go Strpce, the nearby town, where the government might be able to provide some assistance. Shrnu is an Albanian and is afraid to go. But the Marine major explains that Albanians do have positions in the Strpce government.
"You have a voice, and you might have to shout to be heard, but sometimes that is what you need to happen to get something done," Church says.
Because it is Christmas Eve, the Marines don't have as much time as they usually do for their assessments. Their commander at Camp Bondsteel wants them back at the base that afternoon, and they need to cut their visit short.
The civil affairs team members want to survey the school, but they don't have time today. Instead the group must drive about 30 more minutes to Strpce where Church will tape a local radio station show, and the Marines will walk through the community.
The first goal of the team, Church explains, is to find any changes or needs in the community and report them to the Task Force Falcon leaders.
The second is to pass on any information to local leaders and nongovernmental organizations that can help the residents, he says. Sometimes little things make a big difference.
About three weeks ago, for example, Pignone discovered during a routine patrol that in Strpce there was no garbage collection, because the one garbage truck was not registered. He helped the truck owner work with government officials to get the right documents, and garbage service was restored.
Pignone walks the streets of Strpce on Tuesday, working with an interpreter to hang posters about a "Freedom of Movement" bus tour next Sunday. The inexpensive bus rides will take Serbians to other parts of Kosovo for the day as a way to reassure them they are can move safely throughout the country.
By 1 p.m., Church has finished taping the show, and the Humvee convoy is driving toward Bondsteel.
There are only two Marine civil affairs units in the entire Marine Corps, Church says, and about 10 percent of that staff is in Kosovo.
"We want people to know they can get help and that we care," Church says. "I think we do that."