Troops train to use nonlethal weapons to control crowds, reduce civilian deaths
---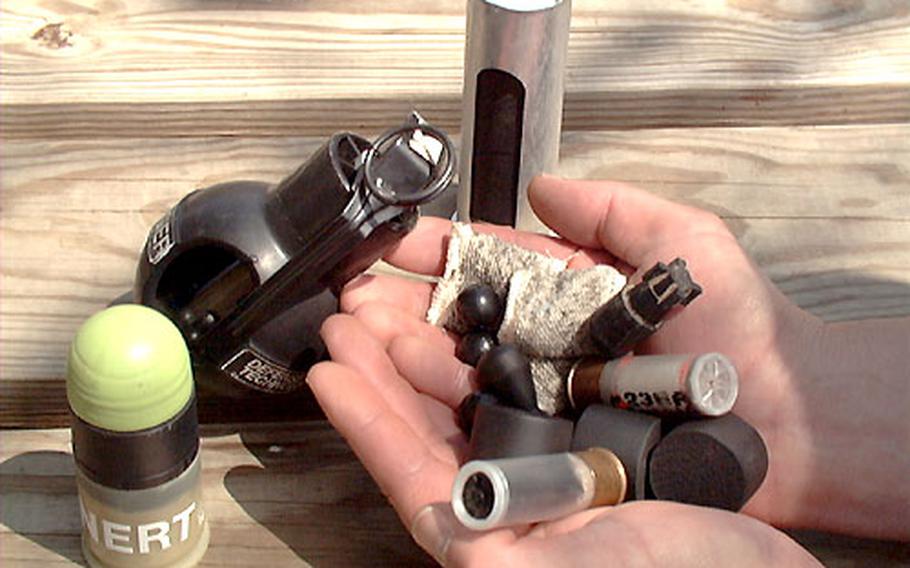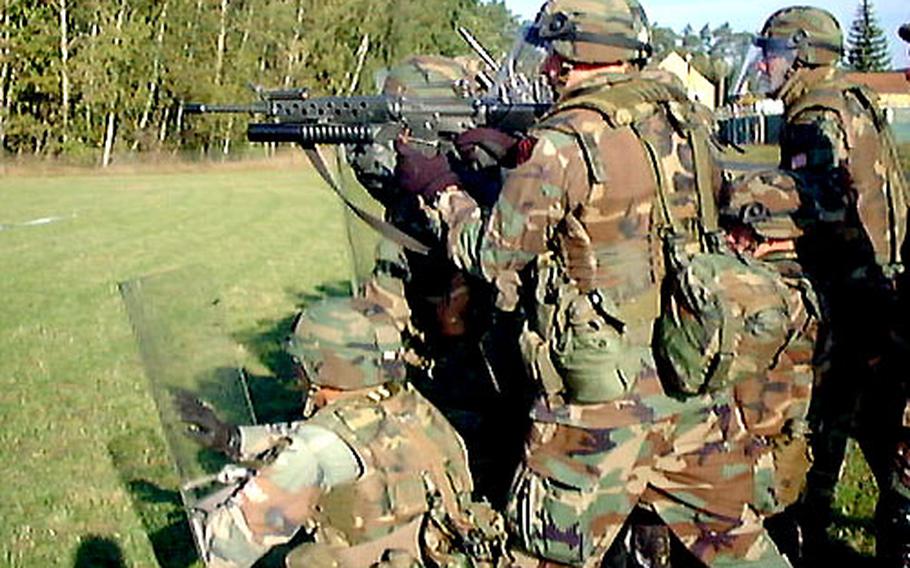 "Professionals are predictable. It's the amateurs you have to watch out for."
— From Murphy's Laws of Combat (anonymous)
———
"Thou shalt not kill."
— Exodus 20:13
———
As late as World War II, war was a relatively simple business.
"You brought in the mortars and turned areas into rubble. You cleared buildings the old-fashioned way, by throwing a frag[mentation] grenade and anyone in there was either killed or wounded," Col. Paul Melody, the director of the Army's Infantry School Combined Arms and Tactics Directorate, Fort Benning, Ga., said in a Nov. 25 round-table discussion about urban warfare at the Pentagon.
"It was a slugfest, a left-right-left, Pac-Man approach."
But that's all changed. Today, the military is exploring nonlethal weapons as a way to maximize options for commanders in the field and minimize world outrage over accidental civilian deaths.
Those goals are essential in the post-Cold War world, which has proved to be a tinderbox in which military actions in one country — even peacekeeping or other benign efforts — can instantly agitate citizens of another, which in turn triggers instability in another state, just like dominos falling.
The military is also aware that once a conflict is over, the United States will generally be expected to play a major role stabilizing and even rebuilding a war-torn country, at least in the short-term.
The more buildings, roads, power plants, bridges, and other structures damaged in battle, the more that have to be restored, Melody said. And the more wounded, displaced and orphaned citizens who are left standing, the more food, medical aid, and other humanitarian support has to be brought in.
"Perhaps the most difficult aspect [of battles] is stability and support," Melody said. "That's hard stuff."
Global expectations of U.S. military capabilities have changed, too, beginning with the first war with Iraq in 1991.
The Persian Gulf War introduced precision weapons, and international audiences watched agog at the Pentagon's carefully chosen videotapes of fighter jets dropping bombs exactly on target. Few Americans were killed in the short ground war, and careful control of the media ensured that when Iraqis died, most of it wasn't visible.
"The sophistication of our weapons and procedures is much better than 10 years ago, and getting better every day," Melody said proudly.
But U.S. military leaders began to realize the quick victory in the Gulf was a double-edged sword, even as military technology continues to improve.
Many traditional U.S. foes and even some allies are miffed when people are accidentally killed in precision bombings.
"Now, more than ever, the minimal level of public tolerance for collateral damage and loss of human life, coupled with the tendency for the typical adversary to exploit our rules of engagement to his benefit, necessitates an effective and flexible application of force through nonlethal weapons," said Marine Corps Col. Dave Karcher, director of the Joint Nonlethal Weapons Directorate based at Quantico, Va.
Another change is that the world is becoming a crowded place, and future battlefields are probably going to be cities that will inevitably be jam-packed with noncombatants.
"Some experts estimate that by 2010, 75 percent of the world's population will live in urban areas," Melody said.
"Cities are most likely to be the battlefield of the 21st century," according to a conclusion reached by the Pentagon's Defense Science Board in 1996.
And communications satellites will make it possible for reporters to instantly transmit heartbreaking stories and scenes of civilian carnage that are not always put in context when picked up by other media outlets.
Military leaders know that some enemies will make a point of pulling U.S. troops into cities. For example, if the U.S. goes to war with Iraq, Saddam Hussein may deliberately try to draw fighting into Baghdad, both because urban warfare tends to favor the defender, and because the Arab world is already expressing anger at the possibility of large-scale civilian casualties — which would be much more likely in the capital city.
In Afghanistan, Iraq, or anywhere else, the bottom line is that the U.S. military can no longer afford rubble and Pac-Man-style, take-no-prisoners fighting. And that's why the nonlethal approach to war is coming into its own throughout the Defense Department.
Nonlethal, not painless
The international legal definition of nonlethal is "weapons that are designed to disable personnel, weapons, supplies, or equipment in such a way that death or severe permanent disability to personnel are unlikely."
Contrary to popular opinion, though, nonlethal does not mean painless. Nor are the weapons guaranteed not to cause harm — rubber bullets the Israeli military uses against Palestinians often cause grave injuries and sometimes death. But the critical legal distinction is that the weapons aren't designed to kill.
Even so, critics question both the military's motives and use of some nonlethal weapons, specifically the use of tear gas and pepper spray for crowd control.
The United States has always had a warfighting doctrine that includes the concept of minimizing casualties, but until recently, technology made that noble goal difficult to achieve, especially during battles for cities or towns.
Moreover, for most of its existence, the Defense Department had no interest in training troops to handle unarmed but hostile civilians. That was the job of law enforcement. The job of the military was to win wars — and war leaves no room for squishy ambiguities like "nonlethal weapons," military leaders said.
After the Soviet Union collapsed, though, the U.S. military's missions, capabilities, and potential theaters of war changed, too.
Peacekeeping and humanitarian operations have become part of the Defense Department's basic mission set, even though the Bush administration has pledged to move the military away from noncombat operations.
Commitments in the Balkans and elsewhere have taught commanders that soldiers who are not equipped and trained to use nonlethal weapons have two choices in environments when civilians are present and causing problems: do nothing, or use deadly force.
The first option can lead to injury or even death to the soldiers. The second option may result in a nightmare of shocking publicity, international recriminations, and career-ending investigations.
As for combat operations, military leaders are now aware that the goal is not only to defeat the enemy, but also to set the stage for a stable, secure, U.S.-government friendly environment. And that means preventing the population from developing resentment against U.S. troops, by not destroying more property than necessary or killing noncombatants.
Nonlethal history
The first time the U.S. military used nonlethal weapons in a combat environment was 1993, after the U.S. became embroiled in the U.N. humanitarian mission in Somalia.
The Somalia mission culminated with Operation United Shield, the February 1995 mission to extract 2,400 U.N. troops from Mogadishu.
The operation was was conducted by the 1st Marine Expeditionary Force under the command of U.S. Marine Lt. Gen. Anthony Zinni, who for years had espoused the idea that U.S. troops needed weapons that would allow them alternatives to full-scale fighting.
Before the operation was launched, Zinni directed that all Marines tapped for the job receive training in nonlethal weapons, as well as crowd control, riot dynamics, and other aspects of safely handling unarmed hostile civilians.
Yet while the retreat from Somalia was a total success, one of the principal nonlethal weapons that the Marines were allowed to use for the first time in Mogadishu — experimental barrier foam that was intended to immobilize rioters advancing on troops — proved to be a disaster.
Somalis quickly figured out how to work around the sticky foam, as television cameras duly recorded the learning curve. Evening news broadcasts later ran the footage alongside clips from the movie "Ghostbusters," in which actor Bill Murray is immobilized by "slime."
Zinni's protests that the nonlethal training had served its purpose fell on deaf ears. For both the U.S. public and legions of critics in the Pentagon and Congress, sticky foam became the defining symbol of nonlethal technology.
Regardless, a small cadre of believers in the Pentagon pressed on, and nonlethal ideas began making their way into formal doctrine.
The Army's view
Meanwhile, although nonlethal weapons "are not a centerpiece of operations," the nonlethal approach to war is included in the Army's new blueprint for fighting in cities, Field Manual 34-06.11.
Titled "Combined Arms Operations in Urban Terrain," the manual was approved in March 2002 and is designed around four principles: assessing the terrain, shaping the battlefield in advance to give soldiers as much of an edge as possible, dominating the fight itself, and transitioning from combat to a stable, secure environment.
Nonlethal effects, rather than weapons, are a major part of the "shaping" concept, Melody said. For example, psychological warfare experts can airdrop pamphlets asking civilians to stay out of the way when fighting begins.
Once hostilities commence, "Units should use precision standoff fires, information operations, and nonlethal tactical systems to the greatest extent possible consistent with mission accomplishment," the manual says.
And in close quarters, especially when lots of civilians are present, "nonlethal munitions and devices, such as stun grenades, riot control agents [when authorized by the national command authority], pepper spray, and personnel restraints, may also be high use items," the manual says.
However, "We do not ever say, 'Under no circumstances whatsoever are no civilians to be harmed'," Melody said. "We know there will be civilian casualties. But we want to minimize them."
Related stories
Troops train to use nonlethal waepons to control crowds, reduce civilian deaths
Officer's tale of Kosovo incident underlines need for nonlethal-weapons options
Fiery 15 minutes at nonlethal weapons course started with pepper spray
Military testing future additions to nonlethal-weapons arsenal
Critics say use of pepper spray in crowd control is illegal
Timeline of U.S. policy on nonlethal weapons
Baghdad map
If war erupts in Iraq, downtown Baghdad may present the most extensive test yet in the arena of urban warfare and nonlethal-weapons technology. Click here to download a map of Baghdad (465K, in Adobe PDF format).
---
---
---
---