Tours share mysteries of Buddhism, Shintoism with military newcomers
by
Jennifer H. Svan
November 9, 2003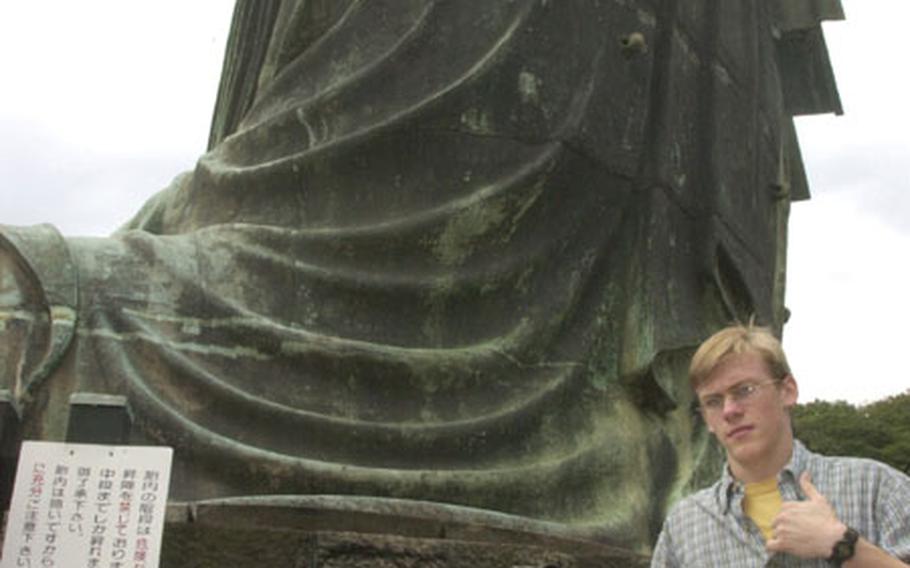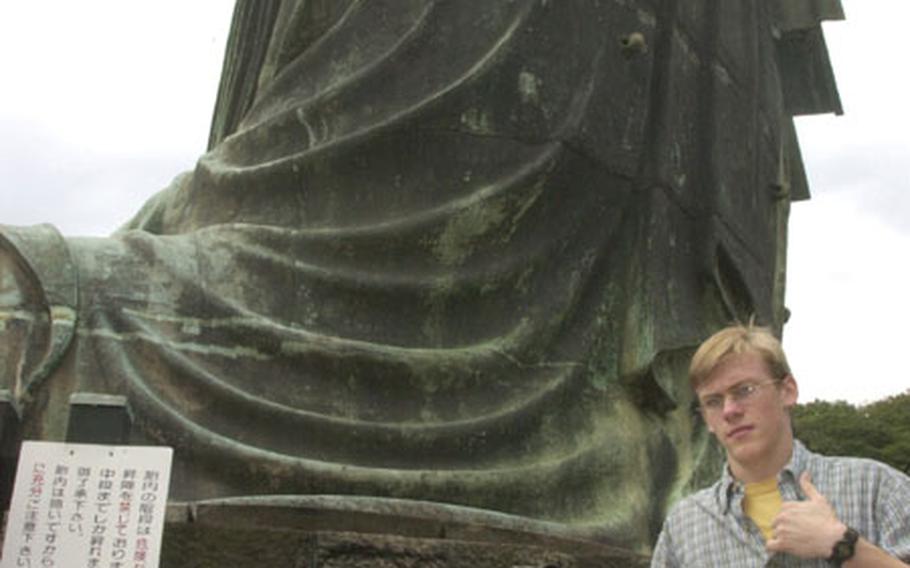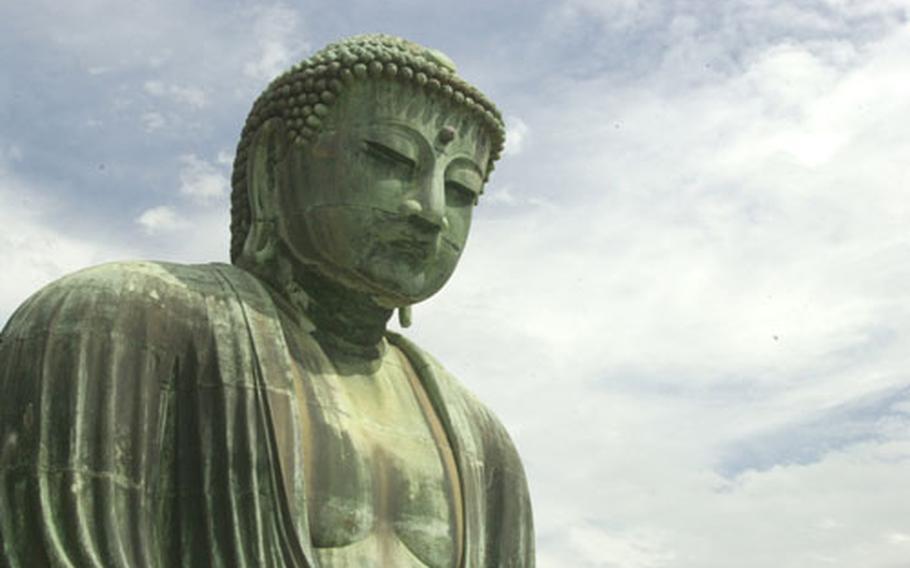 KAMAKURA, Japan — Sometimes called the Kyoto of Eastern Japan, Kamakura is a cultural treasure less than an hour south of Tokyo.
The birthplace of the first Kamakura government's shogun, or military ruler, Minamoto Yoriyoshi, it's also where the tea ceremony originated; nearly 100 temples and shrines give testament to this ancient coastal town's spiritual history.
Kamakura is the perfect place to learn about Japan's two largest religions — Shintoism and Buddhism — that is, with Lt. Col. John Powers, the U.S. Army Garrison-Japan chaplain from Camp Zama, as your guide.
Powers leads his "Spiritual Orientation Tour" of Kamakura about four times a year, along with his chapel colleagues. The tour, paid for through donations from all Camp Zama church services, is not advertised outside the Army post, but it's open to anyone, Powers said.
A modest and energetic protestant chaplain, Powers would never describe himself as an expert on Japan's religions, but he knows more than most Westerners. Each person receives a booklet that Powers wrote about Japan's history, its major religions, and some famous sites in Kamakura, such as the Daibutsu (Great Buddha) and Hachiman Shrine.
Powers chose Kamakura as his classroom "because I think it blends perfectly the historical, cultural and spiritual aspects of Japan into one location."
Powers is on his second tour of Japan and feels it's part of his "spiritual responsibility to educate people about the spiritual nuances" of Japan.
"When I first got here, I was surprised how few people know about Shintoism and Buddhism," he said.
"I think to embrace your time here, you need to be in touch with Japan's understanding of Shintoism and Buddhism."
Japan is unique in that many Japanese hold two religious beliefs, Powers said. In a population of about 125 million, about 115 million are Shintos, and about 90 million are Buddhists; Christianity is a distant third, with about 1.5 million followers.
There are an estimated 80,000 Shinto shrines and 70,000 Buddhist temples in Japan.
"Shintoism deals with the living, Buddhism deals with death, as far as the religious experience goes," Powers said, noting that a shrine is where Shintos worship, and a temple is a Buddhist house of worship.
Japanese may visit a Shinto shrine for a birth or marriage rite, and a Buddhist temple to pray for dead ancestors.
On a recent tour, Powers led 28 people through Kamakura, visiting a famous shrine and temple, among other stops, to point out the differences between the two religions.
Many tour-goers were newly assigned here.
"We thought it would be a good opportunity to see Japan," said Lt. Col. Dennis Young, a U.S. Army Japan intelligence officer. "When in Rome, do as the Romans do. When in Japan, it's to learn about the religions so we can respect and understand the culture better."
First stop on the tour: "Hase-Dera," a Buddhist temple built around 720 AD but since reconstructed.
Powers explained the significance of rows upon rows of small stone dolls dedicated to unborn children. "When a child dies, a parent will come here and purchase a Jizo," Powers said, using the Japanese name for the statuettes. Often, the children were aborted, while some died in birth or of accidental deaths, he said.
Grieving parents seek solace, purchasing a Jizo — for sometimes up to 20,000 yen — to "appease the child spirit, saying, 'I'm sorry for what I did,'" Powers said.
He notes that the larger statues guide the child's spirit on the Buddhist 49-day journey to heaven. Parents dedicate toys to their dead children: A small temple near the Jizo holds boxes of crayons, pastel sneakers, Hello Kitty stuffed animals and other items.
The temple also features the Goddess of Mercy, the oldest wooden statue in Japan. Her 11 faces "symbolize the ability to hear all prayers and save the souls of those who seek help," Powers explained.
At the Daibutsu, also a Buddhist temple, tour-goers learn that the Great Buddha was constructed in 1252 and withstood a tidal wave that wiped out part of Kamakura in 1495. The 40-foot-high bronze statue represents the Amida Buddha: Offer one's complete love and trust, and the Amida Buddha will ensure salvation and lead man into paradise, Powers explains in his booklet.
Carmen Farnum and her husband, Master Sgt. Eduardo Farnum, who recently moved from Fort Jackson, S.C., to Japan, saw the Great Buddha in National Geographic magazine, but never thought they would stand in the towering monument's shadow.
"We're just taking advantage of the culture," Carmen said.
Unlike Buddhism, which was introduced into Japan from abroad in the sixth century, Shintoism concepts were developed through animis and tribal history going back 17 centuries. "It sprang from the people, the farmlands, the rural areas," Powers said.
A central tenet of Shintoism is the concept of kami, spirits that abide in and are worshipped at shrines, representing human beings and things found in nature, such as animals, trees and plants.
Each kami, Powers explains in his booklet, has its own character and is worshipped for a particular reason, such as good health, a successful marriage or a prosperous business year.
Hachiman Shrine is Kamakura's most important shrine and the last stop on the Powers' tour. It was founded by Minamoto Yoriyoshi in 1063, and enlarged and moved to its current site in 1180 by Minamoto Yoritomo, the founder and first shogun of the Kamakura government.
Powers explains much of the nuances of the shrine experience. Vistors who clap and bow in front of the shrine steps are trying to get the attention of the kami and often offer a token, such as a coin. Priests wear different colored skirts — oranges, reds, blues — according to their place in a priesthood hierarchy. And the red in the torii gate at the shrine entrance repels sins and keeps away evil spirits, while trees around the shrine protect spiritual grounds.
"This is an opportunity, regardless of your religious faith or background, to learn more about the country you live in," Powers said of the spiritual tour. The next Spiritual Orientation Tour is Dec. 26. For more information, call the Camp Zama chapel at 263-4898.