'Total disregard for his own safety'
---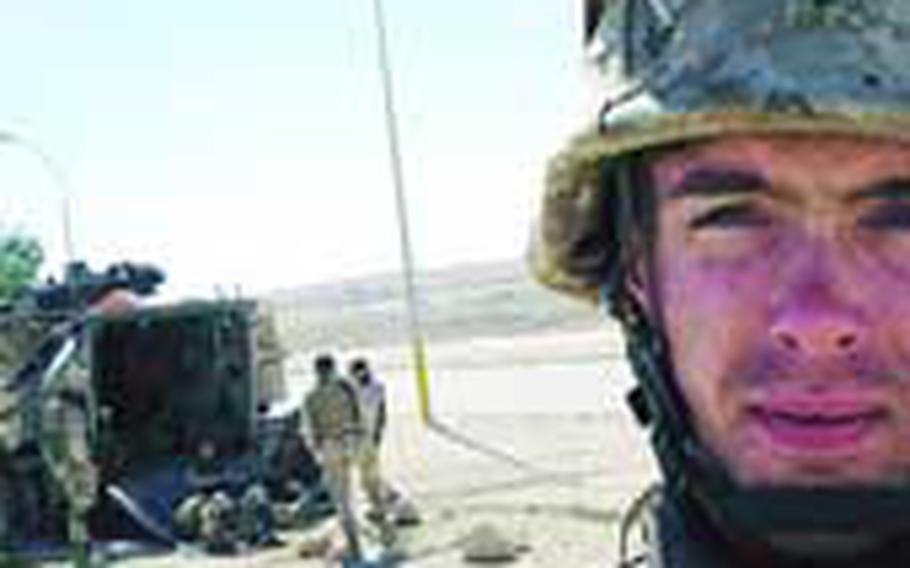 Seaman Brendan McGuire's story might be told best starting from the present and working back.
Today the corpsman works in U.S. Naval Hospital Yokosuka's patient care ward. He's tall, freckled, has pale blue eyes and stands ramrod straight. The 30-year-old hails from Manalapan, N.J. This year he was awarded the Navy Achievement Medal with "V" for Valor for his deployment to Iraq in 2005.
Recent kidding with a co-worker about his award weighs heavily on his mind, he said.
"I told him I got it for decorating for the Navy Ball because there were poisonous spinning tarantulas in the room," McGuire said. "I didn't mean to joke about it."
He recognizes this as an avoidance tactic — a way to get out of telling and retelling the story behind the "V."
McGuire actually has three stories — there are three valorous acts noted in his commendation. But going backward in time means starting with the worst, as McGuire witnessed one of the war's deadliest attacks on U.S. forces about six weeks before he finished his six-month deployment.
On Aug. 3, 2005, an amphibious assault vehicle full of U.S. Marines was hit by a roadside bomb in Barwana, Iraq.
Fourteen people were killed in the attack — most from the Ohio-based 3rd Battalion, 25th Marines, which lost 23 servicemembers in this single, deadly week.
McGuire was one of the first people on the scene. His gaze is steady when he talks about it, but all he'll say about what he found there is that "it was everything I expected in a major incident."
"It was dramatic," he said. "To say anything else would be too morbid."
According to McGuire's commendation, the corpsman ran to the burning AAV "with total disregard for his own safety" as ammunition "cooked off around him." Looking for survivors, McGuire spotted a single Marine crawling from the wreckage, pulled him to safety and "provided immediate medical care." The Marine was the only survivor of the attack.
"There was only one person we could help," McGuire said. "I figured I'd deal with the emotions later, and deal with what is in front of me now. I was so focused on what I was doing that it surprised me to hear later that the ammo was going off."
McGuire had braved bullets before. On May 8 of that year, he went under fire to aid six Marines wounded during a clearing operation in New Ubadyi. The injuries weren't too serious, demurs McGuire — shrapnel in feet and forearms — and all the servicemembers recovered.
And on April 28 — six weeks after McGuire arrived in Iraq — he was walking through palm groves with Marines when he treated his first gunshot wound, he said. But this time, it was Iraqi civilians who were hurt.
"A car rolled up and an Iraqi man jumped out. He had blood on him. I was asking, 'Is that guy shot? Is that guy shot?'" McGuire said.
They were out in the open and "it wasn't safe," so the troops moved the injured man to a house and started treating him, McGuire said. Three other Iraqi civilians had been injured in a firefight between Marines and insurgents, and McGuire treated them all. Their injuries didn't appear to be life-threatening, he said.
Though he never found out what happened to his patients, he was told that everyone "was going to be all right," McGuire said.
Almost three years later, McGuire found out he'd received a commendation for those three events. It is an "honor," he said.
Today, Iraq is a different place, McGuire said. That's his disclaimer to his fellow corpsmen who ask his advice before their own deployments. Then McGuire tells them to start working in the emergency room and get into shape.
"The situation changes so quickly in Iraq," McGuire said. "I can just tell them a couple of things."
And while McGuire hasn't had nightmares, the experience has stayed with him. Initially, it was a fear of crowds, McGuire said, but now, it's a frustration with military people who forget about the big picture.
"Some people can't see beyond their careers," he said. "They forget that this job is about going into harm's way to protect the country. That it means potentially getting killed. It all has to be about defending the country — and that is the reward."
Seaman Brendan McGuire
Unit: Individual Augmentee Hospital Corpsman assigned to 3rd Platoon, Company L, 3rd Battalion, 25th Marines
Medal: Navy Achievement Medal with "V"
Earned: March 11 to Sept. 20, 2005, in Anbar, Iraq (three citations)
---
---
---
---