Top of Waikiki delivers a tiptop menu with a 360-degree view
---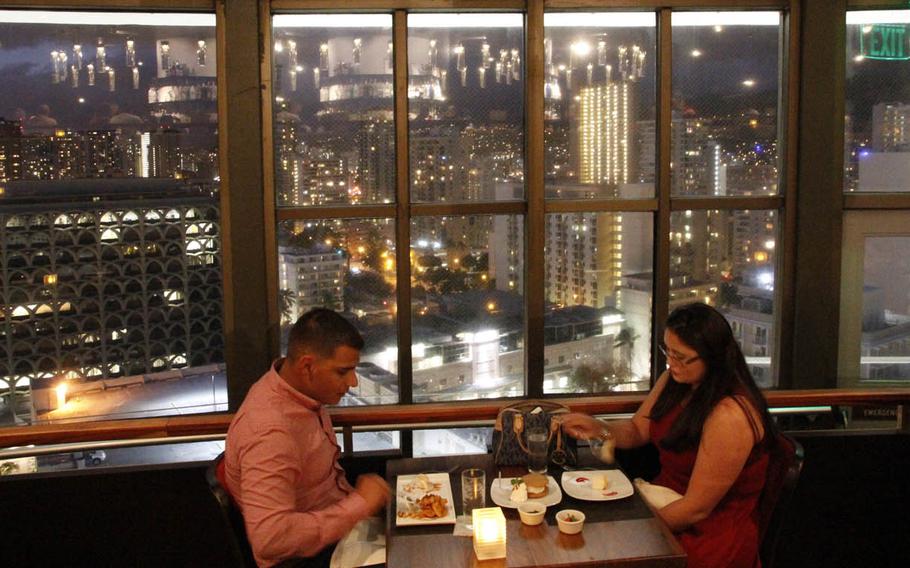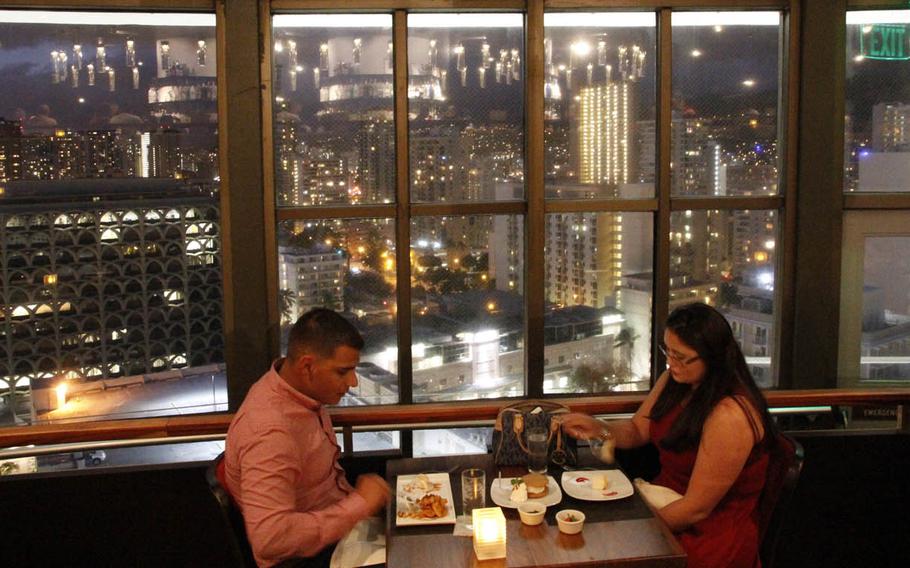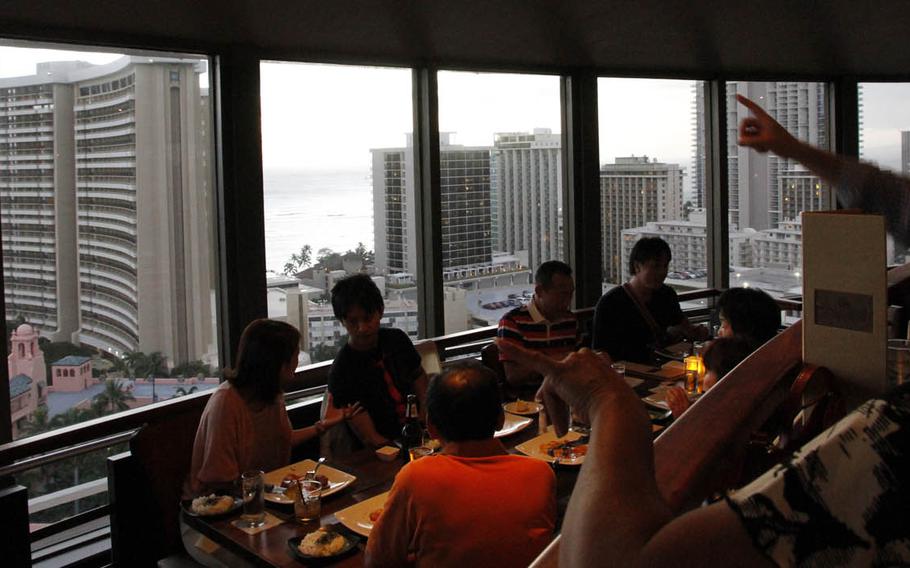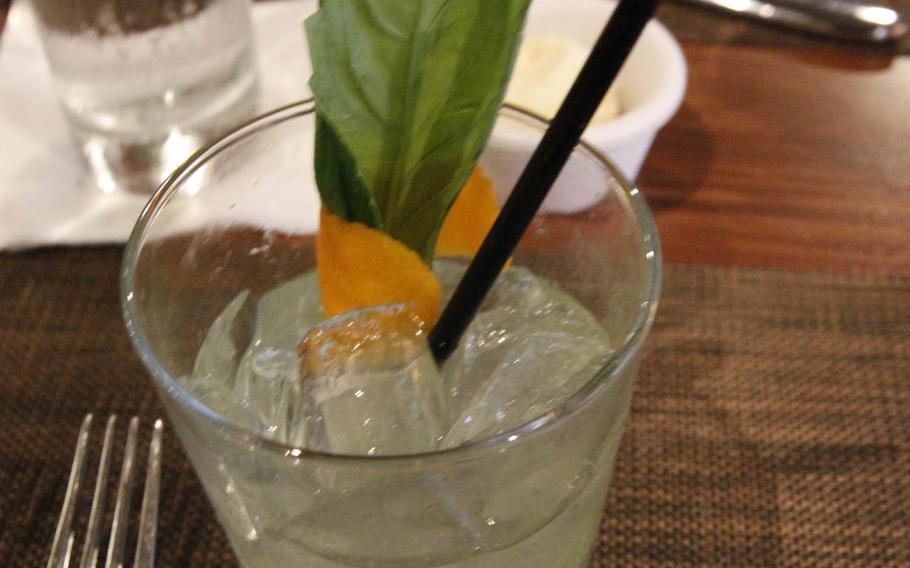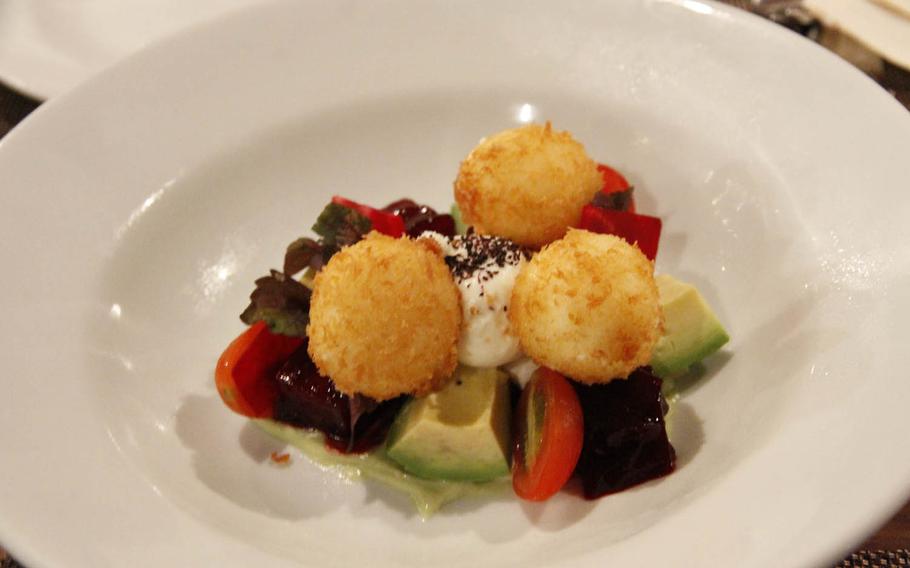 Many restaurants strive to reach the top of the heap, to rise to dizzying heights. Top of Waikiki does that literally with its location atop Honolulu's Waikiki Business Center, where the restaurant rotates 360 degrees while you're dining.
That slow revolution won't make you dizzy, but the restaurant's tiptop menu just might.
Top of Waikiki is one of those restaurants that's priced high enough that we mere mortals need a special occasion to rationalize spending that much for a single meal. I went on a recent Saturday evening to celebrate someone's birthday, and it's a memorable place to mark spinning through another year.
We wanted to see the sunset; that meant eating early, so we made a reservation for 5:30. We figured that would give us a chance to see the ocean at sunset for part of the meal and then the city lights for the remainder.
There's another good reason to come before 6:30: During the first two hours, the restaurant offers "sunset specials" that cost a bit less than regular menu items. And, of course, it's easier to get a reservation before the full-on-evening rush.
Seating is at three circular levels, with tables for two in the two upper rings, which are narrow and busy with wait staff.
The restaurant has an extensive wine list, many available by the bottle. I opted for one of the signature cocktails, which the restaurant touts as the creation of "renowned mixologist" Jennifer Ackrill. The gin basil gimlet ($10) came with a beautiful sprig of fresh basil jutting from the glass filled with fresh lime juice, basil syrup and, of course, gin. It was, as I'd hoped, a surprisingly pleasant blend of flavors.
Sometime I'm going to make it back here for the 4:30 to 6:30 happy hour and try two other signature cocktails — the New Congress Club, mixed with hibiscus-infused tequila, sweet vermouth, lime juice and tiki syrup; and the Molokai Mule, made with vodka, homemade ginger syrup, freshly pressed lime juice and dark rum.
We followed our server's recommendation and ordered the pear salad ($15) and the beet-avocado salad ($17), both of which contained produce raised in Hawaii.
The first includes thinly sliced portions of two varieties of pears, candied walnuts, raspberries and balsamic vinaigrette, topped with a deep-fried Cambozola cheese pastry. The sharp-tasting cheese is a great companion with the sweetness of the rest of the salad.
The beet salad had a different mix of flavors, with the creamy slices of avocado countering the sharper taste of the beets. The salad comes with three balls of deep-fried goat cheese, ume plum and avocado mousse.
After mighty deliberation, I chose the "sunset special" entree: grilled New York steak and lemon-pepper shrimp ($29). It came with roasted cauliflower and veal jus. I couldn't decide between surf or turf entrees, so why not take advantage of the special?
Besides, my partner was ordering the bacon- and panko-crusted ahi entree ($32), so I knew I'd get to sample one of the fish dishes that the restaurant obviously prides itself on. It came with German-style potato salad and a relish of mini-tomatoes. The ahi, which is a type of tuna, was thick and moist but also had that panko crunch.
Other entrees include cioppino ($35), a seafood stew that includes clams, scallops, shrimp, calamari, mussels and fish from the islands; and ginger-pesto crusted monchong ($28), which is the Hawaiian name for a type of deep-sea pomfret.
If you're celebrating a be-all, end-all milestone, there's the "Over the Top Surf and Turf for Two" entree, at a memorable $185. You'd be marking the occasion with a 22-ounce porterhouse steak, two lobster tails, crab legs, "triple garlic butter" roasted red potatoes, asparagus and carrots.
Since this was a birthday celebration, we had to have some kind of cake-ish dessert atop which we could plant a candle to blow out. We took the server's recommendation of the cocoa semifreddo ($12), a frozen dessert layered with milk chocolate and solid dark chocolates, then covered with caramel. We shared one slice, which was rich and ample enough for two.
Other dessert choices include lemon and mascarpone cheesecake with a mixed berry sauce ($11) and baked Alaska for two ($16), with layers of cake, ice cream and sorbet in torched meringue.
We saw that we'd rotated back to the entryway, and our edible orbit came to a happy end.
Top of Waikiki
Location: 2270 Kalakaua Ave., 18th Floor, Honolulu. Located in Waikiki Beach on the corner of Seaside and Kalakaua Avenues, entrance on Kalakaua, take elevator to 18th floor. Map at topofwaikiki.com/about/location.
Hours: Open every day 4:30 to 9:30 p.m. with sunset specials until 6:30.
Prices: Appetizers from $14 to $17; salads $11 to $17; entrees $28 to $49; desserts $9 to $16; kid's menu age 12 and younger $9 to $11.
Notes: Validated parking for all guests in the Waikiki Business Center parking ramp. No beachwear allowed; no sleeveless shirts for men.
Information: (808) 923-3877; www.topofwaikiki.com
---
---
---
---