Tokyo track offers family-friendly venue for wagering on the ponies
by
Joseph Giordono
July 13, 2003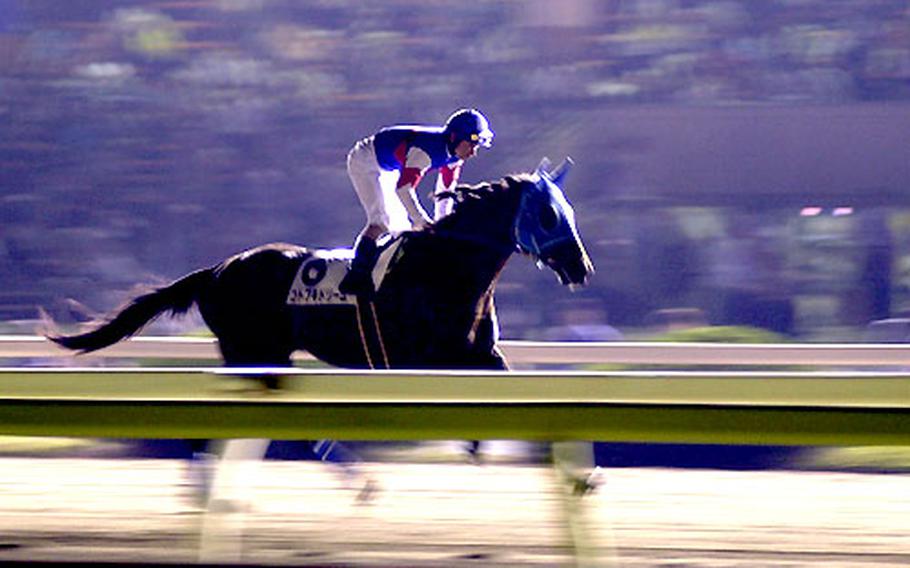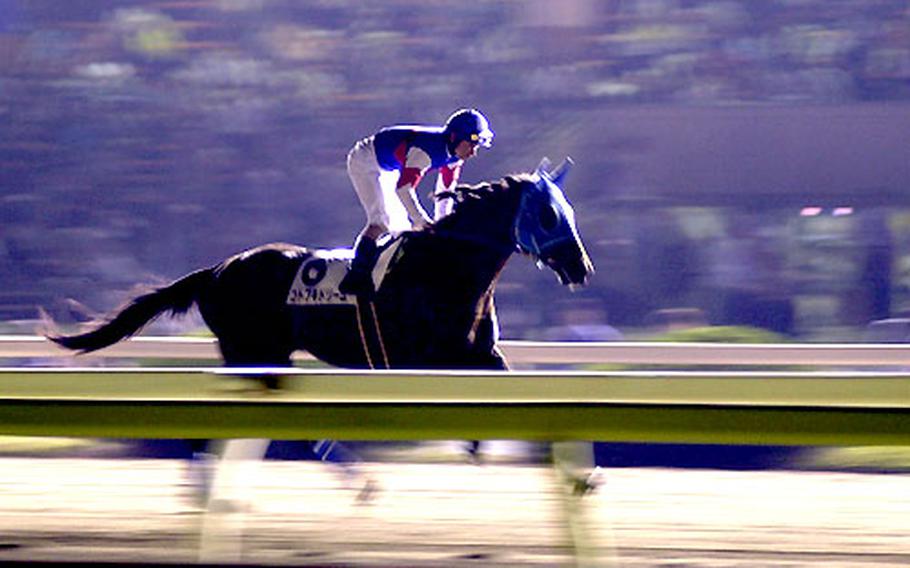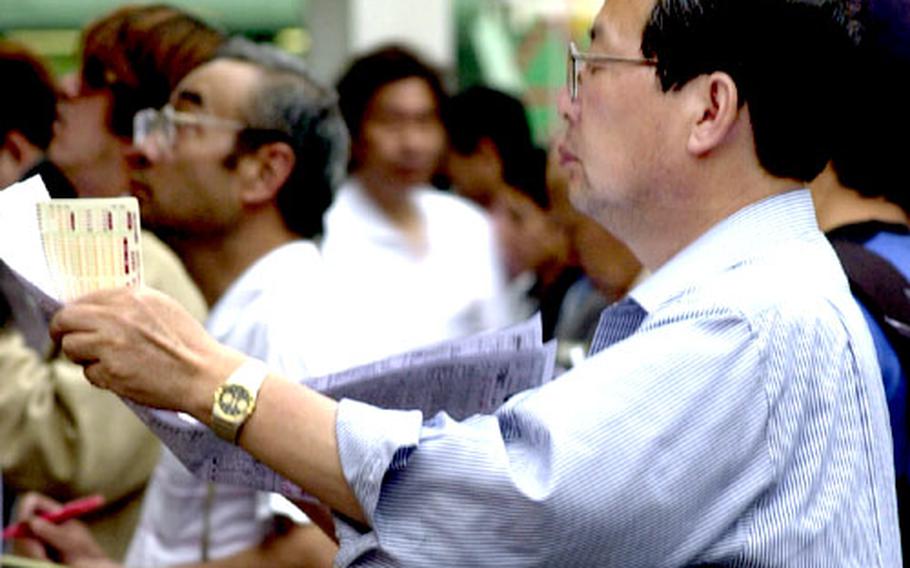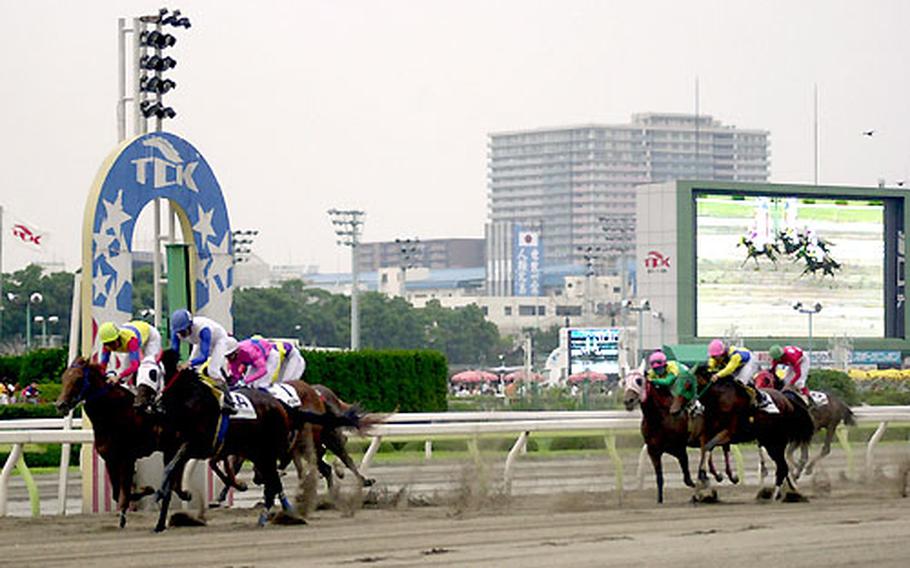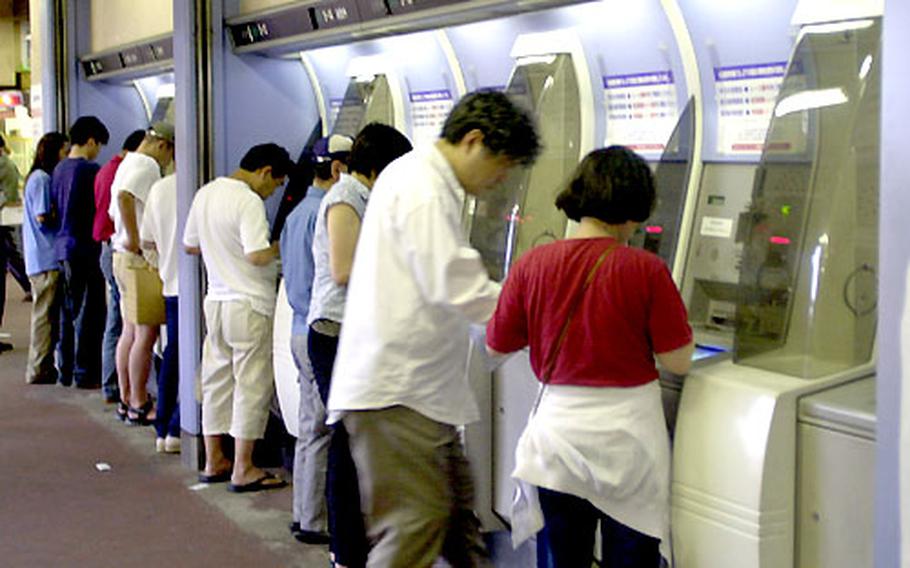 The first thing you notice about horse racing at a track in Japan is the inordinately large number of families and children in attendance.
The second thing you notice is horses running the wrong direction.
Here at Tokyo City Keiba, children run, tumble, eat ice cream and spin on a giant playground on the track's infield.
At Tokyo City Keiba — literally translated as "Tokyo City Horse Racing" — the atmosphere is different from Hollywood Park or any other stateside track.
That's no accident.
In Japan, the track is promoted as a family-friendly place to spend an afternoon.
Hundreds of colored lights strung across every surface are almost as much of an attraction as the horse racing.
The races run from the late afternoon until about 9 p.m., giving visitors plenty of chances to check out the light show.
The track here has become a favored place for young couples on dates.
Still a track
But don't fret, hard-core racing junkies, it's still a horse track.
You can buy beer, search the minutiae of the Japanese-language racing form and watch disheveled men crumpling up losing tickets in disgust while cursing their rotten luck.
"Go-ban, yon-ban! Go-ban, yon-ban!" yelled one such seasoned bettor, as the horses in the seventh race flew past the finish line.
He was deliriously happy, having picked a 5-4 finish to the race.
But the actual result of the race was 2-5-4, with the No. 2 horse at least a full-length ahead.
As he turned to his right and realized his bet hadn't come in, the disappointment in his voice was almost as thick as the beer fumes emanating from his mouth.
This is what the track used to be all about.
Not anymore.
Tokyo City Keiba is a surprisingly docile venue.
Among the attractions for children are face-painting, pony rides and a stage featuring Dixieland bands.
Pleasant young Japanese women in yellow mini-skirts and brown cowboy hats are on hand to explain how the races and betting forms work. Twice a day, they provide a "Beginner's Seminar" for racing rookies.
Many of them, like Chie Yamanaka, speak English.
"Yes, just like a trifecta," she finally said in English after 20 minutes of trying to explain in Japanese one of the bets possible.
Betting system
The betting system is automated.
Pick up the form — a small card that looks like a standardized test — and fill in choice boxes with a pencil.
Stick the completed card and the amount you want to bet into a blue betting machine.
If you win, go to a different set of machines to insert your ticket and pick up your winnings.
A 200 yen bet for a horse to show — come in first, second or third — usually nets you about 220 yen.
There are many similarities to an American track:
There's a paddock where you can view horses before a race.
And vendors sell Budweiser and New York hot dogs.
But post time — the point at which you can no longer place bets on an upcoming race — isn't announced by a gravelly voice on the stadium loudspeaker. Instead, an electronic version of "Twinkle, Twinkle Little Star" gently warns you a race is about to begin.
At later races, when the track is ablaze with twinkling lights, five dapper buglers play a different fanfare. Each time, the buglers are greeted by the crowd with polite applause.
The gates are to the right of the grandstand; the finish pole is at the left.
Once the starting gate opens, you'll notice the horses are running clockwise. In the states, they run counterclockwise.
For serious bettors, the track offers another oddity: live handicappers who man a long row of wooden booths next to the betting machines. On elaborate dry-erase boards, they tell bettors "inside information." And for just a few yen, they will tell you exactly which horses to bet on.
But what would be the fun in that?
Hana Kusumoto contributed to this report.
Getting there ...
¶ Tokyo City Keiba. Take Tokyo Monorail to Oi Keibajomae. It is a two-minute walk from the station. Or opt for a 12-minute walk from Tachiaigawa station on Keihin Kyuko line.
¶ Morioka race track (National Association of Racing track) in Morioka city in Iwate prefecture, about 90 miles or a three-hour drive south of Misawa Air Base. It is 25 minutes off of Morioka South interchange on Tohoku expressway. Free parking available. Toll: 3,100 yen, each way. To get there by train, it is 50 minutes via Tohoku Shinkansen from Hachinohe Station, 12 miles south of Misawa.
¶ Tokyo race track (Japan Racing Association track) in Fuchu city in Tokyo, six miles from Yokota Air Base. It is five minutes' walk from Fuchu Keiba Seimonmae station or Fuchu Honmachi station on JR Musashino and Nanbu line.
¶ Kokura race track (Japan Racing Association track) in Kitakyushu city, Fukuoka prefecture, is about 75 miles from the Iwakuni Marine Corps Air Station. It is by Keibajomae station on Kokura line on Kitakyushu Monorail, a 10-minute ride from JR Kokura Station. It is also a 30-minute drive from the JR Kokura station.
¶ Saga race track (National Association of Racing track) in Tosu city in Saga Prefecture, about 50 miles from Sasebo Naval Base. Take Nagasaki Motor Road to Tosu interchange. Get on Route 34 to Saga city. It is also about ten minutes' drive from JR Tosu station or 15 minutes from JR Kurume station.
For directions and other details on Japan Racing Association tracks, go to a Web site at: www.jair.jrao.ne.jp/index2.html