Today's Praise: Skillet aims to awaken listeners with 'Comatose'
by
Brian Bowers
October 22, 2006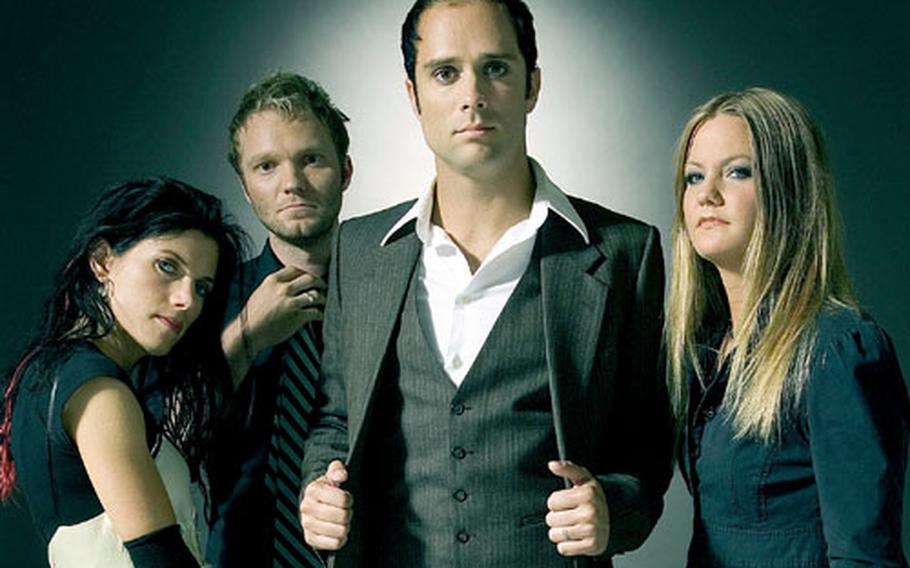 Though the whole world seems to be in turmoil, personal struggles hurt us the most — a good reason for the band Skillet to tighten its focus with its new album.
Difficult relationships, thoughts of suicide, drugs and more get scrutiny in "Comatose," the follow-up to the Grammy-nominated "Collide," which took a wider look at the problems of a fallen world.
Skillet's frontman John Cooper sees the move as a natural progression.
"I definitely liked how 'Collide' was more of an issue-based record," Cooper said. "This is, I think, even more of an issue-based record. It's kind of bringing those fears down to a personal level."
With a stream of hard and progressive rock, Skillet takes on those fears and urges listeners to awaken from their "comas" and find God, heal their relationships and reach out to others.
The disc's awakening theme may be best expressed in "Rebirthing," which hit No. 1 on the Christian radio charts. It opens with a heavy, orchestral sound that changes into driving rock. As Cooper belts out, "I wanna live my life, wanna live for you and me," it sounds like he's struggling to emerge into a new — and more joyful — life.
One of the most striking elements of "Rebirthing" and many other tracks is their reliance on strings. Twenty-four pieces of the Los Angeles Symphony contributed to "Rebirthing" — "for a band guy, it was kind of a dream come true," Cooper said.
"Rebirthing" is followed by the more melodic "The Last Night," which tells a woman "this is the last night you'll spend alone" if she stops contemplating suicide and turns to God.
These and the heavy "Better Than Drugs" and "Into the Black" flow from encounters the band has had on the road with mainstream bands, such as Saliva.
"I started noticing for the first time the kind of loneliness that people are dealing with," said Cooper, who grew up going to church and "had never been into the bar life." "My eyes have been opened to what's going on in most people's lives."
Such encounters also highlighted troubling tendencies among his fellow church-goers.
"In Christianity, we don't really reach out to these people like we really should be," Cooper said. "We pretty much sit in judgment the whole time instead."
As a response, Cooper penned "Looking for Angels," a mix of rock and spoken poetry that prods average people to become angels to those in need.
"It's about us waking up to realize what we're supposed to do here on Earth," he said.
Another major theme on the disc is struggling relationships, something Cooper has experienced personally. After his mother died when he was a young teenager, Cooper frequently fought with his father.
His Saturday-night escapes to a friend's house are recalled in "Those Nights," which describes how "through all the hard times in my life, those nights kept me alive."
While the relationship with his father has been restored, "The Older I Get" expresses remorse that it didn't happen sooner.
"If I could go back and do it again, I would have made this right years ago," Cooper said before quoting a line from the song: "I should've taken less and given you more."
Cooper hopes his experience will encourage others to take the right steps.
"There's got to be a certain amount of young people who have dealt with that — or are dealing with this same issue — and I can encourage them to get things right," he said. "Don't spend your time being mad and lonely and upset. Spend your time getting it right."
That requires "waking up to what's important in life, to quit being so selfish," he said.
Such messages of encouragement run throughout the disc — and are very prominent in the first mainstream radio release, "Whispers in the Dark," an energy-packed description of how God's "love is a burning, consuming fire."
With this mix, Cooper has high hopes that "Comatose" will touch listeners.
"It's about issues that everybody is dealing with. … We just wanted to have a relatable and hopeful message that people could understand," he said.
On the Web: www.skillet.com
Today's Praise is a roundup of news and reviews from the contemporary Christian music industry. It appears on the Religion page.