This Marine is determined to get first-class Combat Fitness Test score
by
Matt Orr
January 10, 2010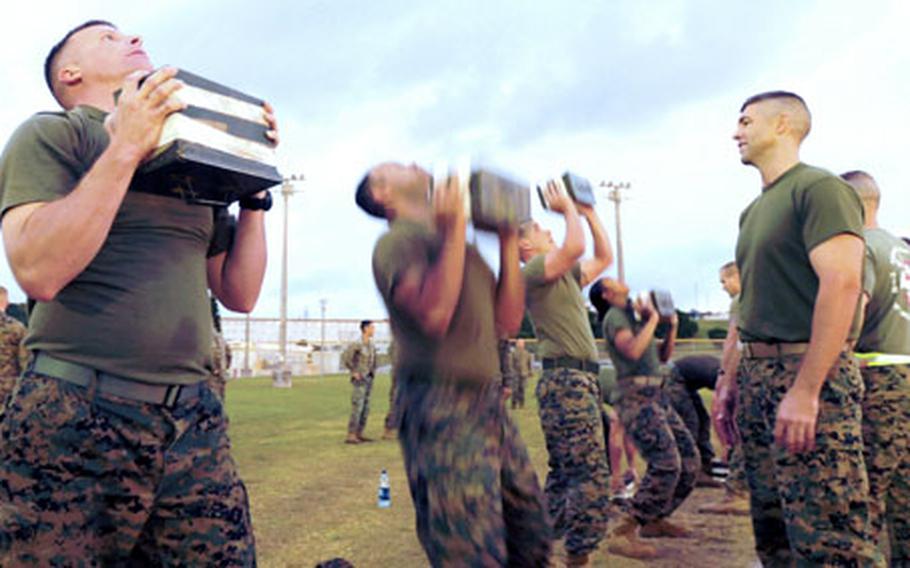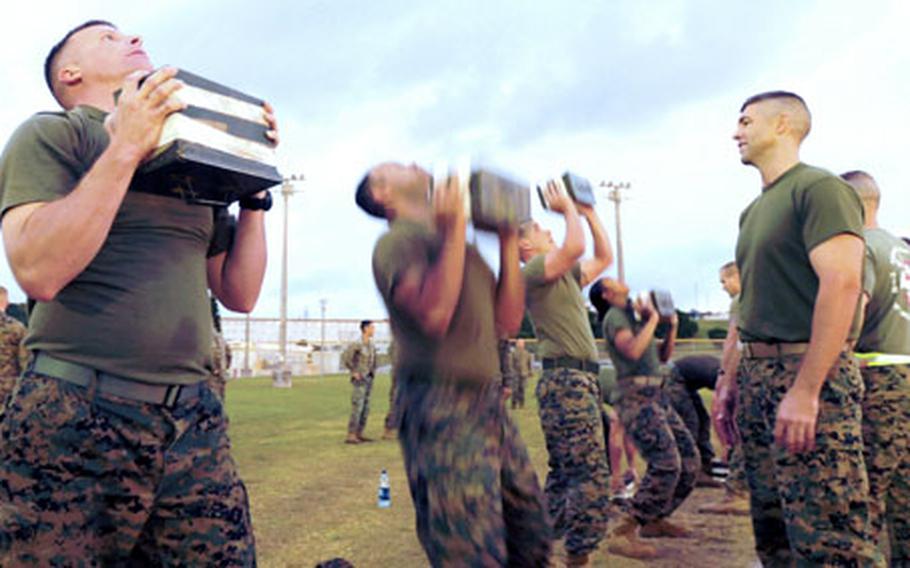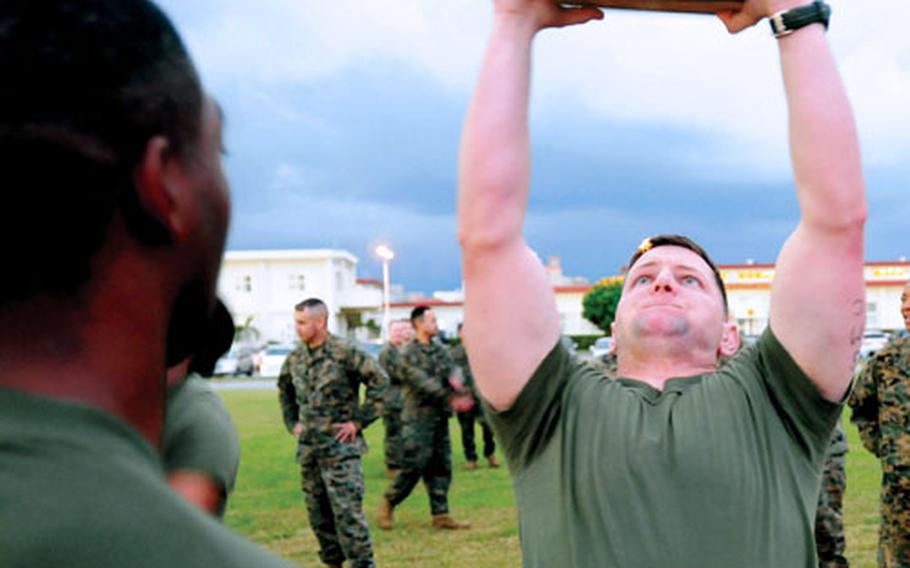 The U.S. Marine Corps is big on physical training and testing.
My Marine Corps career began in 2000, when I stepped onto the legendary yellow footprints at Marine Corps Recruit Depot, Parris Island, S.C. Since then, I've run the Corps' physical fitness test, or PFT, twice a year.
Now, Marines must knock out one PFT and a CFT — or combat fitness test — each year.
During my first nine years as a Marine, I never once scored below first class on the PFT. I came close to getting a second class — one time by a mere pull-up — but never had to utter those dreaded words: "second class."
My biggest challenge during a PFT? Crunches. I have never been good at them. Crunches bust my body and my PFT scores. Maybe it's because, as my wife says, I don't "practice" them enough.
In December, I had to undergo the CFT. It has more challenges than just crunches and is supposed to replicate the physical trials in the real world scenario of a war zone.
The CFT is comprised of an 880-yard sprint, an ammo-can lift, and a maneuver-under-fire course, which includes a dummy-grenade throw, casualty carry, ammo-can carry, high crawl and low crawl.
The ammo-can lift involves lifting a 30-pound ammunition can at a standing position from the chest and raising it above your head until your arms extend out and then bring it back down to your chest for a count of one.
I ran the CFT in March at my last duty station and was surprised at how well I thought I'd done — "thought" being the crucial word.
That test was merely pass or fail. And in my head, I had passed with flying colors.
So, it was with a sense of confidence that I strode onto the combat fitness test field on Camp Foster two weeks ago to take the CFT for score.
With my glow belt securely fastened around my waist, I began the test. I started swiftly and was toward the front of the pack for most of the run.
The test went well — I thought. My 880-yard sprint was respectable; my ammo-can lift slightly less so, but still good in my mind; and my maneuver under fire was good as well.
And my 35-year-old body held up well compared to my younger counterparts who completed the CFT that morning.
I felt confident that I would receive a first-class score on the CFT. Just like I always have for the PFT.
One week later, when my score was posted, I was snapped back to reality.
"Second class," I mouthed in disbelief as I stared at my score on my Marine Online account.
There it was in black and white:
CFT SCORE: 260CFT CLASS: 2
That can't be right, I thought to myself.
My wife, a teacher, later mockingly compared it to a grade "B."
I searched online to find a score calculator that would add up my times for each individual event, including those excellent ammo-can lifts. Sure enough, when I entered my times and scores, I came out with 260 points.
I have begun going to a TRX group class at 5 a.m. twice a week. TRX stands for total body resistance training, and it totally kicks my butt. It's led by a Marine who looks like he would have no problem getting a perfect score on either fitness test. I'm also about to undergo a 12-week training regime that is part of the TRX suspension training system I purchased online and am eagerly awaiting in the mail.
Maybe this CFT was just the wake-up call I needed. Believe me, I'm going to do all I can to make sure that's the last time I have to mumble those words: "second class."
The combat fitness testFor years, the physical fitness test has been the determining factor of how fit a Marine is.
But the PFT was criticized by some as not accurately reflecting a Marine's combat readiness.
In 2007, the Corps' Training and Education Command at Quantico, Va., was tasked with developing a physical test that would better gauge a Marine's physical conditioning and preparedness for war. Commandant of the Marine Corps Gen. James T. Conway had the combat fitness test unveiled in 2008, but official scoring for Marines didn't begin until last year.
The CFT consists of an 880-yard sprint, an ammo-can lift and a maneuver-under-fire course. Each section is scored with a maximum of 100 points possible.
"The CFT scoring table is designed so that 5 percent of Marines will be able to achieve a perfect score, based on results of the data collection period of CFT development," 2nd Lt. Brian Villiard, a spokesman at Marine Corps Base, Quantico, said in an e-mail response to Stars and Stripes.
Starting this year, Marines will take their PFT in the first half of the year and the CFT in the second half, officials said.
"While in Afghanistan I found myself using functional fitness (moving quickly in short spurts, lifting, moving objects) as often as I used endurance type fitness (extended movements up into the rugged terrain)," said Lt. Col. Dan Yaroslaski, the commanding officer of Combat Assault Battalion, 3rd Marine Division, on Okinawa. "The CFT is a challenge for each and every Marine."
"Both events are important," said Yaroslaski, who recently returned from the 10-month combat deployment. "You have to have endurance and the ability to pull yourself up into a building, while you also have to handle combat-related items like ammo cans, hand grenades, conduct buddy drags and fireman's carries, all while having the presence of mind to solve problems."
— Matt Orr