The Stars and Stripes features staff pick some of their favorite pop-culture moments from 2011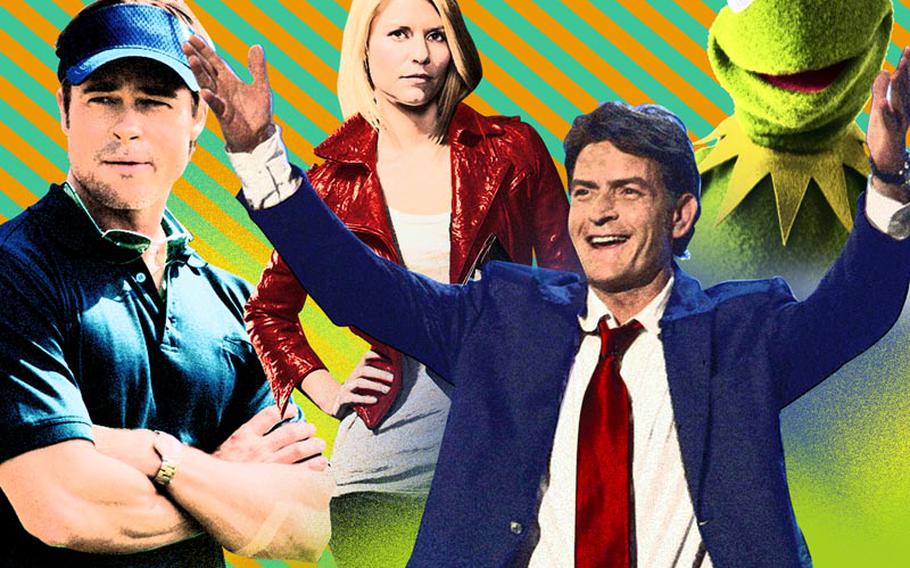 The world of entertainment in 2011 contained a little something for everyone — at least, so it seemed to the features staff at Stars and Stripes. Here are a few of our favorite things from the past year:
Sean Moores, Assistant Managing Editor/Features"Nothing is Wrong," Dawes. I've been forcing this band on my friends for the past two years. Now it's your turn, readers. In case you aren't familiar with these four young folk-rockers from L.A., they feature the romantic songwriting of rising star Taylor Goldsmith, who has the potential to be the Jackson Browne of his generation, and the sunny harmonies of the mid-'70s Eagles. Their popularity has been slowly building since the release of their debut, "North Hills," in 2009. This year they've been getting the notice they deserve, appearing on best-of lists from Uncut (No. 39), Rolling Stone (No. 35) and Paste (No. 8), among others. They backed Robbie Robertson on The Late Show with David Letterman, and stood shoulder-to-shoulder with Browne during a recent Occupy Wall Street event in New York.
"Bright's Passage," by Josh Ritter. If he had released an album this year, it definitely would have been on this list. Instead, we got the debut novel from this immensely talented (and a wee bit underappreciated) singer-songwriter, whose storytelling makes a smooth transition from lyrics to prose. The book follows WWI veteran Henry Bright and his infant son as they flee a raging forest fire and a sadistic father-in-law. They are led by a guardian angel who has inhabited the body of a horse. It doesn't necessarily tie up neatly at the end, but it leaves you with plenty to consider. Stars and Stripes even makes an appearance on consecutive pages early in the story. It's used as toilet paper in the trenches, then it gets shot. No hard feelings, Josh. We're happy for the shout-out — and happier to return the favor.
Mumford & Sons, June 9, Merriweather Post Pavilion, Columbia, Md. There was lots of advance buzz for this show, given the band's long stay on the iTunes album chart with "Sigh No More" and its appearance with The Avett Brothers and Bob Dylan on the Grammys. The old-timey folk-rockers delivered in spades, turning the night into a stomping, shouting sing-along. Those of us on the lawn were also treated to a biblical thunderstorm, complete with sideways rain and hail, during the opening set by Matthew and the Atlas. As our group huddled under a blanket, lightning crashing around us, I promised that if frogs started falling I'd head back to the car. Fortunately, the sky cleared and I was never forced to make good on that vow.
Spotify. The music-streaming service, already wildly popular in Europe, finally launched in the States this year. It was worth the wait. With access to millions of songs for free, and the ability to easily share playlists via Facebook, it's a great option for discovering new music via full-length, guilt-free previews. There are some restrictions on Spotify Free, and a big trade-off: commercials. If you don't want to hear them, and you're OK with renting your music, Spotify also offers pay subscriptions that eliminate the ads (Unlimited) and allow you to load the service on your mobile phone (Premium).
"Moneyball." Based on Michael Lewis' 2003 book of the same name, the biographical sports drama starring Brad Pitt chronicles the 2002 Oakland Athletics and how general manager Billy Beane used non-traditional means of assessing players' value to build a winning team on a budget. The movie is a little too inside-baseball at times, but you don't need to be a sports fan to enjoy it. At the end of the day, it's about an underdog finding a way to win against the odds. And Pitt is more than worthy of his Golden Globe nomination for his performance as a failed major leaguer who comes to realize what it takes to make it in the bigs.
Danielle L. Kiracofe, Entertainment editorThe Royal Wedding. What a sweet story to get to follow. First up, the prince and his fiancee visited the four countries that constitute Great Britain. Kate Middleton showed off her great taste in clothes and her ability to flip a pancake. Then there was the drama about her wedding gown — Libelula? Alice Temperley? Which royal tiara would she wear? What would her title be? Then the world watched as Catherine, the Duchess of Cambridge, walked regally down the aisle in a stunning gown by Sarah Burton of Alexander McQueen to become wife of Prince William and Her Royal Highness. It was a fairy tale come true. And I, like millions of others, got up very early in the morning to watch.
Charlie Sheen. It took an earthquake and tsunami and meltdown of a nuclear plant to get him out of the headlines. This guy, whom people paid to see in a show that they knew was going to be awful, who had a house full of goddesses and veins full of tiger blood, who seemed to be in full-on meltdown mode, managed to turn it all around in time to be classy at the Emmys.
J.R. Martinez. The winner of the 13th season of "Dancing with the Stars" was a wounded warrior and a war hero. But he was also an everyman, one of us who overcame incredible challenges — including learning how to waltz. Martinez was an inspiration for his constant determination in the face of adversity. It was my pleasure and honor to follow his footsteps and recap his performances on the show.
"Bridesmaids." This movie has been described as "The Hangover" for women. Bull. Yes, there's a lot of swearing, as well as very grown-up humor, including the famous scene featuring food poisoning. And the backdrop for this story is a wedding. And it's hysterically funny. But that's where this comparison ends. "Bridesmaids" has heart. It's more about the crazy twists and turns of friendship. Yes, the movie made me laugh, but it made me cry, too — and it's still not a chick flick. It also proved Kristen Wiig and Emmy-winner Melissa McCarthy are two of the funniest women out there these days.
As an aside: Thanks to this movie, I discovered "The IT Crowd." This hysterically funny British TV series stars the "The Bridesmaid's" Irish police officer, played by Chris O'Dowd.
The Great 20. Several incredibly influential albums celebrated 20 years of release this year: Nirvana's "Nevermind," Pearl Jam's "Ten," U2's "Achtung Baby," Guns and Roses' "Use Your Illusion I & II," R.E.M.'s "Out of Time" and Metallica's "Metallica." Reaching this anniversary makes me reflect on my generation, and the past 20 years of music.
Kate Maisel, Features EditorLoki/Tom Hiddleston. Every year, I seem to see a movie in April or May that I had low-to-no expectation for that becomes my favorite movie of the summer. This year, that movie was "Thor" (though not everyone liked it).
The main reason? English actor Tom Hiddleston's turn as Loki, the god of mischief. While everyone else seemed to be ogling Chris Hemsworth's insanely cut abs, I was reveling in Hiddleston's Shakespearean deviousness. Those who say they consider Heath Ledger's Joker to be the best villain of all time can have him. I'll keep the adopted Frost Giant with major daddy issues. And Loki's the gift that keeps on giving – he's the villain in "The Avengers," which will be in theaters this coming May. By the way, Hollywood newcomer Hiddleston also appeared in three other movies in 2011 – "The Deep Blue Sea," "War Horse" and …
"Midnight in Paris." I've seen a few Woody Allen movies, but I can't say I consider myself a big fan. However, given the buzz this movie was generating, the fact that it was set in easy-on-the-eyes Paris, and, yes, Hiddleston's involvement made me figure it was a can't-miss proposition. And I was right. The plot was rather simple, but the lush Parisian setting and the fantastic cast – which also includes Kathy Bates, Marion Cotillard, Owen Wilson, Rachel McAdams and Michael Sheen – more than made up for it. It's also just plain nice to see director Allen delivering an uplifting theme for the first time in awhile.
"The Muppets." I felt fairly ambivalent about this one walking into the theater, but I was blown away by this movie's sense of fun, cleverness and nostalgia. In our era of hyper-realistic computer graphics, it's incredibly satisfying to see "real" puppets on screen. Jason Segel, the Muppets' self-proclaimed biggest fan, co-wrote and starred in the movie, and made sure to include many hilarious actor cameos as well. I still haven't forgiven my 3-year-old for needing a drink of water during "The Big Bang Theory" star Jim Parsons' scene, but at least I didn't miss Chris Cooper's villainous rap song. I'm going to be first in line when this one comes out on DVD – and my kids loved it, too.
The Kindle. This technology – and this product – certainly weren't new in 2011, but as per Amazon's promise, my acquisition of a Kindle in August has transformed the way I read. I do appreciate the feel, look, smell, etc., of actual books, but the convenience easily outweighs all that. I've burned through more books – new and not-so-new (there are hundreds of classics available online for free!!) – in the past four months than I'd probably read in the two years previous. It's a lot of fun to tote all of my favorite books around at once, easily accessible at any time (as long as my Kindle has been charged in the past few weeks), in a device that fits in an oversized coat pocket.
"Terra Nova." I've seen this show mocked as essentially a simple-minded guilty pleasure, but I can't understate the satisfaction I take in following a show that I can watch in front of my children with little worry that they will have nightmares. (See also: "American Idol." Or at least, pre-Steven Tyler "American Idol.") Sure, those looking for plausibility and/or diversity might be disappointed. Yes, it will call to mind at least a half-dozen other movies and television shows from which it was obviously derived. But the show clips along at a pretty good pace, the relationships and family units are, for the most part, positive, and … oh, yes. Dinosaurs! My advice: When you tire of the brain-melting inanities, postmodern quips, gruesome procedurals and dropped plot lines of most of the other shows now on television, sit back and give this one a try. Even if your kids are in the room.
You can find full episodes of "Terra Nova" on imdb.com.
Katie Wais, Features and news copy editorWilco. After a couple of lukewarm efforts, Jeff Tweedy & Co. turned out one of their most thoughtful albums to date this year. "The Whole Love" has one foot planted in the pop-driven world of 1999's "Summerteeth" and another in the sweeping, experimental soundscapes that have come to define the band in recent years. It's the best of both worlds from one of the most innovative American bands to emerge in the past 15 years.
"Homeland." For anyone going through withdrawals from "24," Showtime's suspenseful debut "Homeland" is a welcome newcomer (they share the same producer, after all). Claire Danes delivers a solid performance as CIA officer Carrie Mathison tracking American POW Sgt. Nicholas Brody (played by Damian Lewis). Mathison might or might not be losing her grip on reality. Brody might or might not be a terrorist bent on launching an attack against his native country. And Mathison might or might not have the hots for the guy she's supposed to be taking down. Nothing is ever quite as it seems, and paranoia runs rampant in this addictive post-Sept. 11 drama.
Dave Grohl. 2011 was far from shabby for shaggy rocker Dave Grohl, but it was even better for Nirvana fans who take delight in overlap with Grohl's other band, the Foo Fighters. First off, Pat Smear (late-period Nirvana guitarist and an original fighter of foo) rejoined the Foos. Then, there was the release of "Wasting Light," an inspired and aggressively catchy Foo Fighters album that reunited Grohl with Nirvana cohorts bassist Krist Novoselic and producer Butch Vig (to sweeten the deal, "Wasting Light" was the band's first album to hit No. 1 on Billboard 200 and garnered six Grammy nominations, including Album of the Year). And, lastly, "Nevermind," Nirvana's decade-defining opus, also celebrated its 20th anniversary. Smells like nostalgia.
"Louie." Louis C.K., one of comedy's sharpest wits, came back for the second season of his intelligent and candid FX series. "Louie," a fictionalized take on real events from the life of the divorced father of two, seemed to hit its stride this season. The show effortlessly weighs moments of pure hilarity with poignant and contemplative musings on life's various cruelties. Whether making us giggle about farts, racism, homeless and sex or allowing us to reflect on parenthood, war and humility, "Louie" is always brutally honest and brutally funny.
Ronnie Wood. The Rolling Stones may be on break, but it was nonetheless a pretty decent year for rocker Ronnie Wood. The guitarist has truly come into his own hosting the second year of his U.K. radio program "The Ronnie Wood Show" (which can also be heard online for free at ronniewoodradio.com). The show features Wood spinning various tunes that have influenced him over the years – rock, blues, soul, reggae – in between recounting rock 'n' roll war stories and noodling around on his guitar in the studio. It's an intimate glimpse into Wood's remarkable life, and the show managed to reap a few awards in 2011, including Music Radio Personality of the Year at the Sony Radio Awards. To top it off, the Rock and Roll Hall of Fame announced that The Faces, which featured Wood on guitar for the first half of the '70s, were among the newest crop of inductees. The announcement makes Wood the only member of the Stones to be inducted in the Hall of Fame twice and sparked rumors of a possible Faces reunion. If that weren't enough, the Stones also released 1978's "Some Girls" — the first full album Wood recorded with the band.