'The Rock's' mission went beyond fighting
---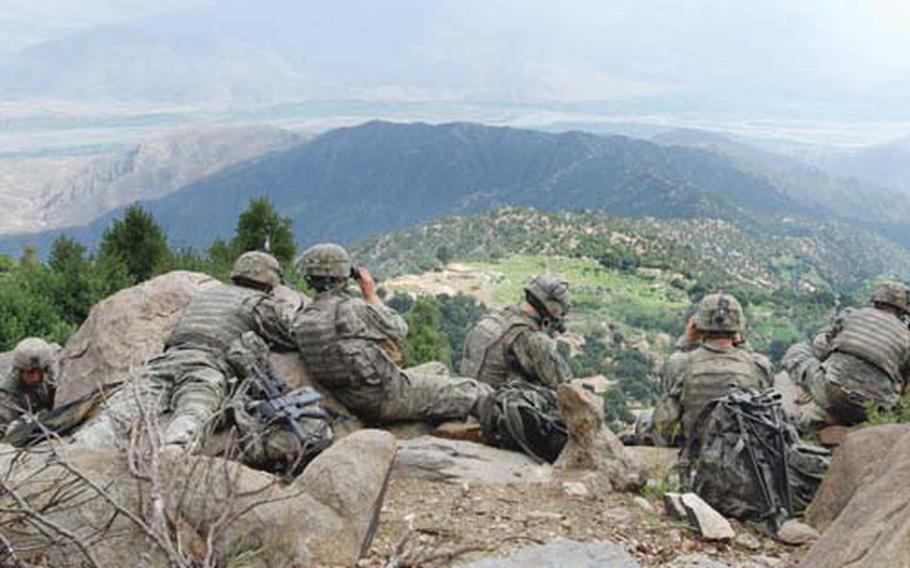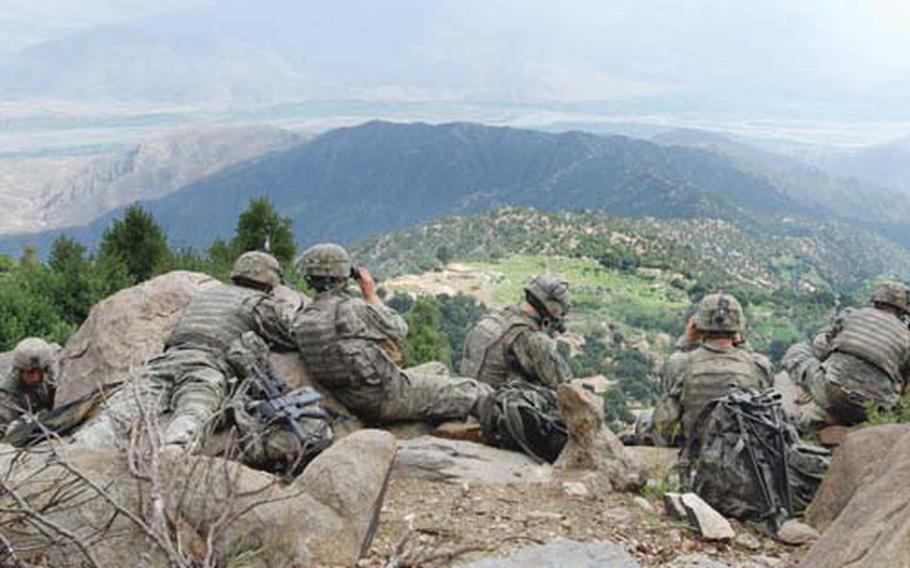 CAMP BLESSING, Afghanistan
ost residents of Kunar province hadn't seen a lot of Americans before the 2nd Battalion, 503rd Infantry Regiment arrived in the late spring of 2007.
Before "The Rock" got there, the 10th Mountain Division's 1st Battalion, 32nd Infantry Regiment had been in the eastern Afghanistan province for only the last three months of its rotation.
"Their big focus was on building roads, which is still a huge focus for us," said Maj. Brian Beckno, the battalion's executive officer in a June interview. "It's something they've never had here."
Roads connect population centers and open up the way to commerce, communication and the spread of ideas. Those aren't exactly big priorities for those opposed to the Afghan government and the U.S. presence in the country.
Fighting was fierce and constant throughout the summer and into the early fall. September saw an average of about five contacts a day with enemy forces, Beckno said.
"We came into Kunar knowing that it was one of the most contentious areas of Afghanistan," said Lt. Col. Bill Ostlund, the battalion commander. "We never ran from a fight or gave up the battlefield."
Even when it was tempting to do so. Ostlund recalls one firefight near the village of Tsangar when all 14 American soldiers initially involved were either killed or wounded. Instead of evacuating the personnel, he told the unit to stand firm and sent in reinforcements.
"I will forever carry the emotional burden of what we've asked our soldiers to do and how they've responded," Ostlund said. "They've done everything we've asked of them and more in sometimes austere and horrendous conditions."
Twenty-four members of the battalion as well as a Marine and a sailor who was training Afghan forces were killed during the rotation.
When they weren't fighting, 2-503 soldiers were engaged in more than 9,000 patrols, visiting with elders and trying to help the Afghan government broaden its reach.
"It would have been easy to make the argument that all we had to do was fight here," Ostlund said. "And that gets all the attention. But it was about 10 percent of what we did."
Ostlund and Command Sgt. Maj. Bradley Meyers said some of the battalion's soldiers who have spent all their time at contentious outposts might have trouble seeing the difference the battalion has made. But others saw it.
"I think we've brought a lot of progress to the Pech River Valley," said Staff Sgt. Samuel Miller, a member of the Headquarters and Headquarters Company. "From the time we got here until now, the attitudes of the people have turned 180 degrees.
"Now, when we go most places, there are lots of waves. Lots of smiles."
That's not always the case, though. Ostlund said his biggest regret is that some areas have decided they'd rather help Taliban or anti-government forces instead of cooperate with the government.
Capt. Matthew Ferrera, whose actions earlier in the rotation earned him a Silver Star, was killed in ambush on Nov. 9 near Aranas while carrying a list of projects the U.S. was going to consider for the area.
Ostlund said he destroyed that list and refused to consider doing any projects in that area.
"Some areas have made their choices and they're going to be left behind," he said. "They'll be at least a year or two behind."
Meyers said the battalion has made great strides in two contentious valleys, the Korengal and Watapor.
"Last summer, every time we went in there, it was a big fight," he said.
There are still problems in both places, but roads and other projects have started and U.S. casualties have dropped significantly over the months. The fighting in general hasn't gone away, though: There were an average of about three daily contacts with opposing forces in June.
Beckno says many Afghans prefer the direction their government and U.S. forces are steering them.
"Quite frankly, no one in Kunar is into restrictions against educating girls, not being able to listen to music, not being able to play pool in the local hall," he said.
Miller said his least favorite moments came during a convoy's return from Wanat on Memorial Day. Several Humvees sustained severe damage after a barrage of gunfire and rockets.
"It was a very unnerving experience," he said.
He contrasts that with his favorite moments of the tour: handing out toys, pens and other small gifts to Afghan kids.
"You see all their faces just light up when they realize what's going on," said Miller, who has two sons of his own.
"They get this big smile on their faces and run over like it's Christmas."
The battalion and its State Department counterparts gave out millions of dollars' worth of presents in the form of projects targeting specific needs.
"We don't build just to build," Beckno said. "We're not going to build a clinic unless we know there's someone to man it."
Battalion leaders say that some problems persist in the province and much of Afghanistan. Teachers make less money than someone hired to plant bombs or shoot Afghan soldiers or their U.S. counterparts. Even when criminals are apprehended, they're frequently let go because the Afghan legal, judicial and penal systems are in disarray.
Ostlund said soldiers from the 1st Infantry Division's 1st Battalion, 26th Infantry Regiment would have their work cut out for them during the current rotation.
And Beckno said more rotations — including possibly by his battalion — will be needed to bring Kunar to the point where the Afghans no longer need international assistance.
"We're probably looking at 10, 15 years for that, to be honest," he said. "But we've given it a good start."
---
---
---
---