The Old Cannon in Bury St. Edmunds, England
---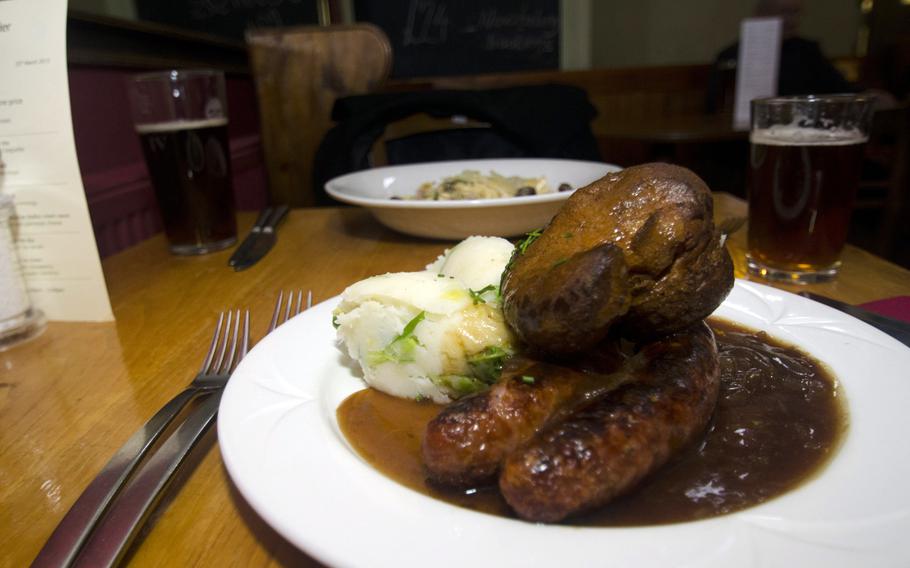 When we arrived at The Old Cannon Brewery, Bar, Brasserie and Bed & Breakfast, Ken was there. He spent most of his time quietly reading a newspaper and drinking a beer. I assumed his name was Ken because when he left for a quick break, I saw a plaque on the bench he had been sitting on: "Ken's Seat Reserved."
Like the man I presumed to be Ken, my wife and I had come here for the beer. An exception among pubs in the RAF Lakenheath and Mildenhall area, Old Cannon in Bury St. Edmunds, England, brews and serves its own beer. Suffolk is dominated by Greene King, a brewer with 1,600 pubs. Not a bad brewer, but its almost total dominance of the beer landscape makes unique gems of small brewers like Old Cannon.
While some beer has become fashionable because it comes from a small brewery, breweries can also face problems because of their size. People may not know a lot about small brewers and will not gamble their beer money on an unknown drink. Old Cannon has come up with a great way to combat that: Let customers taste every beer. We did not even ask. Our waitress took us to the bar and poured a sample of each house beer to help us pick our drinks. My wife settled on Gunner's Daughter, a beer she described as floral tasting. I went with a pleasantly bitter beer, Brass Monkey, one of Old Cannon's seasonals.
My beer went well with my order of the sausage-and-mash warmer for 12.95 British pounds (about $20), a price close to the average for a main dish there.
Like most English food, the meal was not ambitiously flavored: The sausage was lightly spiced and set in onion gravy. The accompanying pudding (more like what Americans think of as bread) and colcannon was plain. Overall, it was a typical English meal, with my beer providing a good counterpoint of bitter flavor.
While my meal was good, my wife's meal was a demonstration of the perfect balance this country can strike with food. Her pasta was creamy and hearty, with mushrooms, chestnuts and a parmesan herb sauce given a pleasant sweetness by chunks of ham. Her meal might be what I order on a future trip.
What makes Old Cannon worth a visit is the atmosphere. With only a brief exception, the building has been a pub since 1845, and you can feel the Englishness of it. Wooden floors, a bit of eccentric decorating (a metal keg that had been converted into a hanging lamp) and tables sitting close enough together that you could almost casually join in any conversation around you, make the pub the perfect English experience.
I am not certain my wife and I will visit so often as to have a plaque in our honor like Ken, who was still there when we left, but almost every time I mention the place, my wife makes some comment on how much she likes it: "They have excellent beer."
Maybe we should ask how many visits are necessary to get a plaque.
The Old Cannon Brewery, Bar, Brasserie and Bed & BreakfastDirections: Located on 86 Cannon Street in Bury St. Edmunds (easily accessible from the A14). The web site says it has up to eight parking spaces for lunch and those staying at the hotel). However, the web site cautions people about parking on the street: There is a one-hour limit outside the pub and the rest of the street is residents-only parking from 10 a.m. to 4 p.m. Monday through Saturday. Another option is to park at the St. Andrews Car Park off of the A1032 Parkway and walk to Old Cannon.
Hours: The Old Cannon serves breakfast from 7:30-9:30 a.m. Monday through Friday. On Saturday, Sunday and bank holidays, breakfast is served from 8:30-10 a.m. For other meals, the brewery is open Monday to Saturday noon to 9 p.m. and on Sunday from noon to 3 p.m.
Food: The brewery offers the eclectic menu of a typical pub, with some English staples, such as sausage and fish and chips.
Prices: The Old Cannon provides a wide range of prices. You can order a smaller portion of any meal on the Spring Menu for about 7 British pounds. The full-size dishes typically cost about 12-13 pounds. A Spring Baguettes menu (available Monday to Saturday from noon to 6 p.m.), provides an even cheaper option at 5.75 pounds for each baguette.
Dress: Casual.
Information: Reservations should be made if you're going at a peak time. To make a reservation, call 01284 768769. Menus are available online at oldcannonbrewery.co.uk.
The Old Cannon also has rooms for rent for anyone looking for an evening or two in Bury St. Edmunds.
---
---
---
---