'The loudest thing I've ever heard'
---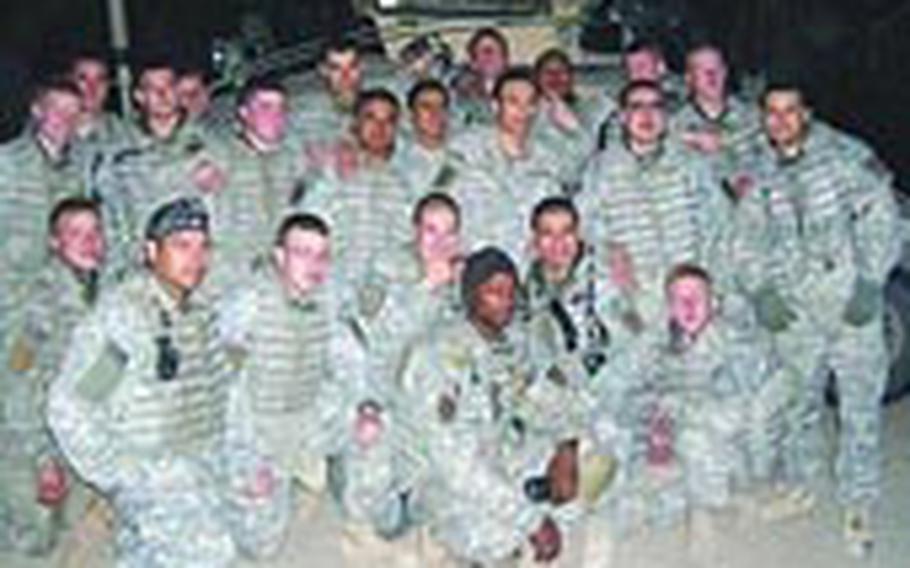 In May 2007, Charlie Company of the 1st Battalion, 26th Infantry Regiment patrolled Adhamiyah, a Sunni enclave in northeast Baghdad that was arguably the most dangerous neighborhood in Iraq. No battalion has seen more soldiers fall in a single deployment since Vietnam, and Charlie, with 13 lost, was the hardest-hit company in the battalion.
When Charlie was pulled from Adhamiyah a few months later, it was replaced with an entire battalion augmented by a company and specialty platoons.
The following is excerpted from interviews with three Charlie Company members about an attack that was, nine months into the deployment, the worst the unit had faced. Spc. Jarrod Taylor and Staff Sgt. Octavio Nuñez were awarded the Silver Star. First Lt. Matthew Martinez was awarded the Bronze Star Medal with "V" device. Four other soldiers in the attack also earned the Bronze Stars with "V" for their actions; another three earned Army Commendation Medals with "V" device.
Nuñez: May 14. It was the first patrol. I believe we left around 10 in the morning.
Taylor: It was in Adhamiyah — northeast Baghdad.
Nuñez: Right near Abu Hanifa Mosque where all the (expletive) always happened. We're driving from west to east, south of the mosque.
Martinez: That was around midday that it happened, around 13-1400. An IED (improvised explosive device) went off in front of my truck — between my truck and the lead vehicle.
Nuñez: All I saw was something red and shiny shoot across in front of us. There was no damage, nothing. We called it up and kept rolling.
Martinez: We were going to take another little side road, and as soon as we pulled up on the road, everybody started running.
Nuñez: You could tell it was an ambush coming.You just know something bad is going to happen. It's hard to explain. You gotta be there.
Martinez: So we turned the convoy around, and as usual I took lead as soon as we got contact so I could be up front and see what was happening.
Nuñez: I was in the first truck with the LT (Martinez). (Staff Sgt. Juan) Campos was second, (Sgt. Oscar Gonzalez) "Gonzo" was third and (Staff Sgt. Christopher) Cunningham was last. There were five guys in our truck including the terp — interpreter — five in the second, three in the third and five guys in the last truck.
Taylor: I was in the last truck. We only rolled four trucks deep that day.
Martinez: We went down a different street.
Nuñez: It looked pretty normal. I remember this because we stopped right at the intersection. (Spc. Michael) Alexander was driving, and he stopped to ask the LT which way to go — straight, right or left. The LT told him to go straight. And he takes off slow. We ran over the IED. I don't know why they didn't hit us. I remember hearing the thunk, like a grenade; it wasn't even that loud. I remember I told the gunner (Staff Sgt. Jeremiah Grubb), "Grubb, hey, look back, make sure everybody's good." He looks back, and then he's like, "Second vehicle got hit — it's on fire!" As soon as he said that, I opened the door and I jumped out and I ran toward it.
Martinez: It just got the right spot on the truck, ignited the fuel tank and just went off.
Taylor: Sergeant Cunningham yelled, "Get out." (Pfc. Sean) Cousino grabbed the fire extinguisher.
Nuñez: I'm talking the whole Humvee was on fire, like fire coming out of the doors, through the turret, the hood — that was blown open, flames.
Martinez: It was the loudest thing I've ever heard in my life. That was our heavy truck. It had extra grenades, extra ammunition. Out of any of the trucks, it was the worst one to have been hit.
Nuñez: So I run and I stop real close to the fire. And out of the fire, Sgt. (Terry) Fleming came out. Just like in a movie. He was running, on fire and screaming, "I'm on fire! I'm burning!" I thought about jumping on him and putting out the fire with my hands. But I see him and I'm like, I'm going to mess him up, because his face, his hands, everything's on fire.
Martinez: Cousino and Doc Flowers — Sgt. (Robbie) Flowers — ran by the truck before the flames got too big and were working on our side with (Pfc. Omar) Avila for the most part.
Nuñez: Cousino told me he saw Fleming running, and he went after him.
Martinez: Alexander ran up with the fire extinguisher and helped put Sgt. Fleming out.
Nuñez: Cousino did the right thing, though. When he was running, he looked down and saw Avila on the ground on fire. Avila looked at him, like, calm, and said, "Put me out, man." He saved Avila's life.
Martinez: Then I grabbed Fleming and carried him back to the first vehicle and put him in my seat. It turned bad really quick.
Martinez: I mean, the burns were all over his body. And his face was charred, like, gray. I'm sending up the report to say what his status is, and I see he's going into shock. His equipment was still kind of smoldering. And I didn't even think about it when I threw him in. I just wanted to get him away from the fire, away from the rounds going off all around us. He had a vest that went over his body armor. Normally, you could open it with the Velcro, but it had a zipper that ran from the bottom of the vest to the top, and that whole zipper melted together and wouldn't move.
Nuñez: I run back to the Humvee again, and I'm closer now, and I see Avila on the ground, like, 5 feet from the Humvee, just sitting.
Martinez: He climbed up out of the gunner's hatch and then jumped off and broke his legs when he jumped off.
Nuñez: He wasn't on fire; he was just smoking. He's a big guy. He was, like, 240 pounds. I dragged him out and I was looking for somewhere safe to put him to protect him from all the explosions going off.
Taylor: I took a round in the side plate from the ammo cooking off. They were going all over the place.
Nuñez: We were taking fire, too. I didn't focus on that. My focus was just on the guys. There were two helicopters that were flying by. It was a — I don't know — act of God that he decided to send those two helicopters and provide us with cover. They were hovering right above us. What they say they saw was 40, 50 dudes with RPGs (rocket-propelled grenades) and AKs running toward the smoke because of the fire. So they were coming to finish us off.
Martinez: Avila was really bad. He's looking directly at me. I can see the fear in his eyes, and he's saying, "Sir, am I gonna die?" I told him, "No, you're gonna make it." It looks like his nose is gone. His whole face is charred to a crisp. He tried to sit up and both his legs just opened up and, like, bone was sticking out and blood was pouring everywhere. And I was like, "Don't move your legs. I have the medic here with you. He's gonna take care of you."
Nuñez: When I put him in the Humvee, I didn't know he had broken legs. So I'm like, "All right man, you're gonna have to take the pain." He looks at me and just nods. So I pick him up, and he holds onto me a little and stands up, and I go to push him into the Humvee and he falls. He says, "Oh, my legs are broken, sergeant," but not, like, in pain; he just says it. So I got him in, and then I went back to the fire, but I couldn't see anyone else. We were stuck, pretty much.
Nuñez: LT sent the medic with Fleming and Avila. Alexander was driving. He was brand new to the platoon, so he didn't know the area. Avila had to pretty much guide him back. ... The rest of us did a linkup — went through the neighborhood on foot, and linked up with the other Humvees.
Taylor: I was on the other side of it. I couldn't see what was going on over there; he couldn't see what was going on over here.
Taylor: When I ran up there, (Pfc. Andrew) Catterton had nothing on — no shirt, nothing from the bottom up. His hands were extremely burned. He said, "Help me, help me, I've been hit." I pointed at him, I said "Go — go sit in my seat. Go!" You could tell he was scared out of his mind — for good reason. And I turned around and Sgt. (Chad) Chalfant was putting Campos out. He was so close to the Humvee. I said, "We need to get him away from here." So me and Sergeant Gonzo are pulling him away, and I burned my hands because he was that hot.
Taylor: We get a spine board, and we're trying to load him in the truck. The doors have a little belt that keeps it so it can't swing all the way open. The helicopter is right on top of us. (Pvt. Naryan) Curtis was shooting at something. Rodriguez just got done shooting at something. And I'm putting Campos in and you can't fit the spine board in there. I said "[Expletive] the spine board, we're just puttin' him in like this." Campos was yelling, in a lot of pain. He wanted me to cut his belt off, so I cut it and ripped it off. I kept talking to him, telling him, like, "We're goin' back. We're goin' back home." He was tellin' me on the way back, saying, "I'm burning, I'm burning." He's smoking still at the time. I'm like, "What do you want me to do?" I tried to cut off his IBA, but still couldn't get it off. His pants were burnt off.
Nuñez: He didn't look like Sgt. Campos.
Taylor: Yeah. He didn't. He didn't make it. He died June 1 back in his home state.
Nuñez: I wanted to get (Pfc. Nicholas) Hartge from the fire because that's my soldier right there. Chalfant said, "There's somebody right there," and he points, and I look and I can barely see him in the fire. And I see the body. I knew it was him because of the red hair.
Taylor: Hartge — you couldn't get to him. It was too — the fire was too hot.
Nuñez: For the longest time I thought he, he suffered a lot, you know, because the way he was on the ground. My dreams and nightmares were that he was crawling and just died asking for help.
Martinez: The blast was immediately behind Hartge's feet.
Nuñez: I wrote his mom, and she told me — they told her that he didn't inhale any smoke or any of that. He died on impact. He didn't suffer.
Nuñez: If anybody should get an award, it should be them.
---
---
---
---