The long way home: Three DODDS teachers, two teens, sail 53-foot boat across Pacific
by
Greg Tyler
October 12, 2003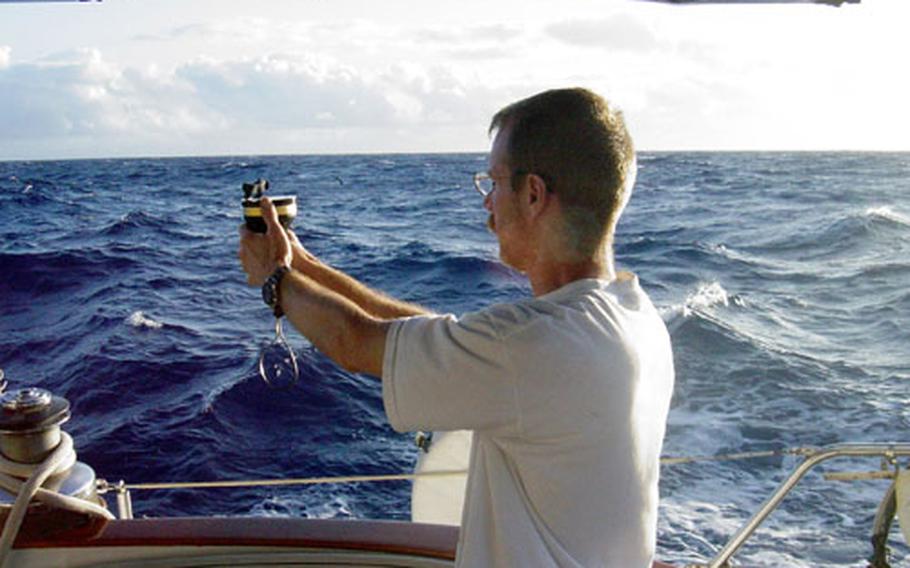 SASEBO NAVAL BASE, Japan — Debbie Heitstuman compared her summer vacation to the Bill Murray comedy "Groundhog Day."
In the film, Murray is consigned to repeat the same Feb. 2 over … and over … and over.
In her 40-day summer "vacation," Heitstuman got to see the same scenery day … after day … after day: Water.
Usually, nothing but water, 360 degrees of it, unrelieved by so much as a fly-speck island.
Which was not surprising, given that the 45-year-old teacher at Hario Housing Village's Jack N. Darby Elementary School, her family and a guest were tucked into a 53-foot boat headed from San Francisco to Sasebo.
"It always looks the same," said Heitstuman. "The same blue water, the same clothes on everyone; everything looks the same. And you do the same things, the same routine every day, over and over again."
And because both Heitstuman and her husband, Tom, work in Sasebo schools, and needed to be back before classes began, they had to drive that boat across 7,000 miles of Pacific on a tight schedule — even though only Tom, a retired U.S. Coast Guard commander, had any significant blue-water sailing experience.
Then there was the typhoon.
All of those events were still better than the alternative, the Heitstumans said. Their four-person family either could sail the 53-footer across the Pacific to Japan to be their new residence, or continue to cram themselves into their 42-foot sailboat.
For this reason, and the sheer personal challenge, Debbie Heitstuman said, the family deemed the task worth attempting.
The voyage began early this summer on the Second Wind, a 53- foot Cheoy Lee motorsailer ketch.
A motorsailer ketch can be sailed or powered by its motor. It has spacious staterooms, an inside pilothouse and an outside steering station. Most important, a 53-foot motorsailer can hold 1,180 gallons of diesel fuel. The Second Wind makes its own drinking water, stored it in a tank holding almost 800 gallons.
Last year, Debbie taught and lived in Guam with son Matt, 15, while Tom, 44, initiated and directed King's first JROTC program. He and son David, 13, lived on the 42-foot boat, moored at the Huis Ten Bosch marina. Then Debbie and Matt joined Tom and David after she accepted a DODDS post in Sasebo this year.
But the 42-footer was too small for four people to coexist in comfort, Tom said. "We needed a larger boat. That was the initial reason for buying the Second Wind," which had to be in Sasebo before school started.
"That was critical," Debbie added. "But we made it."
The crew for the initial stretch — the 2,300-mile San Francisco-Hawaii leg — included the couple, their two sons, who both attend King, and Sasebo Elementary School first grade teacher Xavier Flores, 26. Also sailing were Tom's father Bob Heitstuman, 68, and Heitstuman family friends Britt Thomas, a 44-year-old Oregon banker, and St. Thomas Aquinas College dean Dave Shaneyfelt, 43.
In Hawaii, Bob Heitstuman, Thomas and Shaneyfelt disembarked as planned.
The crew sailed for 20 days from Hawaii to Japan's Chichi Jima — where they had to deal with Typhoon Etau. That 24 hours, they said, proved the journey's roughest.
"I don't normally get seasick, but I did during that part, because it got pretty rough out there," said Flores, who had no previous long-distance sailing experience. He also lives on a boat — 35-foot Tainui, moored at the Daiichi Yacht Harbor, close to the Sasebo main base facility.
The crew refueled at Chichi Jima and because of the typhoon, Flores added, "we basically holed up" there until it left the area. The island, he said, "turned out to be a wonderful place."
The journey's third and final leg was a six-day sail from Chichi Jima to Sasebo.
Debbie, who assumed most cooking duties, admits that how much food to bring, and what kinds, was "sort of a big unknown because I hadn't done this before."
"I read some books. … Not knowing anything really, we just kind of winged it. I went to the commissary and planned out a sketchy menu and bought some extra canned goods just in case," she said. "A lot of Dinty Moore, and soup and other canned stuff."
"The only thing I should have bought more of was Kool-Aid, because you needed something to flavor the water."
Heitstuman sons Matthew and David both said they recognize crossing the Pacific Ocean is a unique experience, but when asked about their summer at sea, they seemed less than overjoyed.
They proved good sailors anyway, their father said.
"They did OK," he said. "At least, we didn't have to 'keelhaul' either of them."
Ketch of the day
The Heitstumans' Motorsailer Ketch has typical Cheoy Lee specifications:• Length: 53 feet.• Beam:16 feet 8 inches.• Draft: 7 feet.• Weight: 45,000 pounds.• Hull type: Fiberglas.• Engine make: Ford.• Engine type: Lehman Sp-90.• Engine hours: 1,545.• Horsepower: 90.• Cruising speed: 8.7 knots (about 10 mph).• Maximum speed:10 knots (about 11.5 mph).• Water: 780 gallons.• Fuel capacity, type: 1,180 gallons, diesel.
Pacific Crossing • From San Francisco to Hawaii: about 2,300 miles.• From Hawaii to Chichi Jima, Japan: about 3,800 miles.• From Chichi Jima to Sasebo: about 690 miles.• Total distance of trip: about 7,000 miles.• From San Francisco to Hawaii: 13 days.• From Hawaii to Chichi Jima: 20 days.• From Chichi Jima to Sasebo: six days.• Total length of trip, San Francisco to Sasebo: 40 days.
---
---
---