The dine-in experience at Zum Kaaser in Erzenhausen is memorable, but takeout will do well enough for now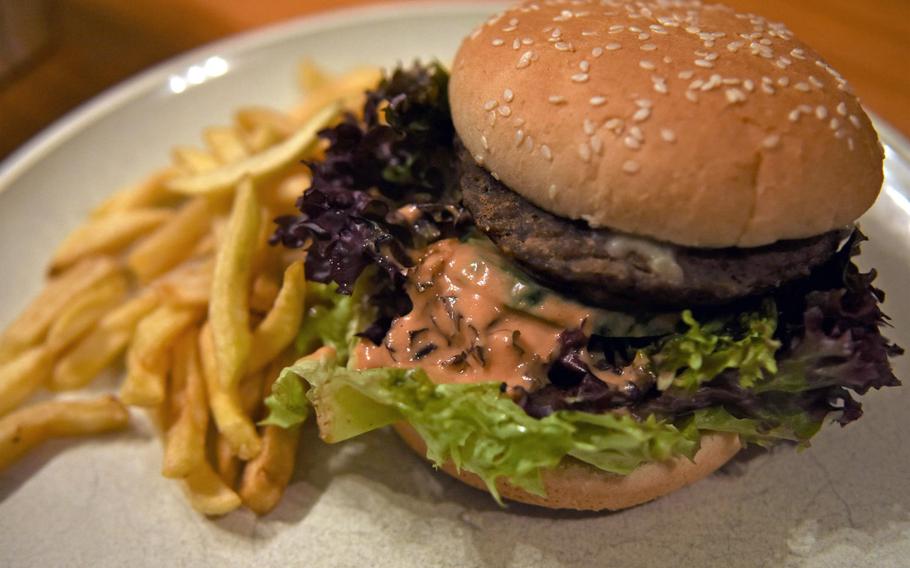 If we ever get to eat in restaurants again, Zum Kaaser, tucked away in a village northwest of Kaiserslautern, is at the top of my list.
The restaurant is spread out inside a spacious, restored stone building that's been in the same family for more than 100 years, and exudes country charm. In winter, a table near the fireplace is the best seat in the house, while the beer garden is ideal for soaking up Germany's long summer nights.
Zum Kaaser, pronounced "Kay-zer" here and meaning "to the emperor," offers classic German fare like schnitzel and spaetzle (egg noodle pasta) as well as less-traditional meat, fish and vegetarian dishes made with seasonal ingredients.
The few times I was there before the pandemic, the service was prompt and pleasant, and the owner recommended one of the best Bordeaux wines I've ever had.
It's hard to capture the essence of the place, in both quality of food and atmosphere, in takeout boxes. But that's the only way Zum Kaaser has stayed afloat during the coronavirus lockdown, offering a limited to-go menu during dinner hours on most days and delivery service to neighboring villages.
When ordering takeout earlier this month, my family and I opted for burgers over the other menu staples, pasta and salad.
My kids each ordered a cheeseburger with a side of French fries. The one meat patty with melted cheese on a sesame bun with lettuce was satisfying, about the right size for older kids.
I went for the vegetarian burger, a patty made with lentils and pumpkin in a red bun, with a side of fried potato wedges that quickly lost their crispiness in the takeout box. The honey mustard sauce paired well with the burger.
Those with hearty appetites could try the Texas burger — about half a pound of ground beef topped with gouda cheese and bacon. Other meat options include a grilled chicken burger with tomato, pineapple and curry sauce. Some of the burgers are on the pricey side at about 13 euros.
On a whim, we ordered bruschetta, an appetizer of meal-size proportions. The base had a thin, flaky crust, similar to flammkuchen, a pizza-like meal popular in Germany and France's Alsace region. It was topped with diced tomato, cucumbers and onion, and drizzled with balsamic vinegar. It was a good choice.
While we still much prefer the dine-in experience, we enjoyed our food and rejoiced at not having to cook or do dishes, at least for a night. When the restaurant reopens, I plan to try their ice cream — I found some rave reviews about it on Trip Advisor — and celebrate the end of lockdown there with either prosecco or a dark beer.
svan.jennifer@stripes.com Twitter: @stripesktown
Location: Schulstrasse 1, D-67685 Erzenhausen
Hours: Monday, Tuesday, Wednesday, 5 p.m. to 9 p.m.; Friday and Saturday, 5 p.m. to 9:30 p.m.; Sunday 11 a.m. to 2 p.m. and 5 p.m. to 9 p.m.; closed on Thursday.
Prices: Appetizers start at 4.50 euros. Burgers run from about 4-13 euros. Expect to pay more than 10 euros for most salads and specials. Kids menu has chicken nuggets, hamburger, schnitzel and pasta, all under 7 euros. Credit cards are accepted.
Parking: available across the street from the restaurant.
Information: Phone: (49) (0) 6374-1647; email; info@kaeaeser.de; online: zum-kaeaeser.de