The bawl before the Navy Ball
---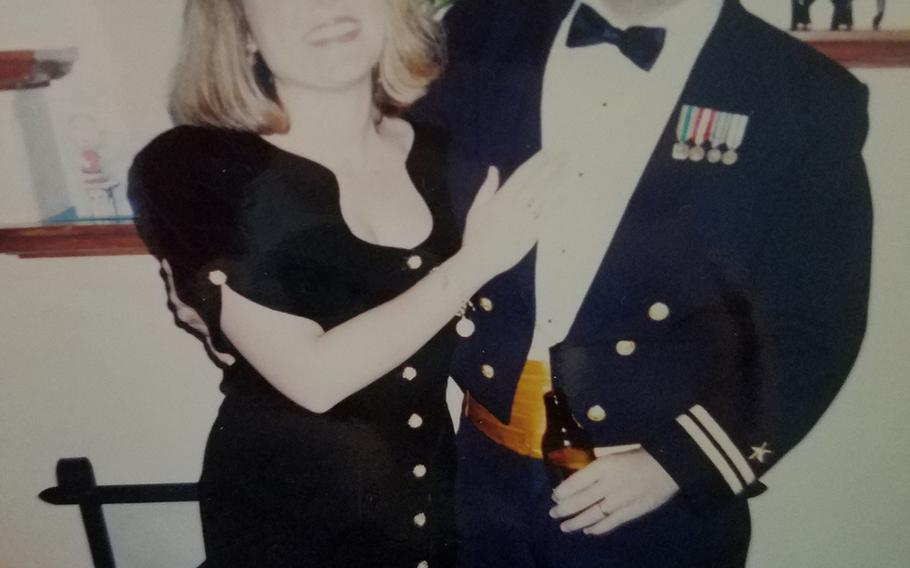 "We're going to be late," my husband Francis began saying two hours before the Navy Ball. He would repeat the phrase every 15 minutes. It was October 1994, the night of my first formal military event as a Navy spouse. We had only been married one year, and I was four months pregnant.
I sat at the old stool and vanity that we had inherited from Francis' Italian grandmother. It still showed burn marks from her cigarettes. I wanted to channel her 1940s glamour, but my hair wasn't cooperating. Ever since we'd been stationed in Monterey, Calif., it frizzed every afternoon when the fog rolled in off the Pacific.
I was pleasantly surprised that my black velvet dress fit over my baby bump without too much strain at its rhinestone buttons, but my pregnancy "glow" looked more like my face, knees and feet had been inflated with a bicycle pump.
I anchored my hopeless bangs around the barrel of my hot curling iron, and smiled in the mirror. I was excited to experience my first Navy Ball, and wanted to look just right.
"Are you about done? We're going to be late," Francis said again, pacing behind the vanity in his dress blues.
"But the Ball isn't until six-thirty," I said, feeling his tension building behind me.
"Yes, but we committed to go to Dave's pre-party, and it starts in 45 minutes."
Dave's house was only 10 minutes away, but I knew that Francis had inherited his tendency to add unnecessary tension to life from the hot-headed men on his Italian side. "I've got at least 20 more minutes to get ready. Why are you stressing out?" I asked, clanking my curling iron onto the vanity in frustration.
Momentarily, Francis left me to my routine. Before applying makeup, I decided to put on my control top pantyhose.
The precursor to Spanx, control top pantyhose were an essential part of '90s formalwear. They included a tight spandex girdle attached to sheer nylon hosiery, intended to slim unwanted girth. But wrestling a pair onto one's lower body was a daunting task for anyone, much less one who is pregnant.
I slid my thumbs into the right leg opening, bunching each side until I'd reached the reinforced toe. Balancing on the vanity stool with my right foot over my left knee, I compressed my swollen belly against my lap and held my breath. I inserted my foot into the hose, and gingerly pulled them to my knee. Releasing my right foot back to the floor, I panted a few times, then held my breath again while I jerked my left foot up over my right knee, and repeated the process with the left leg of the pantyhose.
Then I stood to pull the spandex girdle up over my thighs, hips and belly. I shimmied back and forth, huffed and puffed, and marched in place to get the girdle up, giving myself a wedgie in the process. After readjusting my underwear, I finally yanked the waistband over my belly and plopped back onto the stool, breathless and red-faced.
"Honey, we have to go now. We're going to be late," Francis startled me in the bedroom doorway.
"Alright! To hell with it. Let's go if you insist!" I blared, tears falling in a sudden hormonal burst. I yanked the curling iron plug from the wall, jammed my swollen feet into my heels and stormed out to the car, crying all the way.
Of course, Dave was surprised to see us there so early, and his other guests didn't arrive for at least 15 minutes. Francis introduced me sheepishly, his pregnant wife with the puffy red eyes, frizzy hair and no makeup.
Over the next 24 years, Francis and I attended many Navy Balls, and each time, I did my hair and makeup at that same old stool and vanity. Still do. But Francis never again pressured me to leave before I was ready. I like to think that his Italian grandmother's spirit taught him this lesson all those years ago: Before the ball, don't interfere with your wife and her vanity.
Read more of Lisa Smith Molinari's columns at: themeatandpotatoesoflife.com Email: meatandpotatoesoflife@googlemail.com
---
---
---
---