Symposium helps Americans make adoption dreams a reality
by
Kevin Dougherty
May 23, 2004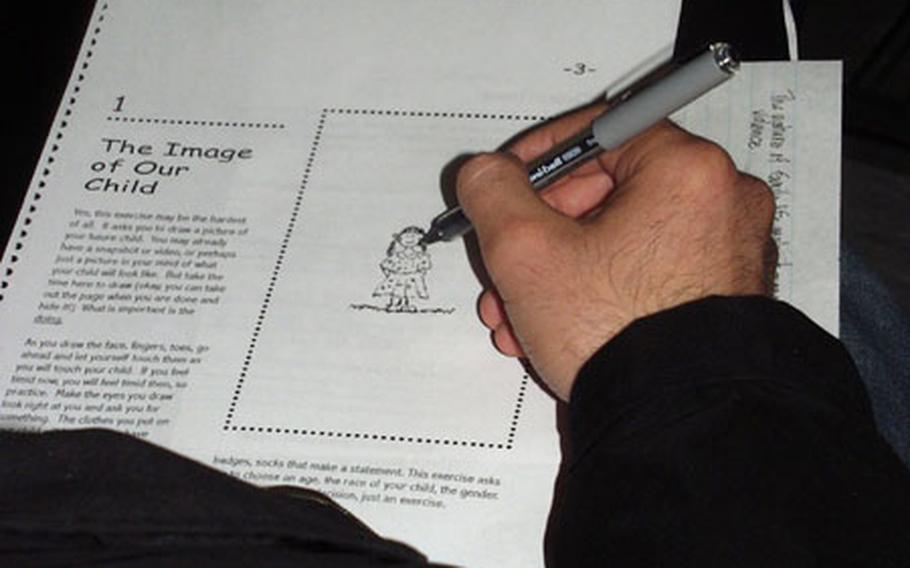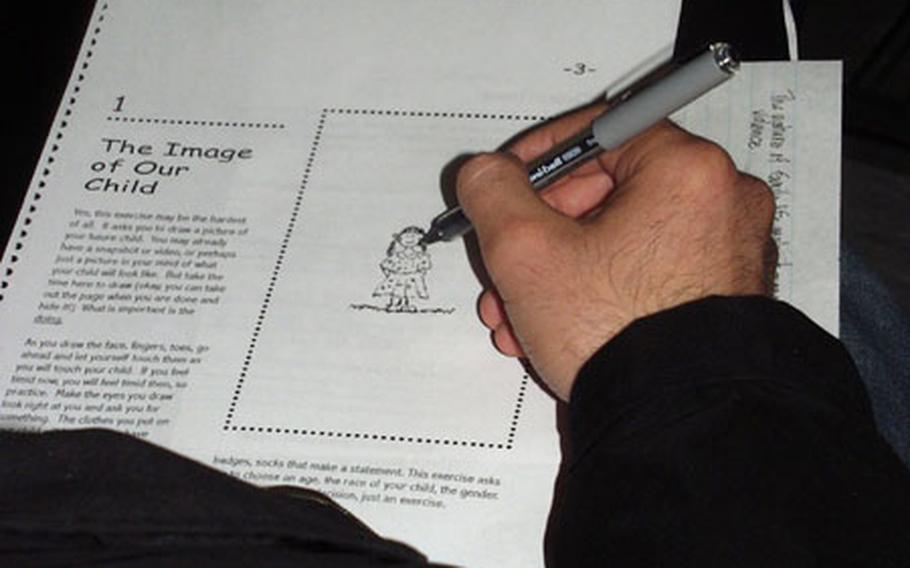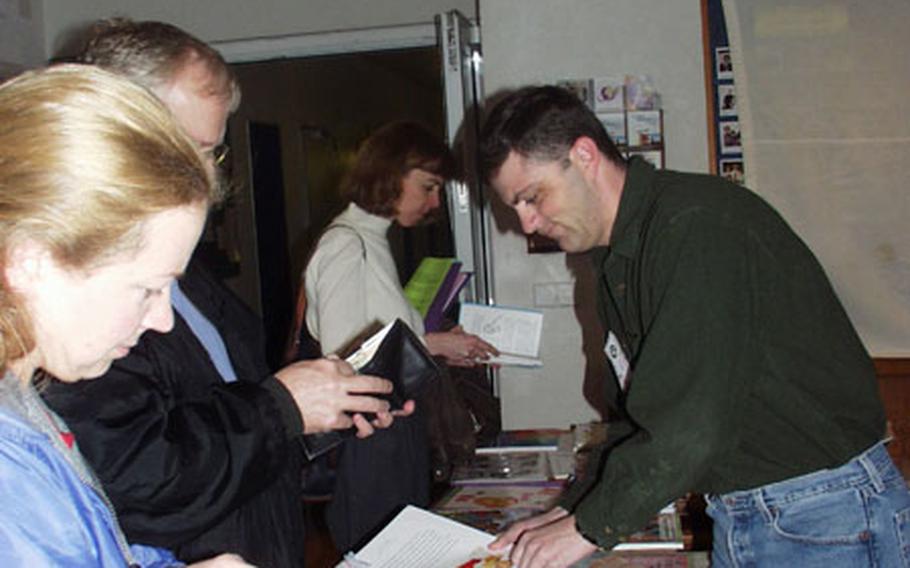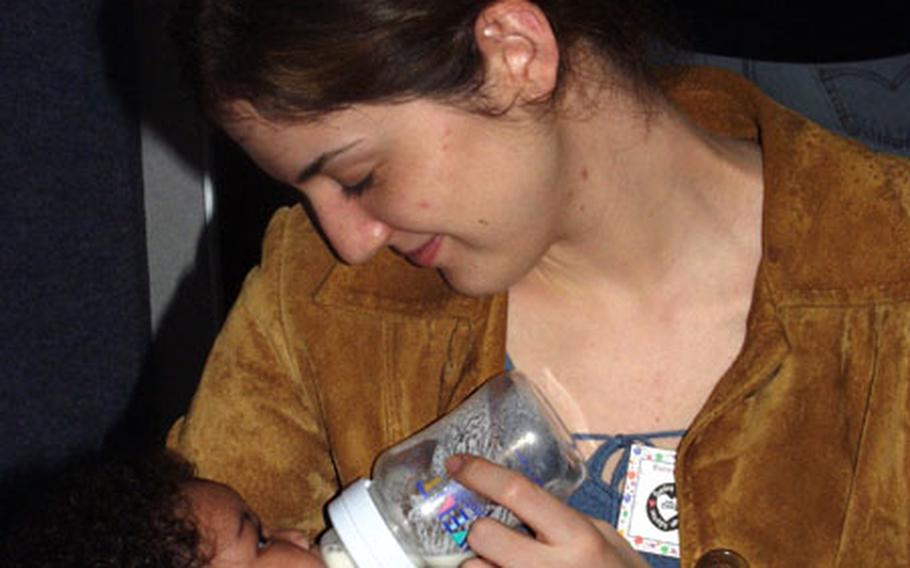 EINSIEDLERHOF, Germany — When Jeanie Veith began organizing the 12th annual European Adoption Symposium, she thought the war in Iraq might dampen people's interest.
Right now, the reasoning went, life is too fluid to even consider adoption.
With attendance at the 2003 symposium off by roughly a third compared with the previous year, Veith braced herself for an even smaller crowd this time. She suspected some folks would shelve the idea for a while.
That didn't happen. Attendance actually increased, and the symposium, held earlier this month, seemed every bit as lively as in past years.
"Maybe there is a sense that life won't go on forever," Veith said in trying to explain the turnout. "People have told me they are not waiting until they buy a better car or a bigger TV. They are making plans for a family."
Two people not content to wait any longer are David and Sonia Kuch.
The Air Force couple hopes to adopt a baby girl from China. If all goes well, Sonia Kuch said, a memorable Mother's Day awaits her next year.
"We want to make our dreams more of a reality," Sonia Kuch said.
She added that Veith could be on to something about the renewed interest, especially as it pertains to servicemembers.
"Current events certainly make people think about their existence," said Kuch, a nurse at Landstuhl Regional Medical Center in Landstuhl, Germany.
The war in Iraq, she acknowledged, is "an underlying theme (behind our decision to adopt). Being in the military, of course it's on your mind. You can't escape that."
The "it" Kuch is referring to is her own mortality. The military, more than any other segment of society, knows full well just how precarious life can get.
"The conflict has helped people focus on what's really important to them," Veith said.
Sponsored by the Landstuhl American Red Cross, the daylong symposium drew about 230 people to a church in nearby Einsiedlerhof. The event covered an array of topics, from immigration, money and health issues to adoption opportunities in China, Eastern Europe and the United States.
"There is the reality of adoption," Veith said during her opening remarks, "and then there is the fairy tale."
Veith, who has led the symposium for years, doesn't like to sugarcoat things. Neither do the panelists she routinely invites.
"A Russian adoption is expensive," Michele Jordan, a program director with Children's House International, a nonprofit adoption agency, flatly stated during one seminar. "Therefore, it's not for everybody."
Such frankness typifies the annual gathering.
For prospective parents, the goal is to learn as much as possible about the adoption process. To that end, Veith and the Landstuhl Red Cross bring in outside experts from as far away as the United States for the seminar.
Also taking part are couples that have gone through the process. This year, one such couple was Army Maj. Loye Gau and his wife, Jill.
"A year ago," Jill Gau said as she looked across the break room, "we were like these people."
As she spoke, several couples were reviewing their program for the next round of seminars and presentations. The standard practice is for couples to split up and cover two sessions instead of one.
For much of last year, the Gaus had their hearts set on an international adoption. They attended last year's symposium and wound up paying thousands of dollars to an international agency before reversing course when a military couple decided to put their unborn daughter up for adoption.
Four months later, Charlae came into their lives.
This year, the couple was on the other side, offering their insights as members of a panel discussing open adoptions. An open adoption is when birth parents choose the family they want to raise their biological child. To varying degrees, a lasting relationship is often established between the two families, which could include periodic contact.
The Gaus have such an arrangement with Charlae's birth parents.
That's something Senior Airman Sarah Shatzel said she wishes she had with the family that adopted her child. For Shatzel, the chance to help others helps her deal with the difficult decision she had to make a few years ago.
"I was lost," Shatzel said during the discussion on open adoptions. "Now I know the things I should have known back then."
Her candor clearly touched members of the audience.
Generally speaking, views toward adoption are "more open today than ever in our society," said Susan Romer, an attorney who specializes in overseas adoptions.
One common misconception, according to Romer, is that an adoption takes years. While there can be delays, many move along quickly and without a hitch. A domestic adoption, for example, usually takes nine to 12 months, Romer said, noting it isn't far off of nature's timetable.
"If you want to [adopt], you can," Romer said. "It's not some secret society."
Carol Albers, the Europe representative of the agency Adopt Abroad, said U.S. troops have long had a reputation of taking children in. So it doesn't surprise her that servicemembers continue to embrace adoption as a way to build a family.
Albers credits Veith for making the annual symposium a success, and said she, too, has noticed a growing interest in adoption by military personnel.
"Once the spouses started coming back" from Iraq, Albers said, "the requests [for information] began to come in."