Swimming, biking and running try the endurance of participant
---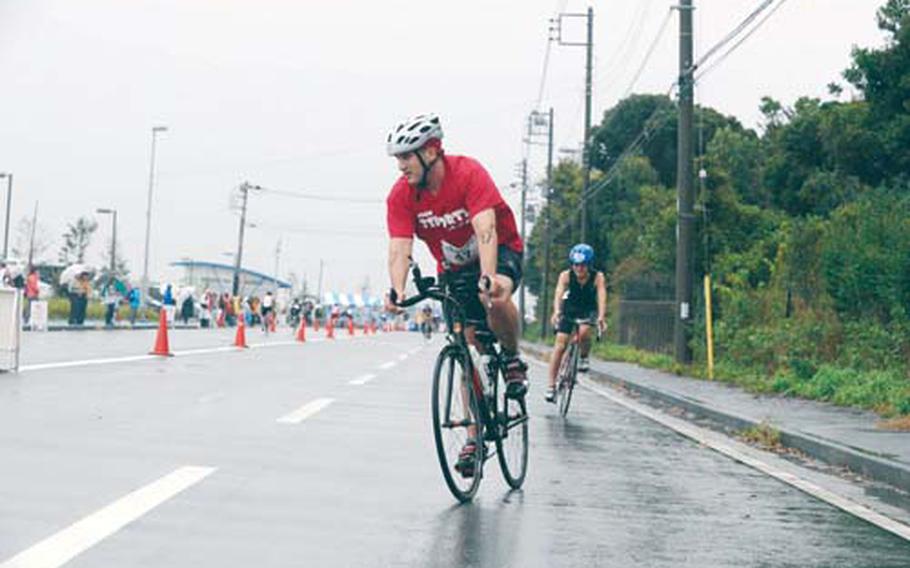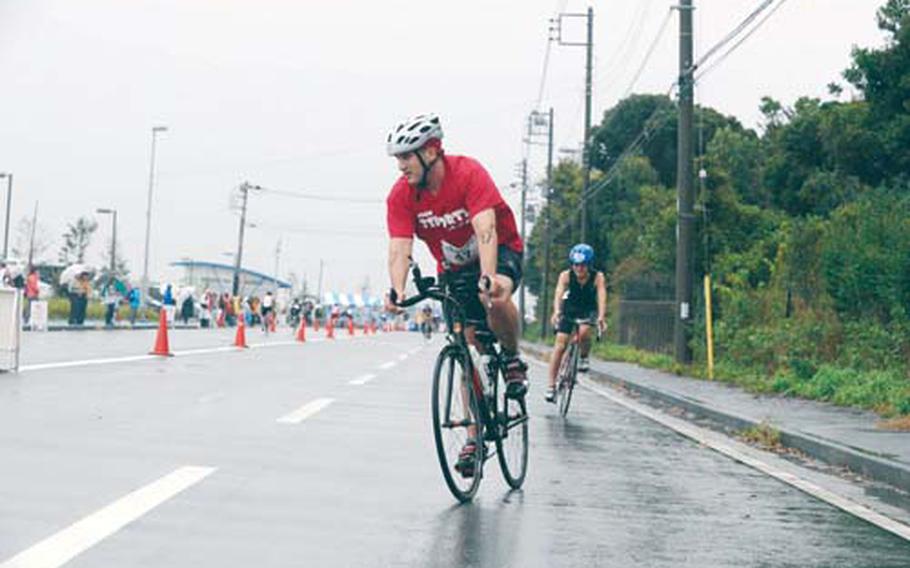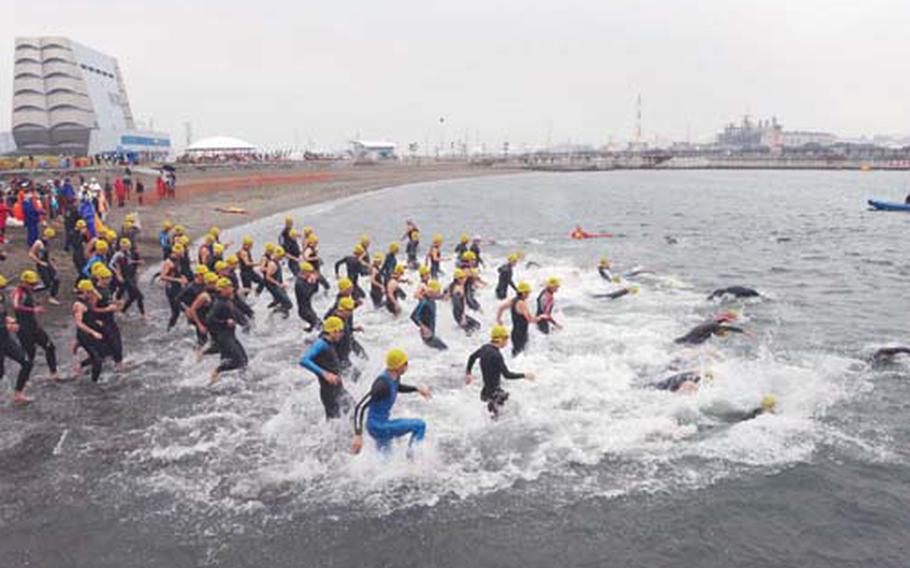 I've always thought of myself as an adrenaline junkie, always up for a challenge and willing to push my body to its physical limits. So when an opportunity recently presented itself, I jumped at the challenge.
My task — completing an Olympic Distance Triathlon, which consists of a 1,500-meter swim, 40-kilometer bike ride and 10-kilometer run.
I like to think that I'm in pretty good shape. And although I've had experience in the three disciplines of a triathlon, doing them in succession is something that was new for me. The pain that I'm feeling throughout my body right now is a testament that triathletes are truly in a class of their own.
The race I chose was the 23rd annual Kawasaki-American Friendship Triathlon, held at Higashi Ogishima Park in the Kawasaki Port.
Race day came, and I couldn't have imagined worse conditions. Heavy downpour, powerful wind gusts — all the makings of a disastrous triathlon debut. As I squeezed myself into the borrowed, tad-bit-too-small wetsuit, I tried to convince myself that the ocean was going to be welcome reprieve from standing in the cold, blowing rain.
When the horn sounded, I darted into the water with the other 100 competitors in my wave, hoping to make my mark early. And I did ... for the first 50 meters. After dozens of kicks to the head and slaps to the face from passing swimmers, I decided the middle of the group wasn't the ideal place for me. I slowed my pace and waited for the bulk of the crowd to pass by.
The swim represented my first trek into open water in more than five years. Sure, I'd swam with my wife and kids, but I never put much focus on swimming laps in the pool or practicing distance swims at the beach. And it was kicking my butt.
Midway into the first 500-meter lap, I began questioning my decision to undertake such a physically challenging feat. I was tired, and swimming freestyle stroke wasn't working out.
The wetsuits are designed to elevate your hips, putting them in the "ideal" position for swimming. The only problem was that the position forced my head down, and choppy conditions caused me to swallow mouthfuls of seawater each time I took a stroke.
Eventually, I learned my lesson and transitioned to the old Navy SEAL survival technique — the sidestroke. I didn't care if I was the last one out of the water. I was in survival mode.
As I approached the shore on my last lap, I knew that I was going to finish the race. I wasn't worried about the bike ride or the run because I knew the worst was over. I took one final swig of seawater and made my way toward the transition area, stripping out of my wetsuit as I ran toward my bike.
Fortunately, biking is something that has become a part of my regular training regimen, but the 30-knot winds and wet roads presented a challenge I don't usually face on my 85-kilometer Sunday morning rides.
The 40-kilometer course consisted of eight loops around a lot of sharp corners and two 180-degree turns — not a good combination for small tires and wet asphalt.
I could tell my body was drained and needed some fuel if I was going to make it through the day. I took out some not-so-tasty energy gel and forced it down, loading up on water to ensure it didn't come back up. I'd heard that the gels do wonders for boosting energy during endurance sports. I just wish it would have tasted better.
After downing the gel, I started getting into a groove on the bike course. When you're doing eight laps around the same course, you begin to know what to expect around every corner.
So going into the run, I felt pretty good. My legs hurt, but the pain wasn't unbearable. I was on my own two feet and didn't have to compete with rough water or wet roads. I was finally in control.
Four laps around the park. That was all that was left. Slowly but surely I started running down some of the other competitors and was able to maintain a steady pace for the first five kilometers.
By the third lap, my legs were numb. By the fourth, I couldn't feel my feet. My body was starting to remind me that it was lacking nutrients. The complimentary hamburger boxed-lunch waiting for me suddenly became my motivation to kick out the last few steps.
With the end in sight, I started a sprint toward the tape, my run now nothing more than a painful hobble. Crossing the finish line, I felt great. My time — three hours, 16 minutes.
I immediately stopped thinking about surviving, enjoyed the satisfaction of finishing and couldn't stop thinking about when I'd be able to do it all over again.
---
---
---
---