Stuttgart, Germany, woman helps find lost pets, cares for abandoned felines
by
Leah Larkin
October 23, 2002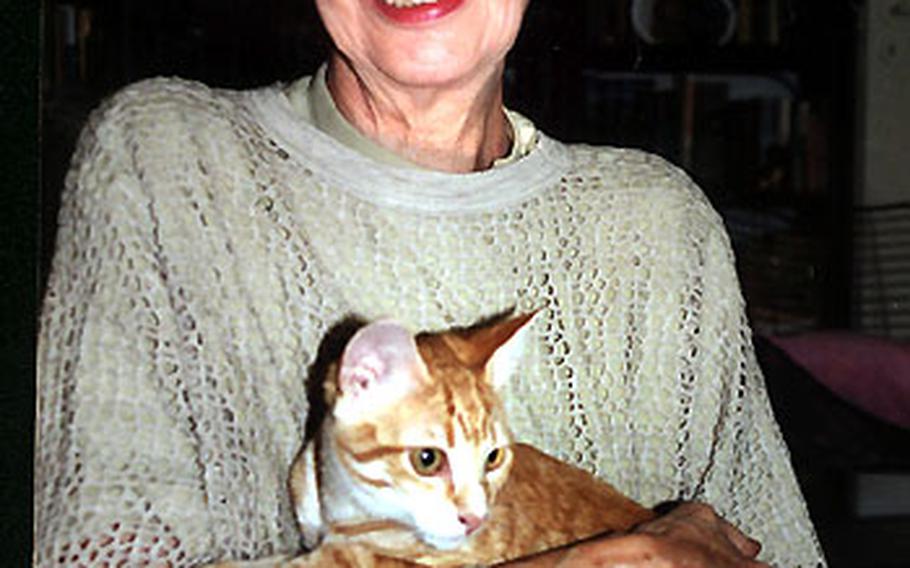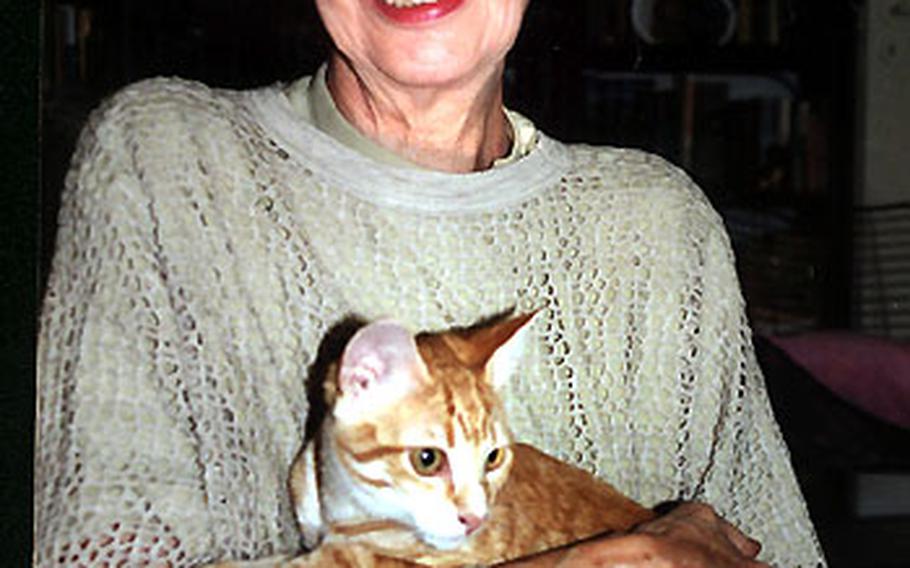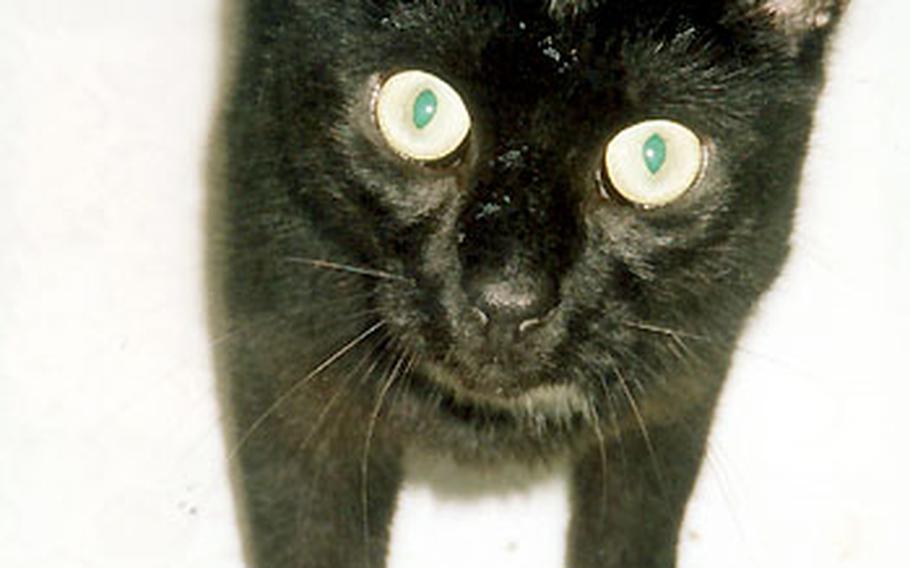 We consider it a miracle. After seven weeks of wandering in the wild, our cat Buddy is back with us — all due to the amazing efforts of Sigrid Ruckaberle, the "cat lady" of Stuttgart, Germany.
Ruckaberle, a German who formerly worked on an American military base, has been rescuing and caring for cats for more than 30 years.
Buddy, 2 years old and black with a white spot on his chest, pushed his way out of his carrier while I was taking him to board with Ruckaberle while we were away. The carrier was one of those older types with tricky latches on the bottom and top of the door. I fear it may not have been latched securely, which is not always easy to determine.
In any case, before I got Buddy into Ruckaberle's house, some 60 miles from our home near Stuttgart, he leaped out and sped away, a black streak vanishing down the street. I was devastated.
For each of 10 days I faithfully drove back to the escape site and combed the area, calling him. Buddy, an indoor cat, is a shy, fearful type. I knew he would never come to me, but I thought he might at least meow and I would find him.
The chances of seeing him again were not good — "next to nil" according to one cat expert. But Ruckaberle thought otherwise. She has extensive experience in cat trapping, and she felt she could eventually get him, assuming he stayed near her home.
She put up signs, established feeding stations in her neighborhood, and regularly set traps at night. Her traps look like a long pet carrier, with an open door in the front and food inside. When the animal enters to get the food, it steps on a lever that closes the door, trapping the animal inside without harming it.
Buddy owes his initial survival to another cat rescuer, Chris Hyde, a veterinary assistant at Panzer Casern near Stuttgart.
Hyde trapped Buddy along with his mother and six brothers and sisters at a military housing area when he was 3 months old. The mother had likely been an abandoned pet, turned feral and had kittens — an all-too-frequent occurrence.
To tame the wild kittens, Hyde wore thick gloves, wrapped the kittens in a towel and forced them to eat from her hands.
Even though she tamed Buddy, since he had no human contact for the first months of his life, he remained very timid and afraid of strangers. I was especially protective of him.
Several weeks after Buddy's disappearance, I had given up hope, even though Ruckaberle said there had been Buddy sightings. I knew he would never be adopted by anyone since he would be petrified of people. I feared he would move on and eventually be hit by a car.
Friends told me not to worry. Since Buddy was born in the wild he was probably happy being a free spirit again, they said.
That kind of talk upsets Ruckaberle, who points out that cats need shelter, food and water and cannot survive for very long without human help.
"Homeless cats are subject to hunger, thirst, pain and sickness. They lead a very dangerous life. It's not wonderful for them. It's hell," she says.
Which is why she did not give up on Buddy. After seven weeks, and a captured hedgehog, which she promptly released, she got him. He came home bony, exhausted, thirsty and frightened. He did not do much other than sleep for the first few days. He ate very little, but drank lots of water. He obviously had not been having a terrific time as a wild cat.
He's now back to his loveable self, but more affectionate than ever. I like to think he's showing his gratitude at being rescued. My husband and I are overjoyed and grateful to the "cat lady" for this miracle.
"All it needs is patience," she says. "I never give up."
Ruckaberle's involvement with cats started when she was the community relations officer at Nellingen Barracks — now closed — near Stuttgart.
A woman from a cat rescue organization came on base to talk to an American who wanted a cat. She noticed stray cats on the base and asked Ruckaberle to get permission for her to trap them. She began trapping the cats, getting them neutered, then releasing them back on the base where she had arranged feeding stations.
"I thought I could help feed the cats," says Ruckaberle. That was just the beginning. Other bases in the area had populations of stray cats, most abandoned by families who had moved. Ruckaberle started trapping the animals at those facilities.
Most of the cats were too wild to be domesticated. Pet cats that are abandoned become feral very quickly. Their natural instinct of fear takes over and they become afraid of everything, including humans. And, as most of the abandoned animals have not been neutered, the population of feral cats multiplies all too quickly.
Ruckaberle trapped some 100 cats in a 15-year period, had them fixed, then released them on the bases where, she said, they lived as "working animals … keeping the base clean from rats and mice." Americans, probably because they couldn't pronounce her name, she says, started to call her the "cat lady."
Today Ruckaberle is retired. However, she is still involved with American cats. When many of the bases in the Stuttgart area closed in the early '90s, she trapped the wild cats that had been living on the posts and moved them to one of three "cat camps" in the area. These are vacant tracts of land that have been donated by individuals. There are shacks on the land so the cats have shelter, and groups of volunteers, including Ruckaberle, regularly feed the animals.
Cats are still too frequently abandoned by those moving on to a new assignment, Ruckaberle says, although in Germany abandoning animals is against the law. Hyde, who traps abandoned cats at Panzer Casern, trapped 11 cats, a mother and two litters of kittens, this summer. Nonetheless, she thinks the situation is improving.
"Sigrid (Ruckaberle) has made a difference. People are getting better," she notes.
Ruckaberle urges people to think long and hard before they get a pet. If they will not be able to take it to their next duty station with them, they should not get the pet, she says.
Don't assume you can leave the animal behind and get another one at the next post.
"Would you leave a child behind?" Ruckaberle asks. "Of course not. But passing on and dumping companion animals is careless, heartless and without compassion toward the animal."
If, for some reason, you cannot take your cat with you when you move, don't throw it out like trash, she adds.
There are other options. Hyde urges cat owners to plan ahead and find a home for their cat if they cannot take it with them. Animal shelters will take pets, and local veterinary clinics can help make contacts, she said. Stars and Stripes will run free ads for three days for anyone who wants to give away a pet.
If Buddy could talk, I'm sure he'd tell you that life as a stray is no day at the beach. It's much better having someone to take care of you.
Leah Larkin is a freelance writer living in the Stuttgart, Germany, area.