Strings & wings: Yokota pilot plays with Japanese orchestra
---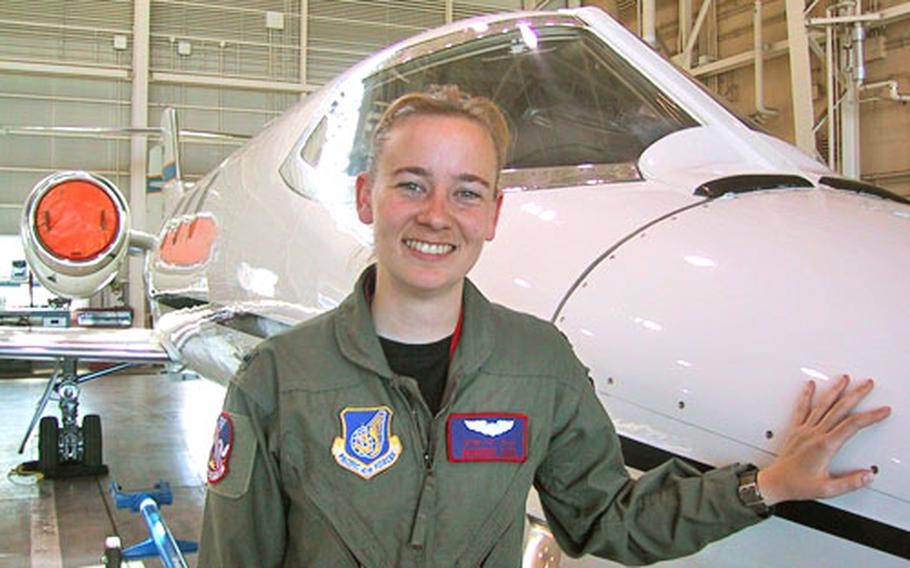 A C-21 Lear jet pilot from Yokota Air Base, Japan, is bridging cultural gaps and making meaningful friendships with a violin.
The 374th Operations Support Squadron airlift director, 1st Lt. Brooke Page, is the only foreigner in the Hamura Philharmonic Orchestra, a group of Japanese amateur musicians that performs classical concertos and symphonies for communities near Yokota.
Page struck her first violin chord when she was 9, but was admittedly a bit rusty when she moved to Yokota in July 2002 — her first assignment after pilot training. While busy learning how to fly the jet, Page didn't have much time to practice her music.
After inquiring about local musicians at Yokota, Page was directed to the group's Web site by an acquaintance. On a whim, the 25-year-old from North Hollywood, Calif., wrote the members an e-mail.
"I was hoping that maybe they understood English," she said. "I got a response, and I quickly hooked up with them, two months after I got here."
She was welcomed with open arms, she said.
"They were quite surprised to initially get my e-mail," she said. "They were really excited to have a foreigner as part of their orchestra."
The orchestra has about 50 musicians, with a 15-chair-deep violin section. Page quickly discovered that overcoming the language difference would be her biggest challenge, as few of the musicians spoke English and the music sheets were in Japanese.
"Trying to navigate a difficult symphony by Beethoven is one thing in itself," she said. "But navigating in nihongo [Japanese] presents an even greater challenge.
"If I don't understand where we are in the music, they'll point it out to me, and I can sense what the conductor is saying because he's very visual" with hand signals, she said.
The group usually practices on Sundays for around three to four hours at Fussa City Hall or the Hamura Civic Center.
The orchestra performed one of its two large annual concerts May 23.
"We want to educate the public on classical music and make sure they enjoy it, too," Page said. The concerts are free, she said.
Like Page, orchestra members are amateur musicians with "day jobs." There are "salary men" and housewives, medics and retirees. They often have questions for Page about life in America and the U.S. military.
"I tell them I enjoy the same things that they do," she said. "Having me in there as the only foreigner, it's sometimes the only exposure they get of an American in the United States military. I try to present everything in a good, positive light."
One of Page's best friends in Japan is the orchestra's concert mistress, who occupies the first chair among violinists. Page has participated in a tea ceremony with her parents and, in turn, invited her friend to American events on base.
Bridging the cultural and language gaps that normally might be a barrier between people from different countries is made easier through music, Page said.
"The one thing that brings us all together is our love of music, and I think that's really neat," she said.
Almost as neat as flying distinguished visitors to different locales in the Pacific.
"Other than flying a Lear jet in the Pacific, this is right next to one of the coolest things I've ever done," she said.
---
---
---
---