Still got game
by
Jon Rabiroff
April 18, 2010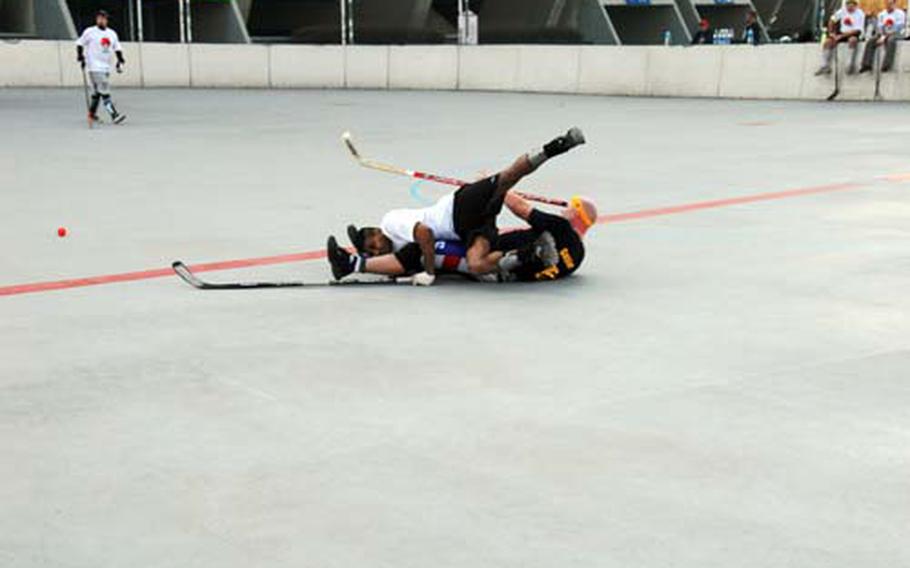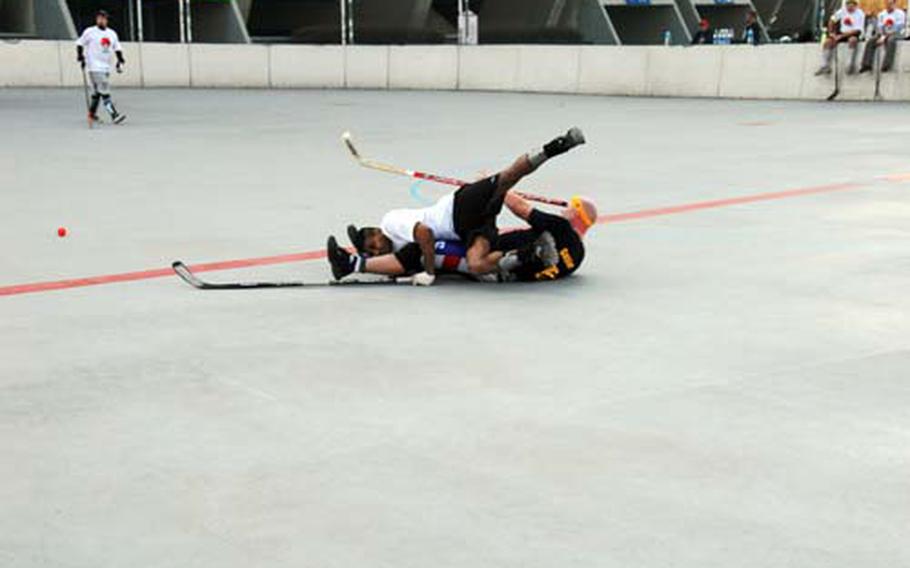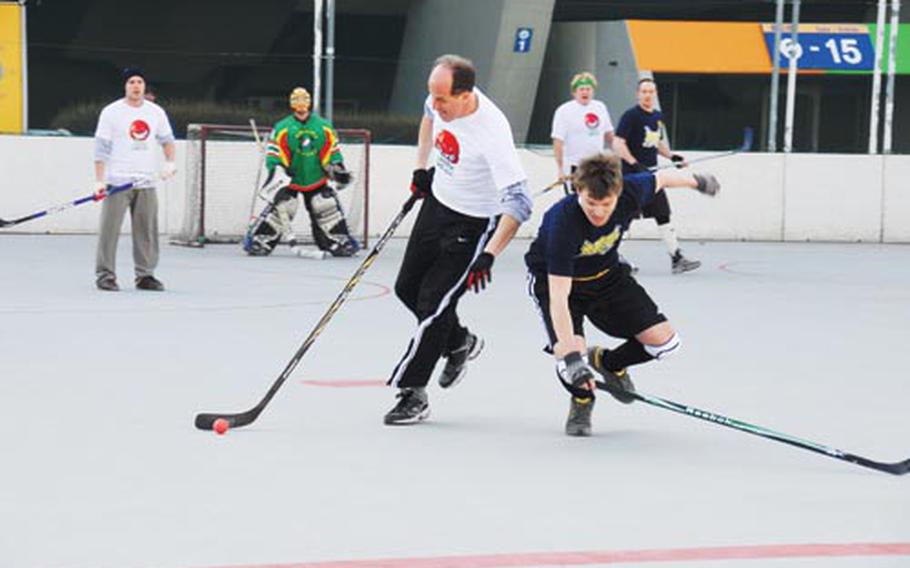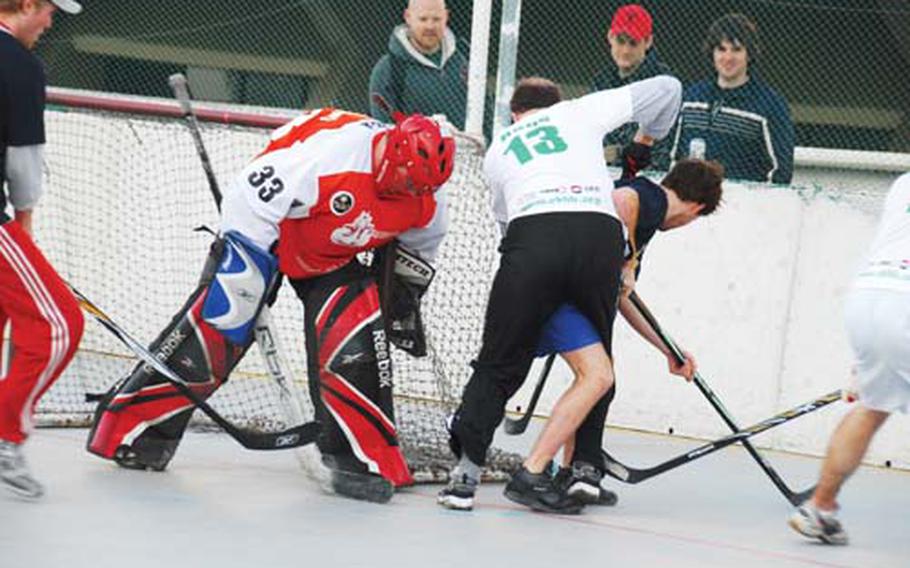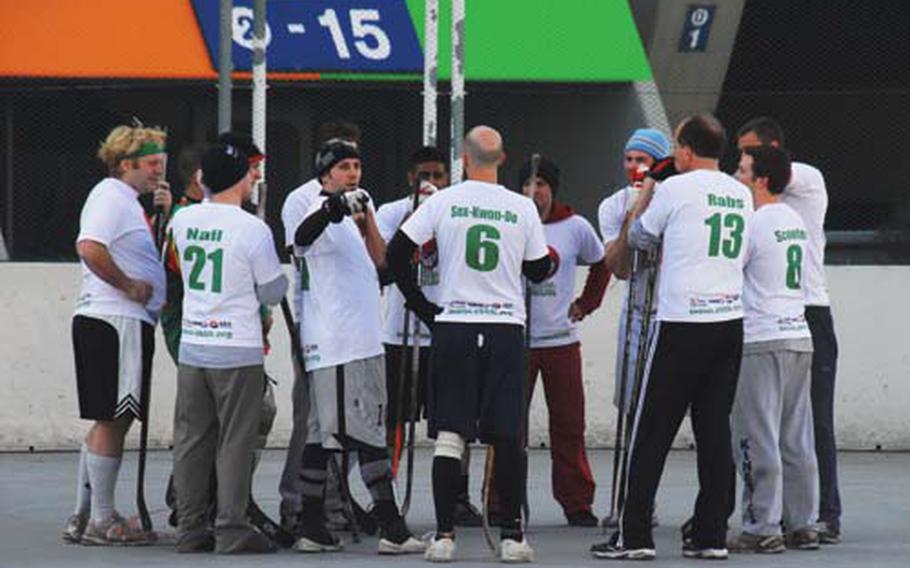 Photos by Ashley Rowland, Stars and StripesScene, Sunday, April 18, 2010
"The goal goes to Methuselah."
I was feeling good about myself after scoring during an early season Canada Ball Hockey Korea game, when I heard that comment from the official scorer's area of the rink.
Yes, a few months earlier I had turned 50, and I am apparently the oldest player in the 120-player league. And, sure, while there appear to be several players in their 40s, the vast majority of those taking to the rink every Sunday in the shadow of Seoul's Olympic Stadium are in their 20s, meaning I am probably older than a significant number of the players' fathers.
But Methuselah? The man who lived 969 years, according to the book of Genesis in the Old Testament?
It took a little while, but I eventually accepted the good-natured jab as a badge of honor. After all, I knew when I signed up last year for my first season of CBHK action that, while I may have the heart and mind of a 16-year-old boy, I unfortunately have the hairline, waistline and facial lines of a middle-aged man.
To be playing ball hockey against guys half my age is, as was noted by a player on another team, "awesome."
Some men facing a midlife crisis buy sports cars. I decided instead to bang sticks and trade elbows with guys from the likes of Toronto and Vancouver.
To understand why, you have to rewind almost four decades to 1972, when the Nassau Coliseum opened and the New York Islanders began playing in the National Hockey League a mere 10-minute drive from my Long Island home.
Hockey fever hit, and it was not long before all of the adolescent boys in my neighborhood were spending virtually every afternoon and evening after school — year-round — playing street hockey, pausing only when someone uttered the oft-heard warning of "Car!" And we all got out of the path of the passing commuter on his or her way home from nearby New York City.
While hardly the stuff of grainy black-and-white footage you've probably seen of Depression-era stickball games in the streets of Brooklyn, our passion for hockey did have pretty modest beginnings.
I built a goal out of a few boards and assorted pieces of wood that looked something like a chest of drawers with the drawers missing. A kid down the block used old belts and some sort of sponge-like insulation as his goalie pads. Game on!
Thank goodness for Christmas and the real hockey equipment that came with it, gifted to us by parents who probably were ashamed of the Little Rascals-like scenes they were seeing out the windows of their middle-class homes every day.
For those not familiar with street or ball hockey, the game is played like ice hockey. But the ice and ice skates and puck are replaced by pavement, sneakers and a ball.
By the time I left the neighborhood for college, I had become a street hockey legend of sorts — at least in my own mind — and arguably the best player in the history of East Cabot Lane. So, is it any wonder that after landing a job as a Stars and Stripes reporter in South Korea, I jumped at the chance to sign up for the CBHK?
While the "C" stands for Canada, other nationalities are welcome. It's a well-organized and well-run league. It has its own Web site (cbhk.org), sponsors and officials — as good as it gets for a recreational league.
I must admit, in the days before my first game, it dawned on me that not only would I be facing off against much younger players, but most of the guys were raised in the birthplace of hockey, where they learned to skate before they could walk.
I might recapture the glory of my youth, I thought. Or, I could be about to make a total fool of myself.
As it turned out, I did neither. I scored five goals and dished out six assists in 18 games during the fall 2009 season, just getting me into the Top 40 of the league in scoring. Not bad for an old dude, but they need not be saving a space for my name on the Stanley Cup. I know that when it comes to my career in competitive hockey, my Zamboni is nearing its final lap around the ice.
To be clear, the CBHK is not the NHL. But it's no family-picnic softball game either, as evidenced by the cuts and bruises I seem to find in the oddest places after every game, put there accidentally — and not so accidentally — by errant stick blades, butt ends and well-placed elbows.
I still have some of the skills I had as a teenager, including a pretty decent wrist shot. But, when it comes to stick-handling past a defender, or winning a race for a ball in the corner, my arms and legs clearly understand what my head does not — that I was around when the Nassau Coliseum was opened and the place is now considered obsolete and in need of replacement.
You know you're getting old when you outlive a brick-and-mortar edifice like a sports arena.
Given my lack of speed and driving ability, I sometimes treat the ball like a live hand grenade when it is given to me in the center zone — passing it as fast as possible to somebody who might actually be able to advance it past a defender or two. I try to use what I will graciously call my bulk to screen the opposing goalie and position myself for rebounds.
In other words, I try to act my age and put myself into positions in which I don't have to put too much stress on those parts of my body that would be better served by a switch to golf.
How much longer will I play hockey?
Well, Methuselah supposedly lived almost 10 centuries, so I may have a bit more time. And, besides, I hear Methuselah was bad on face-offs and had a weak slap shot.