'Splinter Cell: Conviction': Light feet and heavy fists
by
Brian Bowers
April 25, 2010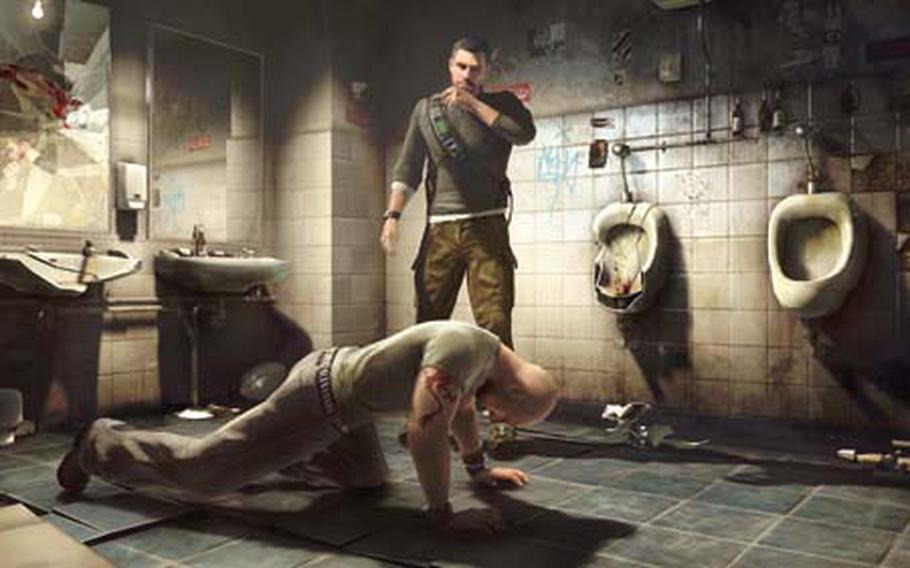 Crossing Sam Fisher is a deadly mistake.
A lot of people make that mistake in "Tom Clancy's Splinter Cell: Conviction," which explains the high body count in the M-rated third-person shooter from Ubisoft.
The latest chapter in the rogue agent's long saga begins with the search for his daughter's killer. The journey — and the truth — twists and turns as it leads to a startling plot against the U.S. government.
As in previous adventures, you rely on stealth, slick moves, gadgets and an assortment of weapons to accomplish his mission. "Conviction" adds new elements in each area.
You spend a lot of time scaling drain pipes, climbing through windows and scuttling through tight passageways, but you spend even more time lurking in shadows. Shoot out a light and your world fades to black and white, indicating that you're in shadow. If you fire at enemies, they'll know where you are — or at least where you were when you pulled the trigger. A ghostly image indicates that position. Enemies will then concentrate their fire there, which allows you to duck back into the shadows and flank them.
The game also offers a good cover system, which allows you to dive from one site to another without taking too much risk.
Get close enough to an enemy and you can take him out with a melee attack. This opens up the possibility of an "execute" move, which allows you to target other nearby foes for instant death by bullet — a tactic that can quickly even the odds in a crowded room.
If you encounter a foe who has valuable information, you can "interrogate" him. This involves moving him toward an interesting piece of furniture, porcelain restroom fixture or TV screen and smashing his face into it. It can get pretty brutal, a big reason for the game's M rating.
Since Sam has gone rogue in "Conviction," you don't have quite the same lineup of gadgets. However, you still manage to find an impressive selection of weapons, grenades, sonar goggles and devices that emit electromagnetic pulses. Each helps you accomplish the mission with stealth and flair.
The graphics are excellent, with extremely detailed environments and well-rendered characters. "Conviction" also uses a unique format to present on-screen guidance and background information. Words and pictures appear as projections on walls and other surfaces in a manner that looks very cinematic.
The story line is very interesting — but Sam's tale covers only part of the action. "Conviction" also offers an exceptional two-player campaign for either split-screen or online play. It features an American/Russian team in a completely different story line. Kestrel and Archer use most of the same gadgets and techniques as Sam, but adding another player makes the game play and attack options very different. It's a great addition that can be even more fun than the single-player campaign.
Platform: Xbox 360, PC
On the Web: www.splintercell.us.ubi.com/conviction/