Special delivery: Combination of factors worked to save baby's life at Yokota
by
Jennifer H. Svan
October 23, 2002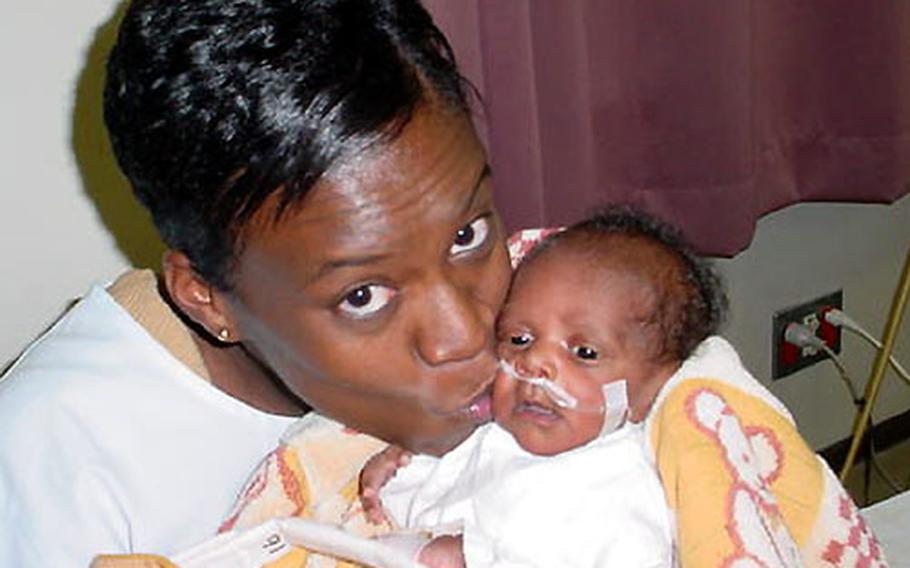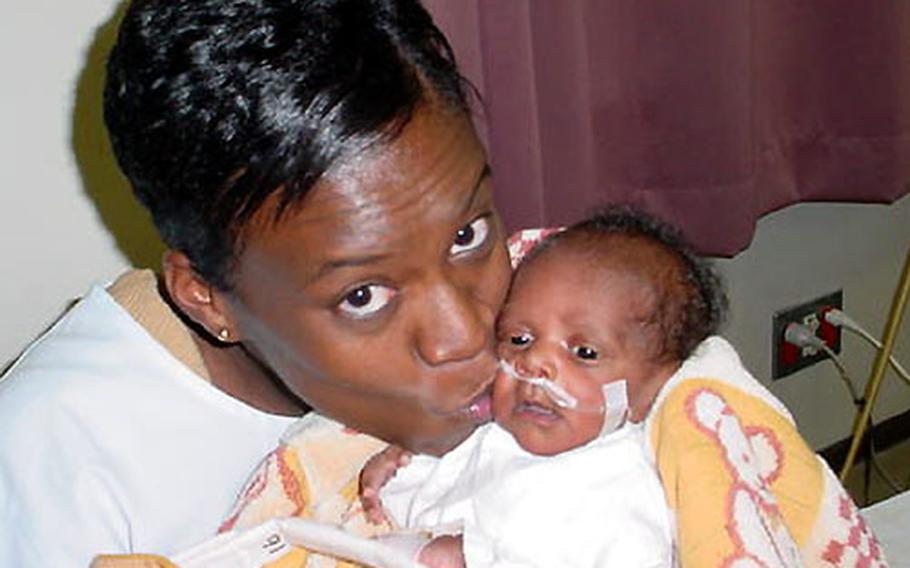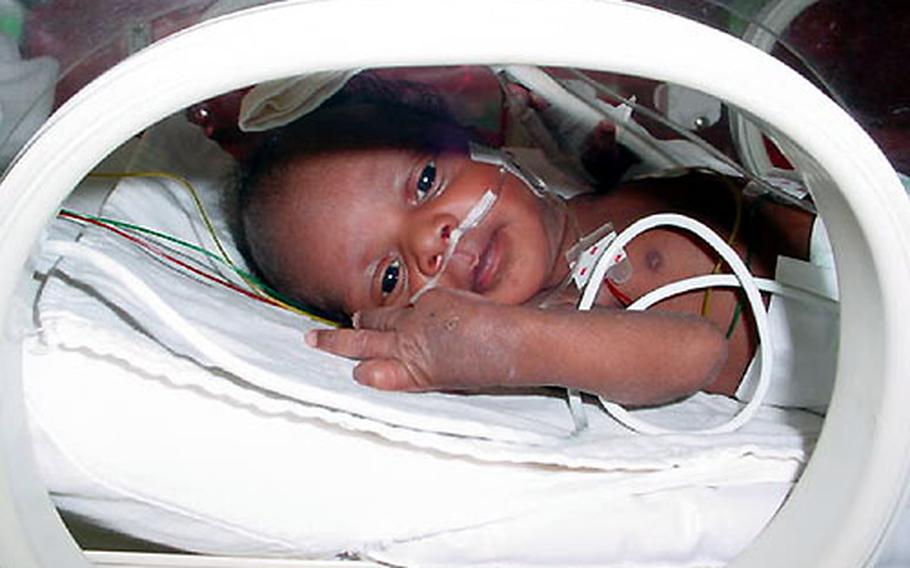 YOKOTA AIR BASE, Japan — Call it maternal instinct, luck, quick action by doctors, or a hand from above.
Staff Sgt. LaToya Wilson likes to think it was a combination of all four that saved the life of her premature baby boy on Sept. 16.
A non-stress test, administered to Wilson at Yokota's hospital to monitor her unborn infant's heartbeat, led doctors to deliver Kayden Niles Wilson by emergency Caesarean section. Doctors found the umbilical cord wrapped tightly around the baby's neck three times.
"If we would have waited even another day, she would have had a dead baby," said Dr. Randy Wobser, a captain and obstetrician with 374th Medical Operations Squadron. "As it is now, she has a fine baby."
For the 32-year-old first-time, single mother, it was nearly a repeat of the unthinkable: Wilson had lost a baby eight years ago, born dead at 32 weeks. An autopsy did not reveal cause of death, but Wilson said the umbilical cord was wrapped around that baby's neck.
Considering her prior history, doctors at Yokota began monitoring Wilson and her baby's progress at 28 weeks. She had regular appointments twice a week, including Sept. 16, when she was 34 weeks and six days into the pregnancy.
Wilson knew something was wrong that day, even though she could still feel the baby moving inside her belly.
"I had told three people right after lunch, just before my appointment, that I didn't feel like I was coming back to work," she said. "I was serious about it but kind of playing at the same time. I think I felt in the back of my mind that something wasn't right."
Doctors monitored the infant's heartbeat for about an hour and grew alarmed by the results.
The heart rate stayed at 130 to 135, when it should have raised 20 beats at least twice in 20 minutes, Wilson said.
"They expect it to be a reactive test," Wilson said. "He wasn't reacting at all. It was just baseline the whole time."
The doctors told Wilson they wanted to deliver the baby as soon as possible to find out what was wrong.
Agreeing to the emergency Cesarean section was an easy decision, Wilson said.
"One thing that kept me going was his heart was still beating. I kept the faith and figured he had a better chance of surviving outside than inside" the womb.
"And that was the case," Wilson said.
Baby Kayden was delivered at 4:38 p.m. Sept. 16, a little more than two weeks' premature. Though it appeared the baby's air supply was cut off by a pinched umbilical cord, Wobser said brain damage was not evident.
Kayden was resuscitated and immediately whisked to an ambulance from Hachioji Pediatric Hospital, which was standing by to transport the 4.5-pound baby to its neo-natal intensive care unit. Yokota's hospital was not equipped to care for such a premature baby, doctors said.
"They were there before we even delivered the baby," Wobser said of Hachioji's ambulance crew.
Kayden is still in the care of the Japanese pediatric hospital, but Wilson learned last week that his prognosis is good: "He doesn't have any long-term effects," she said. "He's breathing on his own. He just needs to grow a little bit."
The baby is still about 4.5 pounds. He drinks Wilson's breast milk from a bottle; she visits him several times a day while on convalescence leave from her job with the 605th Air Intelligence Squadron at Yokota.
Two weeks ago, she was able to hold him outside the incubator for the first time.
"That felt really good," she said.
The Japanese doctors tell Wilson the baby will be ready to go soon depending on his progress. When he is able to finish a bottle of milk on a regular basis, that's a good sign that he's ready to be with his mother full time.
After he's released, mother and baby will check into Yokota's hospital for three days "to go through mother-son bonding," Wilson said, such as practicing breast-feeding. "Whatever we would have done if they hadn't taken him to Hachioji."
Wilson credited Yokota's medical personnel for saving her baby's life, particularly Wobser and pediatrician Dr. Mark LaShell.
"I want to thank them for acting so quickly and listening to me when I was telling them I thought there was something wrong."
Wobser said it's not common for babies in the womb to become entangled in the umbilical cord — "but it's not unusual.
"I see it in 5 percent of babies that I deliver, but it's generally not tight. Having three loops around the neck is really unusual."
There's no scientific explanation as to why it happens, except "babies generally move all around until they get to 36 weeks," he said.
"These are days that I truly live for: when I know I was able to save a baby that was dying," he said.