Sold on sake: Fair opens minds and palettes to Japanese alcoholic beverage
---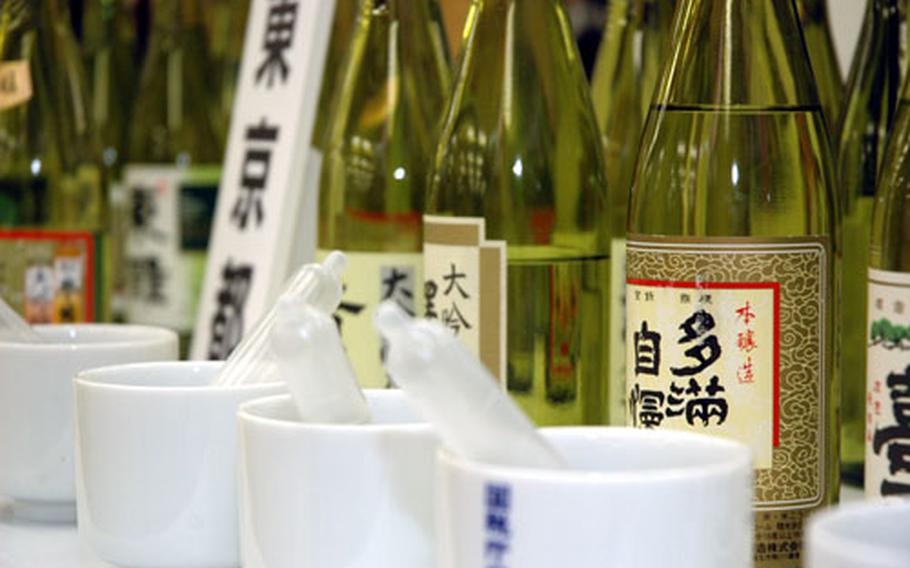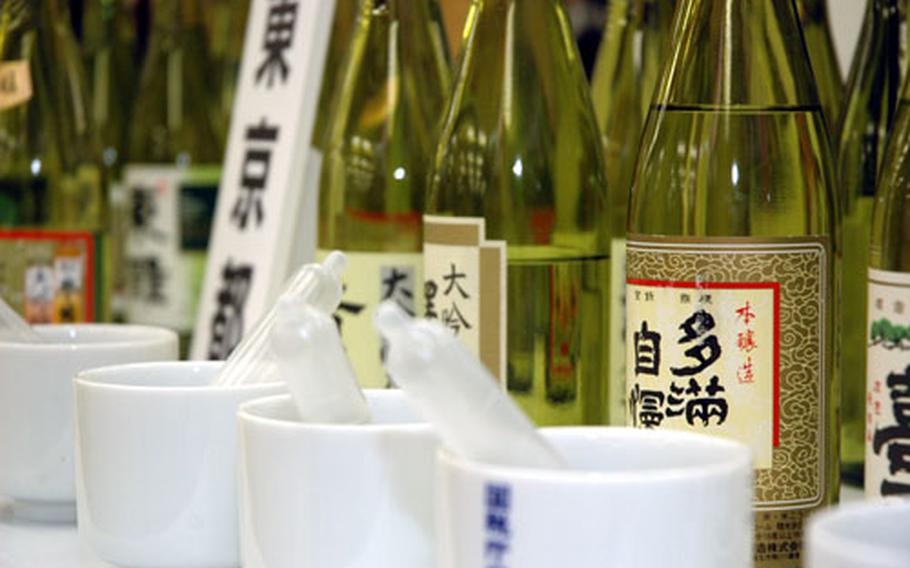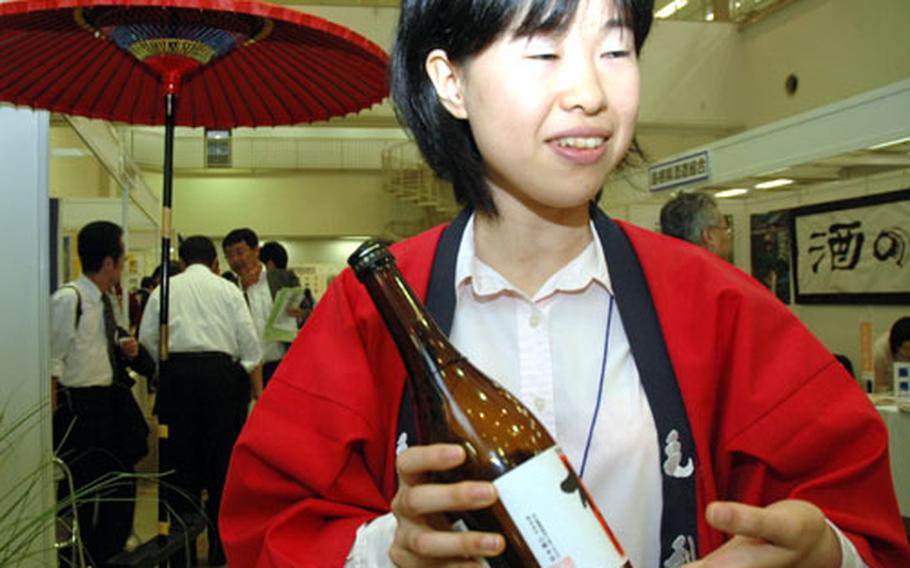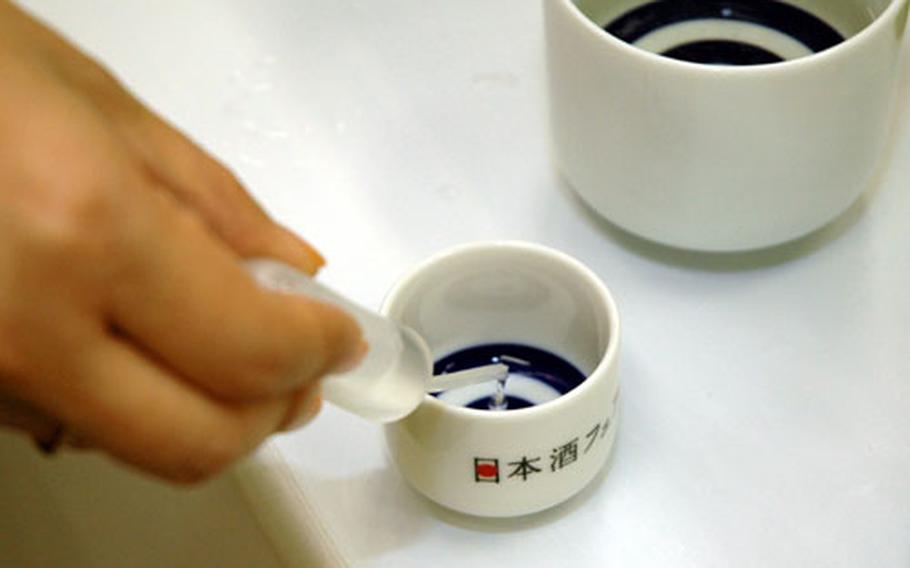 When I first moved to Japan, I ran across a sake tasting class that offered several glassfuls and English-language explanations on the country's national brew.
The lesson, as I remember it, cost 7,000 yen, or about $60 at the time. "It's a really good investment," I told my friends. They eagerly agreed. Then we discovered the class was canceled.
That was more than a year ago, and since then I've had ample lessons in Japanese eating and drinking, from local beers to local soba shops. But my quest to learn more about sake – fermented alcohol made mostly of rice – had somehow fallen by the wayside. Fallen, that is, until I learned about the 2008 Japanese Sake Fair.
For about $30, the one-day event in Ikebukuro allowed fans to sample from thousands of sakes that competed for awards in the previous year. The price included entry into a second room, where the actual makers and distributors poured more generous tastes and sold bottles singly or by the set.
As an added bonus, the event required leaving work early because it started at 4 p.m. It's a tough job, tasting a warehouse-sized room full of sake, but somebody has to do it.
Somebody, in retrospect, should have done a little more homework. A friend, who is Japanese, accompanied me to help with translation and any unforeseen stumbling. But, as a self-described shochu expert, she made it clear she could offer few insights on sake.
So there we were, two sake neophytes, facing a room that looked more like a laboratory libation than a cheery celebration. Men and women in dark suits moved without speaking – sniffing, slurping and spitting under the glare of humming florescent lights. There wasn't a friendly face in sight.
"We should have a strategy," I whispered. My friend agreed. "Let's go north to south. At least that way we'll have a better chance of remembering where we've been."
Thus, we went forth. And, even on our own, we learned a few things. The sake from Aomori, a prefecture on the northern tip of Honshu, tasted sweet and fruity and reminded me of the apples the region grows. A few tastings from the middle of Honshu, nearer Tokyo, tasted stronger and more metallic. The flavors seemed to mellow out by the time we reached Kyushu, the mainland's southernmost island at the opposite end of the room.
And that mellowing was not, ahem, because we'd been sampling without spitting, much like the practice wine lovers use when tasting vintages from different wineries. Rather, we found that sake tasting, or kiki sake, is measured out by an eye dropper. Each taste is far less than an ounce.
More importantly, sake typically contains about 13 to 16 percent alcohol (about the same as a strong red wine), compared with 20 to 40 percent in shochu (a distilled liquor made with a variety of vegetables or grains), or American whiskeys that must contain at least 51 percent alcohol, if anyone is still counting.
We made our way through the room and the country, still able to identify our favorites and the exit signs. And those exit signs led us straight to the next room where we found much more celebration, generous servers and kind people to talk us through a few more tastings. We continued with sakes from Aomori, found a couple of sparkling sakes, and I ended up taking home some yuzu- and plum-flavored sakes, just for kicks.
The sake fair is an annual event, and I highly recommend it. Though I'd skip the testing room and head straight for the vendors. They'll welcome you with open bottles.
More about sake
Sake is made from rice, water, yeast and koji, steamed rice treated with mold. Yum. Yet without that mold, a sake maker would be stuck with a lonely bowl of wet, mushy rice instead of a roomful of smiling faces and choruses of "kampai." Like many good things, sake might be best enjoyed if the drinker focuses on the result rather than what went into the mixing bowl. But if you'd like to learn more, read on.
Making any alcohol involves two basic steps. First, the brewer must take the main ingredient — a grape, a spud, a chaff of wheat, or whatever else stocked the markets in ancient and thirsty times — and turn it into sugar. Wine makers start off ahead of the game: their grapes come with sugar. Beer and alcohol brewers, who primarily deal with wheat, rice, potato or other starchy things, need help to extract sweetness. So they "malt" the grain. In sake, one could say, brewers "koji" the rice. Once the sugars develop, the yeast begins its feast. The result — based on centuries of trials, errors and whopping hangovers — can be fizzy, tangy, and very, very tempting.
The rice used in sake is grown exclusively for the alcohol. Before it becomes sake, each rice grain is milled down to a certain level; the amount of milling or polishing ultimately affects the sake flavor. Rice milled to at least 60 percent, the most common process, is call ginjoshu sake. Rice milled to 50 percent is call dai-ginjoshu sake; rice milled to 70 percent is honjozoshu sake. This milling designation is also used by the Japanese government to set tax rates for sake.
Additionally, there are different types of sake:
---
---
---
---