Soak your troubles away at an onsen
by
Greg Tyler
December 5, 2004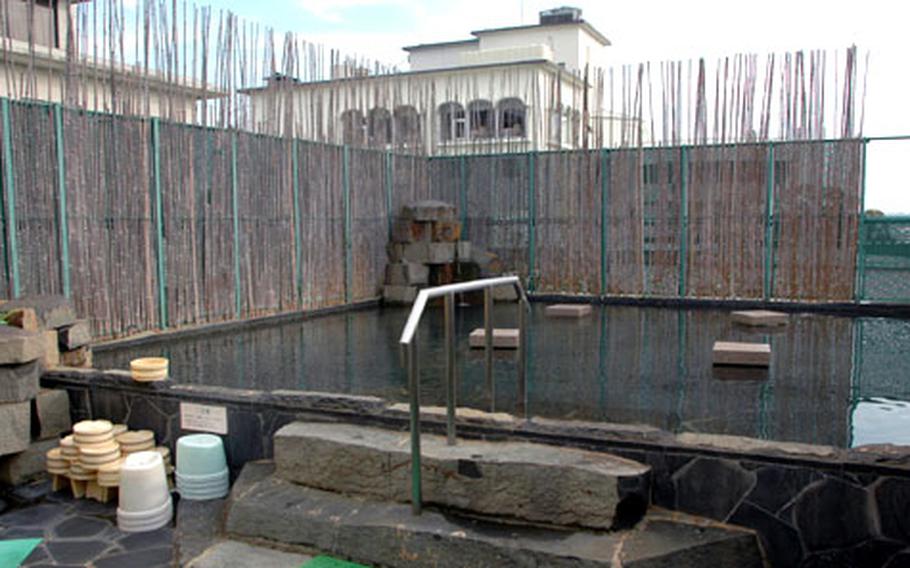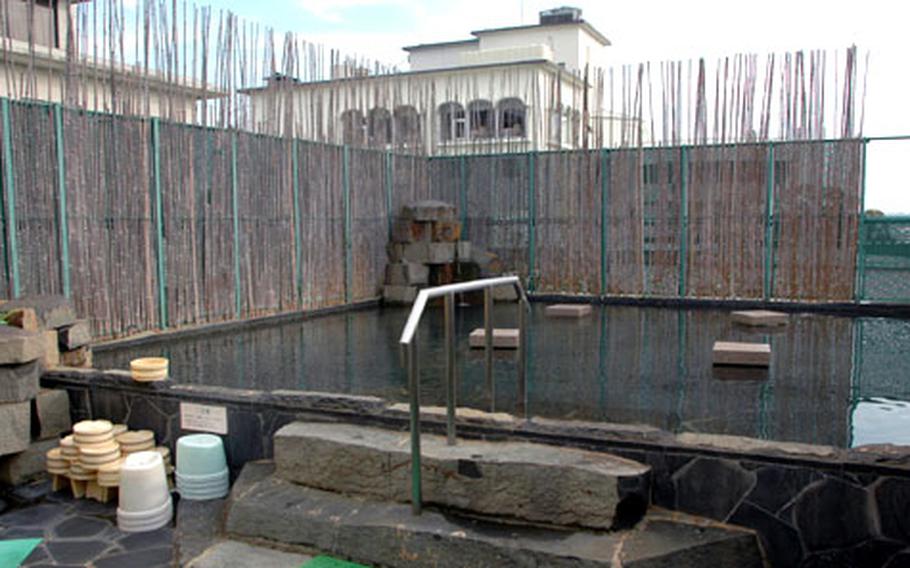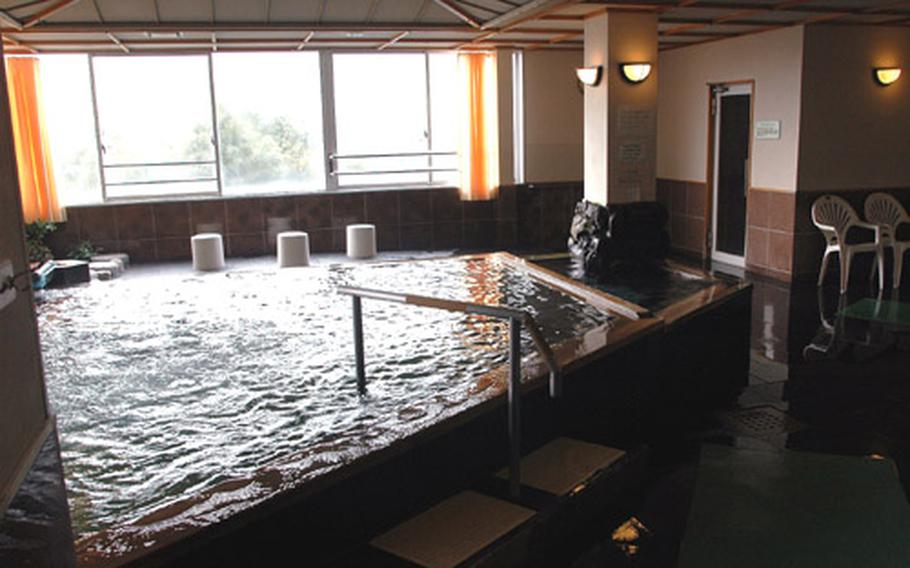 If daily stress frays your nerves until they look like a worn-out hem on a pair of jeans, and your muscles are as taut as suspension bridge cables, the "onsen" experience might be for you.
Many people in mainland Japan, Okinawa and South Korea believe the mineral-rich hot springs and indoor mineral baths might do more than relax you — they might just cure what ails you. Operators of onsen resorts claim they cure various maladies, from muscle aches and acne to hardening of the arteries.
Since 1996, surveys conducted by the Japan Tourism Association have shown onsens as the most popular tourist destinations in Japan. More than half of 4,500 people surveyed said they go to onsens when they take overnight trips.
Many go to soak up the healing effects, said an official from the Yamaguchi Prefecture Onsen Association.
"They are seeking the atmosphere of 'onsens,' which includes the textures of hot spring waters, steam and natural surroundings," said Minoru Ushimaru.
Also, onsens are the destination many people think of for a short escape from their everyday life.
Hakone in Japan's Kanagawa Prefecture is a popular one.
"It is the place where people can enjoy nature up close and relax," an official at the Hakone Town Tourism Department said.
"Onsens have been around for a very long time. Japanese people use the spa to relax or to be healed," said Masami Tanaka, manager of the Benten No Yu Onsen, part of the Bansyoro Inn in downtown Sasebo, Japan. Most Americans simply refer to the facility as Bansyoro.
Izumi Rivera, an agent at Sasebo Naval Base's Morale, Welfare and Recreation Travel and Tours Office, said the hot spring and indoor onsen experience is much more than a traditional pleasure.
"It is a stress-free place where we can relax and forget all the trouble that we may have," she said. "Originally, the Japanese spa was utilized to heal bruises, cuts and warm up your body.
"And just to avoid any confusion," she points out, "the Japanese onsens are not used as prostitution inns. Some visitors from other countries have the wrong idea in that way," Rivera added.
Lt. j.g. Sunny Mitchell arrived for duty in Sasebo about six weeks ago and serves as chaplain at the Hario Housing Village. Shortly after arriving, she decided to try the onsen at Bansyoro.
"I was told it is something you absolutely have to do in Japan because it is a good cultural experience," Mitchell said. "And I also knew you had to get naked."
Curious about the experience, she tried it and liked it, and looks forward to visiting an onsen again during her tour in Japan.
"After my initial trepidation, it was relaxing and very much a cultural experience," she said. "I just figured that no one else there was embarrassed to be naked, so why should I be? I think everyone should go at least one time."
Some Americans come to Rivera at Travel and Tours with basic questions about the baths, such as what to wear, and if they should bring anything with them.
"Most of them do not allow you to wear a bathing suit, but a few do," Rivera said. "You should check before you go if that is an issue."
Most onsens have soaking pools separated by gender, but some are open to both.
The typical experience involves taking a shower before stepping into the water. The pools are either heated naturally when magma-heated water rises, as in the case of outdoor pools, or are indoor pools with heating systems. Often after soaking, users take a second shower.
Some onsens offer massages.
"There are so many massages available, such as a whole-body massage, foot massage, and oil massage starting from around 3,000 yen [about $28.50] to as high as 7,000 yen [about $66]," Rivera said.
Most onsens also have a restaurant.
Nowadays, most people can enjoy onsens because they are so plentiful and affordable, Bansyoro's Tanaka said.
"It can start from as little as 500 yen [about $4.70] and can go up to 3,000 yen [about $28.50] just to utilize the spa facility and go in," Rivera said. "Most of the spa houses have rooms available to stay the night; usually it costs at least 12,000 yen [about $114] per person, and can go up to 40,000 yen [about $379]."
The room fee usually includes two meals, dinner and breakfast.
Okinawa's hot springs are favorite resting spots for the local population and tourists seeking a warm, soothing way to relax and soak away life's stress.
All the services sponsor excursions to some of the island's best onsens. Five on Okinawa are listed as official natural hot springs, meaning they offer natural spring water that exceeds 77 degrees Fahrenheit and contains minerals considered therapeutic. A sixth is located a short plane ride or longer ferry hop away on the prefecture's Iriomote Island.
South Koreans also take their onsens seriously. The water temperatures are separated into classifications: cool spring, warm spring, hot spring and very hot spring. Hot springs also are classified as simple springs, sulfur springs and basic springs according to their chemical ingredients. A national Hot Spring Law, established in 1981, regulates the industry.
Operators of hot springs in South Korea boast of their health benefits also, touting the variety of minerals either naturally occurring or added to the water. Many — both medium-size onsens that cater to locals, and larger ones sought out by the international crowd — require no strict bathing etiquette.
All of the resorts contacted by Stars and Stripes said the point is to enjoy oneself, relax and have fun. However, just like most onsens in Japan and Okinawa, there are some simple rules in South Korea:
Visitors are required to take a shower before using spa facilities. This is aimed at keeping the water clean.Food or drinks are prohibited in the water.Nearly all hot springs in South Korea have separate changing rooms for women and men.Spas with pools inside generally are used without bathing suits. Outdoor spas and bathing pools in South Korea usually require that patrons wear bathing suits.Chiyomi Sumida, Hwang Hae-rym and Hana Kusumoto contributed to this report.
---
---
---
---