'Smash Hits' has metal edge
---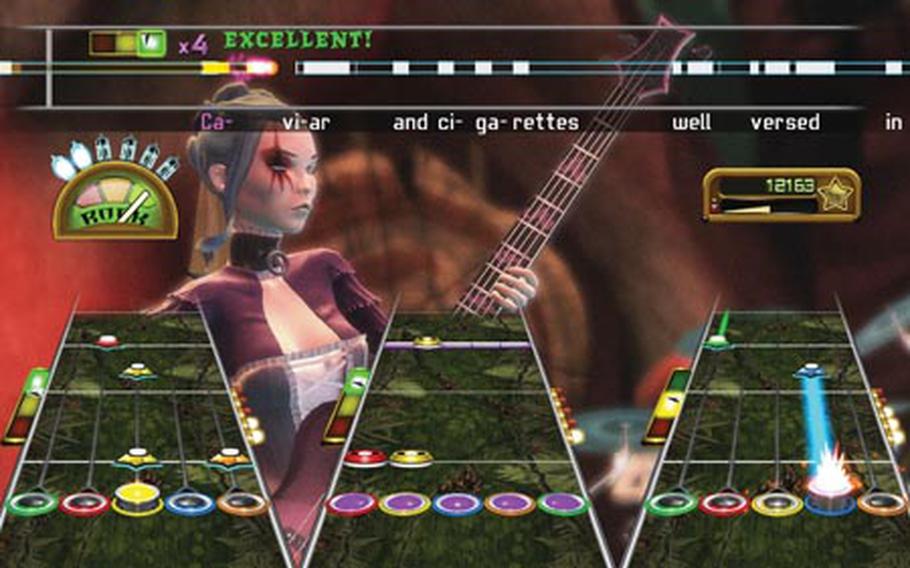 Now you can go through the fire and flames with a good dose of thunder.
"Guitar Hero: Smash Hits" lets you re-create the drum — and vocal — tracks from DragonForce's epic "Through the Fire and Flames" and 47 other songs from earlier editions of "Guitar Hero."
Ever since last year's "Guitar Hero: World Tour" added drums and vocals to the "GH" universe, gamers have been craving a chance to pound out the rhythms of their favorites from the game's drumless days. "Smash Hits" should satisfy many of them.
The song list for the T-rated game developed by RedOctane for Activision offers solid rock, with a definite preference for metal from the '80s and '90s. Twisted Sister's "I Wanna Rock," Poison's "Nothin' But a Good Time," Motley Crue's "Shout at the Devil" and Iron Maiden's "The Trooper" are representative. Rockers from the '70s also make a strong appearance with Aerosmith's "Back in the Saddle," Lynard Skynyrd's "Free Bird" and KISS' "Rock and Roll All Nite," among many others. As a result, oldies fans will be quite pleased. However, those who prefer something a little fresher will be disappointed for the most part.
The list was supposedly drawn up with input from fans. However, you have to wonder why the ultra-popular "Guitar Hero III: Legends of Rock" is woefully underrepresented. Only eight tracks originally appeared on "GH III," while 14 appeared on the original "GH" and 19 appeared on "GH II." The others appeared on "GH Encore: Rocks the '80s" and "GH: Aerosmith."
Game play is essentially the same as in "World Tour." You can play any songs you like in a solo or band Quickplay session or undertake a solo or band career. The no-fail beginner mode is ideal for those who've never played and the expert mode is quite challenging. The biggest addition is the "Expert+" mode, which originated with this year's "GH: Metallica" and adds a layer of difficulty to the drums.
I love the fact that all of the tracks are available in Quickplay from the beginning — no more need to unlock songs in career mode before enjoying them in a quick session with friends.
The game also brings back the Music Studio, where you can create your own tracks or download those created by others.
Finally, those who've been "Rock Band" fans need not despair. The game works perfectly well with your peripherals. It even cuts the number of drum notes from six down to five to match your setup.
Platforms: Xbox 360 (tested), PlayStation 3, PlayStation 2, Wii
On the Web: smashhits.guitarhero.com
---
---
---
---